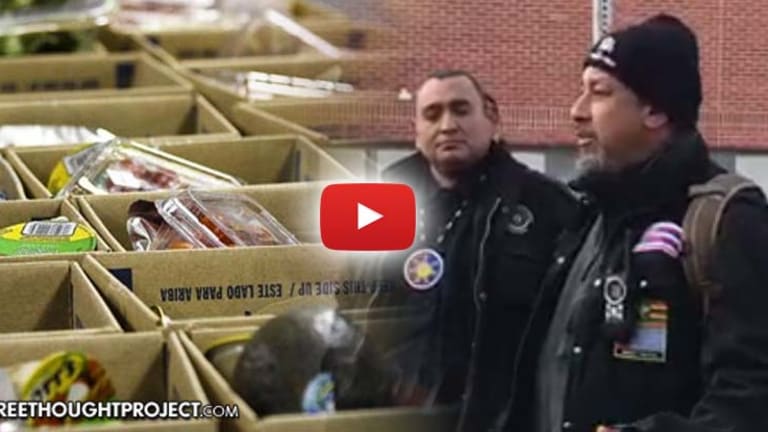 Standing Rock Sioux Offer Amazing Lesson in Compassion -- Donate Supplies to Law Enforcement
Mandan, ND - In an amazing display of humanity and compasson, water protectors from the Oceti Sakowin camp, on Friday, donated various supplies to the Morton County Sheriff's Department in Mandan after the department posted a request for donations late last month.
In spite of widespread brutality and violent actions directed at non-violent unarmed water protectors by law enforcement, the Oceti Sakowin headsman, joined by Leonard Crow Dog and a number of youth and women leaders, delivered the requested donations to their oppressors.
The interesting turn of events came after a public notice was released by the Morton County Sheriff's Office on November 22, which requested donations of supplies from the public.
The Oceti Sakowin took this opportunity to teach law enforcement about compassion, love, and humanity.
"This is a humanitarian food drop on behalf of Oceti Sakowin," said the tribal representative delivering the donations.
"So because Oceti Sakowin is a place of compassion and humanity, despite their police aggression, we're gonna give them what they requested publicly. Oceti Sakowin is a self-sufficient community of indigenous people and Natives from this land built on compassion and love and humanity. And even though they've been shooting people and throwing grenades at people and trying to hose people down in freezing weather… Our goal is to teach."
"This is a teaching as well, we'll educate the police on what humanity and compassion and love is all about. Despite their aggression we're giving them the supplies they requested from the public – because we are the public as well."
The Indigenous Environmental Network and the Indigenous Peoples Power Project released a joint statement regarding the donation by the Standing Rock Sioux to law enforcement:
"North Dakota taxpayers have already bankrolled the Morton County Sheriff Department with approximately 10 million dollars for the suppression of peaceful water protectors. Despite this excessive financial support, Morton County officers are asking taxpayers to donate supplies.

The Oceti Sakowin camp is a prayer camp, and a resilient, self-sufficient community. The camp is full of abundance-- in spirit, in humanity, and in resources. Oceti Sakowin has enough to share. Generosity is an original teaching for the Lakota."
The fact that these people, under constant threat of violence and abuse at the hands of the militarized police at Standing Rock, can look beyond the actions of law enforcement and still treat them with humanity and dignity reveals a depth of compassion that the Morton County Sheriff's Department, and all police participating in suppressing dissent at Standing Rock could certainly learn from.
Please share this amazing story of compassion, humanity, and love – as the Oceti Sakowin are truly being the change they wish to see in the world!