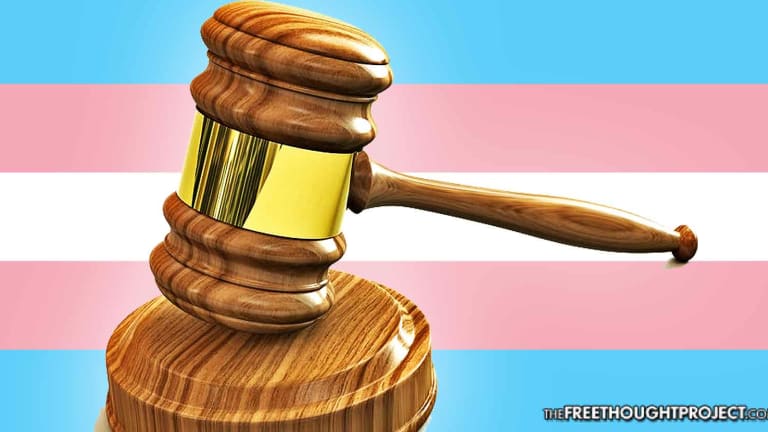 State Takes Child from Parents Because They Refused to Allow Her to Become Transgender
Because they wanted their daughter to speak to a therapist instead of undergoing hormone treatment to become transgender, a couple has had their parental rights taken away.
There is a complex set of factors for determining if a person is transgender. While science hasn't nailed down the exact physiological and neurological markers to determine what makes a person have gender distress, there is no doubt that it exists. If individuals identify with a different gender than they were born, it is no one's right to prevent them from remedying it. That being said, should young children who feel they may be in gender distress be taken from their parents who chose to make them wait until they are adults to have procedures?
This is exactly what has happened in Ohio.
This month, Hamilton County Judge Sylvia Sieve Hendon stripped custody rights from an Ohio couple because they refused to allow her to become a transgendered boy.
Prosecutors successfully argued that the child need to begin hormone therapy as soon as possible to prevent her from becoming suicidal. The state further argued that the 17-year-old girl was being traumatized by her parents' unwillingness to call her by a male name. According to an earlier CNN story, the grandparents' attorney, Jeffrey Cutcher, told the court that "even seeing [her] birth name on documents has caused trauma."
The New American reports:
Perhaps worst of all — from the county's perspective — the parents had the audacity to base at least some of their opposition to their daughter's desires on their religious beliefs. "The teen's lawyer, Thomas Mellott, said [her] parents had [her] enrolled at a Catholic school where [she] was made to wear dresses and answer to [her] birth name," wrote CNN. The girl herself alleged that she felt unsafe in her parents' home, saying her father had told her to kill herself because she was "going to hell anyway," and that she was forced to attend "Christian" therapy that consisted of listening to Bible verses for hours on end.

The parents' attorney, Karen Brinkman, denied the allegations and said the parents' objections were not solely based on their religious beliefs. She maintained that they "have done their due diligence contacting medical professionals, collecting thousands of hours of research and relying on ... their observation of their own child ... that led them to the conclusion that this is not in their child's best interest." In fact, they believe hormone therapy "would do more harm than good," she said.
"It does not appear that this child is even close to being able to make such a life-altering decision at this time," Brinkman further argued. She added that granting custody to the grandparents "would simply be a way for the child to circumvent the necessity of parents' consent."
Now, the teenager is under the custody of the state while they grant her permission to temporarily live with her grandparents.
"We think the grandparents are the ones who have an open mind and will ... make this sort of decision best for the child," attorney Paul Hunt, who represents the guardian, told the court. "The parents have clearly indicated that they're not open to it."
As the state claims that the parents are wrong because they wanted to get her therapy instead of hormone treatment, under the terms of the court's decision, that's what has to happen anyway.
Although she can legally change her name, before undergoing the hormone therapy the child must be "evaluated by a psychologist who is not affiliated with the current facility where [she] is receiving treatment, on 'the issue of consistency in the child's gender presentation, and feelings of non-conformity,'" noted CNN.
"What is clear from the testimony presented in this case and the increasing worldwide interest in transgender care is that there is certainly a reasonable expectation that circumstances similar to the one at bar are likely to repeat themselves," Hendon wrote. "That type of legislation would give a voice and a pathway to youth similarly situated as [the child] without attributing fault to the parents and involving them in protracted litigation which can and does destroy a family unit."
While the judge may have her mind made up, there are many in the scientific arena who recommend children wait until they reach adulthood before making such life-changing decisions.
"These kids are not old enough to make life-changing decisions that will affect them for the rest of their lives. It's unethical to pursue this line of treatment with children who cannot possibly understand what they're doing," Stephanie Davies-Arai, of Transgender Trend, a parent group concerned about the rise of children identifying as the opposite sex said.
But puberty itself, even for non-transgenders, is distressing. Some of these children may be misguided and not be transgender at all, but they are given these powerful drugs anyway.
Also, as psychiatry professor Paul McHugh points out, "most children who identify as the opposite sex will eventually come to identify as their biological sex."
Until much more is known about gender dysphoria, and until controlled clinical trials of puberty-suppression are carried out, this intervention should be considered experimental.

Regardless of the good intentions of the physicians and parents, to expose young people to such treatments is to endanger them.