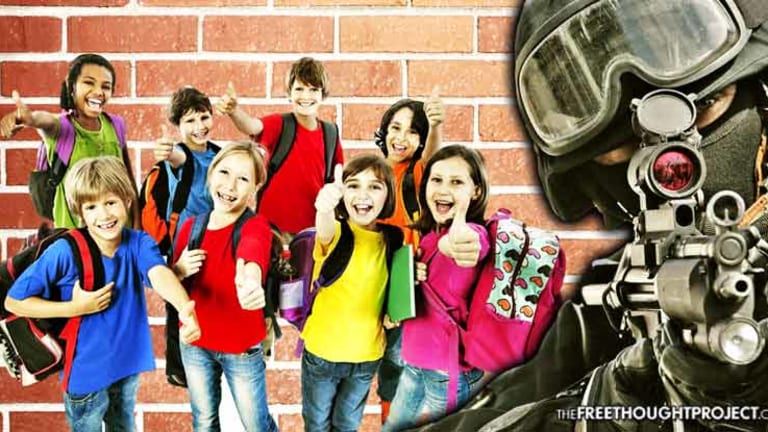 States Across The US Now Moving to Teach Kids How to Properly Submit to Cops
Texas and New Jersey are the first states to push for state-sponsored curriculum that teaches students how to "interact" with police.
A new theme of laws in the United States appears to be geared towards teaching students how to properly submit to police by teaching them how to "interact" with the officers they encounter—and it could start with children as young as 5 years old.
In Texas, Gov. Gregg Abbott signed Senate Bill 30 into law, requiring "certain public school students" to study a curriculum that teaches them how to interact with police officers. The new law goes into effect on Sept. 1.
"The commission by rule shall require that information relating to law enforcement procedures for traffic stops be included in the curriculum of each driver education course and driving safety course. The curriculum must include: a demonstration of the proper actions to be taken during a traffic stop; and information regarding: the role of law enforcement and the duties and responsibilities of peace officers; a person 's rights concerning interactions with peace officers; proper behavior for civilians and peace officers during interactions."
The curriculum will be created by the State Board of Education and the Texas Commission on Law Enforcement, and it will focus on students in grades 9-12. It will also include a civilian interaction training program for peace officers, and additional instruction on interacting with police for driver education and safety courses.
The law comes after high profile cases such as the death of Sandra Bland, a 28-year-old woman who was pulled over for allegedly changing lanes improperly, arrested, and then found dead in her jail cell three days later. There are still several questions surrounding the circumstances that led up to her death—from why she was arrested for such a minor infraction, to why the Dashcam video released by police was heavily edited.
In New Jersey, the state assembly gave unanimous support to a bill that would start teaching children how to "interact" with police as early as kindergarten. Assembly Bill A1114 passed with a vote of 76-0 on Thursday.
While the initial version of the bill focused on teaching schoolchildren about "the role and responsibilities of a law enforcement official in providing for public safety; and an individual's responsibilities to comply with a directive from a law enforcement official," an amended version includes "an individual's rights under law in interacting with a law enforcement official."
"As amended, this bill requires school districts to provide instruction on interacting with law enforcement in a manner marked by mutual cooperation and respect, and on the rights of individuals when interacting with a law enforcement official, as part of the implementation of the New Jersey Student Learning Standards in Social Studies, beginning with the 2018-2019 school year."
The bill would create two sections of curriculum—one for kindergarten to 4th grade, and one for 5th to 12th grade. The amended version puts the responsibility on the Department of Education to work with an advisory committee, in order to finalize the curriculum.
"The bill directs the Commissioner of Education to appoint an advisory committee to assist in the development of a curriculum for the implementation of the instructional requirement, and details the organizations that are to serve on the advisory committee."
The New Jersey bill will now go to the state senate for approval.
While this new theme of legislation is still in its early stages, it raises some serious concerns. One of the main ways advocates are gaining support is by pointing out that the legislation includes sections that teach students about their rights when interacting with police. But it begs the question—why is this not already implemented in the education system, and why has it just now become increasingly important, only when other parts of the legislation have come under scrutiny?
There is also a major problem with the fact that the states looking to pass this legislation are lobbying for curriculum that has yet to be created, but that will directly influence children. When it is created, it will be done so by the state, with little input from parents and community members.