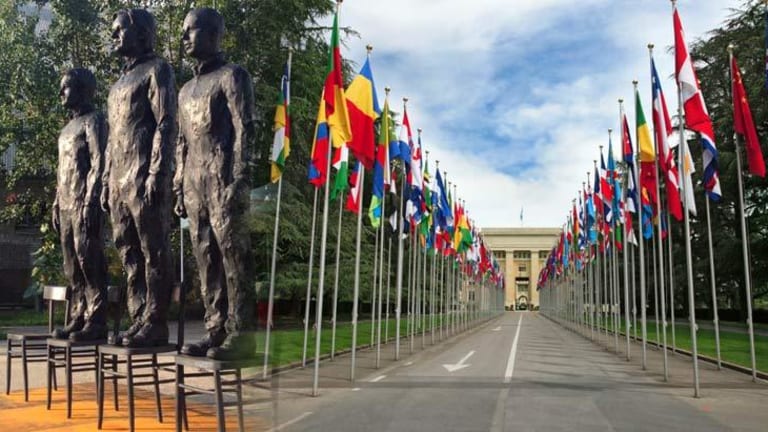 Take That Tyrants! Whistleblowers Statue Now Displayed Outside of UN Human Rights Council
Statue honoring whistleblowers Snowden, Assange, Manning makes an epic statement as it's moved to Geneva during the UN Human Rights Council.
Geneva, Switzerland - In a masterful piece of political art, life-size bronze statues of Edward Snowden, Julian Assange and Chelsea Manning are being displayed on the Place des Nations from September 14 to 18 in Geneva, directly outside the UN Human Rights Council.
The epic artwork, now located outside the UN Human Rights Council as it begins its 30th session, is an ode to the courage of the three whistleblowers. Even more, it serves as a call to citizens to take a stand as the three are standing on chairs with a fourth empty chair next to them.
The piece is titled, "Anything to Say?" with the empty chair actually being the focal point of the piece, according to the statues Italian creator Davide Dormino.

"The fourth chair is open to anyone here in Berlin who wants to get up and say anything they want," Dormino told Deutsche Welle, upon initially unveiling the statue in Berlin's Alexanderplatz Square.
In Germany and much of the world, the three are considered heroes in the fight for freedom of information and speech, for their respective leaking of classified U.S. documents.

"They have lost their freedom for the truth, so they remind us how important it is to know the truth," the artworks creator, Italian sculptor Davide Dormino said.
Since going on display, thousands of people have taken the opportunity to stand upon the chair and speak, in an effort to show that they are not afraid to take a stand in solidarity with these three whistleblowers. "People are saying many different things. From politics to babbling to silence, from people who desperately are wanting to help Julian, Bradley and Edward to people who have no idea who they are. This chair is, I guess, a place of free speech," said Dormino. Sadly, the U.S. mainstream media has willfully accepted the official U.S. government narrative, while questioning the motivation and character of these three heroes.

"The statue pays homage to three who said no to war, to the lies that lead to war and to the intrusion into private life that helps to perpetuate war," Dormino said.
Currently, Sweden is trying to extradite Wikileaks founder Julian Assange, as he faces extradition due to investigation into rape and sexual assault accusations. Assange fears this is simply a pretext to extradition to the US to face questions over his role in leaking secret U.S. documents. He has taken asylum in Ecuador's London Embassy.
The U.S. prosecuted soldier Chelsea Manning (born Bradley Manning) on charges relating to the Espionage Act and was convicted in 2013 of leaking U.S. intelligence and military documents to Wikileaks. She is currently serving a 35-year prison sentence. Edward Snowden has taken asylum in Russia, one of the few states powerful enough to resist the powerful will of U.S. policy. Snowden released classified information from the National Security Agency (NSA) to journalists exposing the scope and magnitude of the US government's global surveillance capabilities.

There is deep symbolism in this statue standing outside of the UN Human Rights Council. These three persecuted truth tellers are forced to live in prison or exile for attempting to allow humanity to intelligently weigh the decisions made by those in power.
Please share this story if think that we must honor those who have been willing to sacrifice themselves in hopes that others will take a stand against the fascist corporatocracy.
Jay Syrmopoulos is an investigative journalist, free thinker, researcher, and ardent opponent of authoritarianism. He is currently a graduate student at University of Denver pursuing a masters in Global Affairs. Jay's work has been published on Ben Swann's Truth in Media, Truth-Out, AlterNet, InfoWars, MintPressNews and many other sites. You can follow him on Twitter @sirmetropolis, on Facebook at Sir Metropolis and now on tsu.