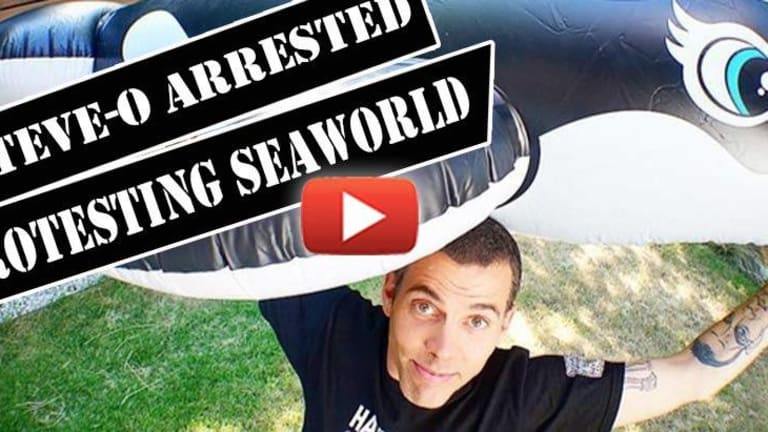 Steve-O Sentenced to Jail for Raising Awareness to Dismal Reality of SeaWorld's Animal Abuse
Jackass star Steve-O was just sentenced to 30 days in jail for his epic protest to bring awareness to the animal abuse taking place at Sea World.
Hollywood, CA — Sentenced to 30 days in jail on Wednesday, "Jackass" star Steve-O will allow the government to temporarily imprison him in order to raise awareness for orcas held in permanent captivity at SeaWorld. Although Steve-O risked his life by climbing a 100ft crane in Hollywood, he has also been ordered to reimburse the city nearly $14,000 for its extreme overreaction to his animal cruelty protest.
Wearing his "Blackfish" t-shirt, Stephen "Steve-O" Glover livestreamed a ">video of himself entering an empty construction site and climbing a 100ft crane on August 9. In an attempt to end animal abuse, Steve-O filmed himself reaching the top of the crane and inflating a large killer whale balloon with the words "SeaWorld Sucks" written on it. He also lit fireworks as numerous emergency response crews coagulated beneath him.
At least 80 firefighters, five ambulances, a helicopter, and a myriad of cops responded to Steve-O's animal rights protest. Instead of justifying the need for that many first responders, the city ordered the celebrity to pay nearly $14,000 at his sentencing on Wednesday to reimburse the overreaction of emergency crews. He was also sentenced to 30 days in jail and 3 years of probation after pleading no contest to misdemeanor trespassing and illegal use of fireworks.
After his sentencing, Steve-O wrote on Instagram: "Considering I've become a clean and sober, dog-rescuing vegan, I must say I'm ready to go to jail-- not just because it will bring so much attention to the plight of orcas in captivity, but because it's nice to let people know I haven't lost my edge. What can I say, I'm a jackass. My whole crane-climbing, fireworks debacle really turned out to be pretty meaningful in the end, too. I mean, if your goal is to make a statement about captivity, you may as well get yourself locked up!"
In the wild, killer whales swim up to 100 miles a day and live in appropriate climates for their species. Each group speaks their own unique dialect and stays with family members for life. Not a single report exists of a person being killed by an orca in the wild.
In captivity, killer whales live shortened life spans and have caused the deaths of at least four people. SeaWorld's orcas are often prescribed daily medications to treat chronic diseases brought on by close confinement. Exhibiting unnatural aggression and collapsed dorsal fins, some orcas have been placed on Valium to reduce their stress levels and violence against their trainers or each other. Separating killer whale mothers from their calves causes severe physical and psychological damage resulting in orcas lacerating their faces and breaking their teeth against the gates separating mothers from their children.
Due to adverse public reaction to the 2013 documentary "Blackfish," SeaWorld's attendance, revenue, and stock prices have continued to plummet. Last year, multiple musicians, including Willie Nelson, Pat Benatar, Trace Adkins, and The Beach Boys, canceled their concerts at SeaWorld Orlando and Busch Gardens Tampa in protest against animal cruelty. After announcing that CEO James Atchison planned to step down from his post with a pay package of more than $2.4 million, SeaWorld fired 311 employees in a company-wide restructuring the next day.
Steve-O was also cited last year in San Diego for climbing a freeway sign and changing the words "SeaWorld Drive" to "SeaWorld Sucks." He is scheduled to report to jail in December. Instead of committing an act of compassion and releasing their captive orcas, SeaWorld is considering selling them to Chinese corporations instead.
" width="790" height="444" frameborder="0" allowfullscreen="allowfullscreen">