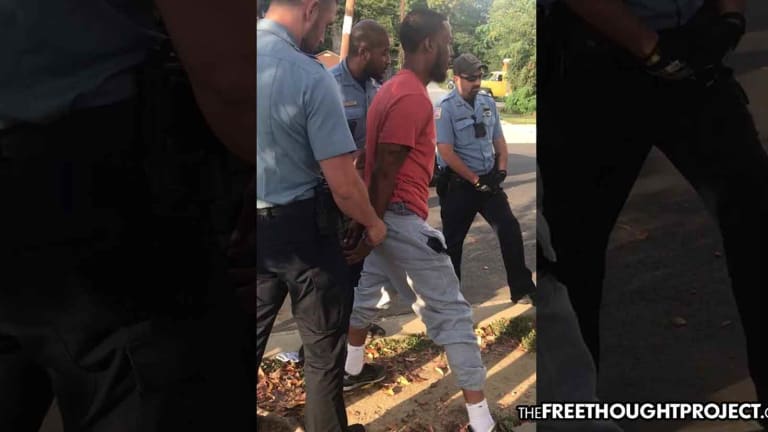 WATCH: "Stop Fingering Me Bro": Man Sues After Cops Publicly Sodomize Him Looking for a Plant
A DC man is suing police after he received a cavity search in broad daylight when cops stopped his friends over open container.
Washington, D.C. — This week, the ACLU announced that they will be filing a federal lawsuit against a police officer who involuntarily searched a man's rectum on the side of the road. 39-year-old search victim M.B. Cottingham was sitting near an intersection last September with some friends, having a few drinks to celebrate his birthday when cops showed up and one of them was on a disgusting mission.
As the Free Thought Project reported at the time, as Cottingham and friends were sitting there, the group was approached by several police officers who accused the men of having weapons.
According to the lawsuit, the police "got out of their cars and asked the men if they had any guns. They responded they did not."
Next, the police began to shake the men down, and Officer Sean Lojacono found a few grams of marijuana in Cottingham's sock, which is legal for possession in DC.
Next, officer Lojacono puts his hands in Cottingham's pants and searches his rectum without permission.
"Come on man! Stop fingering me, bruh!" Cottingham can be heard pleading in the video.
Lojacono simply responded by ordering Cottingham to, "Stop moving."
"Officer Lojacono did not begin by patting down Mr. Cottingham's torso or legs. Instead, Officer Lojacono immediately reached between Mr. Cottingham's legs, grabbed his scrotum, felt around with his hand, and stuck his thumb in Mr. Cottingham's anus,"the suit says.
"The officer, instead of frisking him for weapons, just jams his finger and his hand between Mr. Cottingham's legs," said ACLU attorney Scott Michelman.
"It's very hard to see this other than an officer trying to show his power and dominance. Treat them as suspects, without cause, stop them and frisk them without justification," he added.
Cottingham says that the officer handcuffed his hands behind his back and then gave him two more cavity searches.
"I'm scared, that's what's running through my mind. I'm thinking about my kids, thinking about my own safety. What's coming out of this situation? I want him to stop, but I can't physically get him off me," Cottingham recalled.
Cunningham feared that if he were to resist or fight back in any way that he would end up a dead man.
"I thought about becoming a hashtag: 'policeman killing unarmed black man. I didn't want to become one of them," he said.
According to the complaint, after harassing and searching the men, police didn't even cite them for anything.
At a hearing last month, Police Chief Peter Newsham "acknowledged he had seen a video of the encounter," according to the lawsuit.
The suit quotes the chief as stating, "It looked like it was an inappropriate touching by the officer."
Newsham also recently said that police should not even be involved in stop and frisks over open containers or small amounts of marijuana.
"The Metropolitan Police Department does not subscribe to a zero-tolerance policy of policing. Arresting people for minor offenses such as open containers of alcohol and BB guns can create a lot of animosity between a police department and a community. And our police department does not subscribe to that," he said.
This issue highlights the broader problem of "broken window" policing and "stop and frisk" policies, which basically allow police to shake down anyone they want without reasonable suspicion.
DC police are still facing a similar pending lawsuit, relating to the excessive use of anal searches, specifically on protesters. During Inauguration Day protests in 2017, protesters who were arrested were allegedly taken to a private site where they were strip search and anally probed. One protester said that he felt that police were using "rape as a form of punishment."
Sadly, this is one of many cases in which police will publicly sodomize individuals in search of a plant. One of the most disturbing videos illustrating the horrors of marijuana prohibition was released in April showing police officers handcuff an innocent man and publicly grope his genitals and probe his anus. The lengths the police state will go to prosecute otherwise innocent people for this plant were on full display as two New Jersey state troopers detained a man then humiliated and sexually assaulted him for nearly ten minutes in broad daylight.