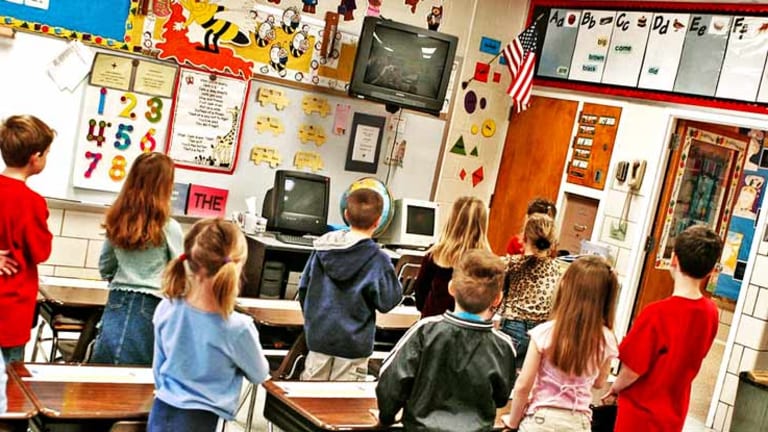 "You're Kicked Out!": Child Expelled for Sitting During the Pledge — Lawsuit
A black Texas high school student and her mom claim in a federal lawsuit that the principal expelled her last week for sitting through the Pledge of Allegiance.
HOUSTON (CN) – A black Texas high school student and her mom claim in a federal lawsuit that the principal expelled her last week for sitting through the Pledge of Allegiance, after which the school secretary told her, "This is not the NFL."
Kizzy Landry sued Cypress-Fairbanks Independent School District and Windfern High School Principal Martha Strother on behalf of her daughter India Landry, a senior at the school, on Saturday in Houston federal court. They are represented by prominent Houston civil rights attorney Randall Kallinen.
With more than 115,000 students spread over 91 campuses in suburban Houston, Cypress-Fairbanks ISD is the third largest school district in Texas. Its student body is 44.8 percent Hispanic, 24.6 percent white, 17.8 percent African-American and 9.3 percent Asian, according to the district.
The Landrys say in the lawsuit, which identifies India by her initials, that India had sat through the Pledge of Allegiance around 200 times in the district's classrooms without incident before Oct. 2.
According to the complaint, she was sitting in Strother's office at 9:30 a.m. that day with Strother and the school secretary Mrs. Walters when the pledge was recited over the school intercom.
"I.L. continued to sit. Principal Strother upon seeing this immediately expelled I.L. from school saying 'Well you're kicked outta here,'" the lawsuit states. (Emphasis in original.)
India says she was taken to the office of Assistant Principal Penny Irwin-Fitt, who told her to call her mother to come pick her up and said a district police officer would escort her from the building if her mom didn't get there in five minutes.
"Mrs. Walters said, 'This is not the NFL.' Ms. Fitt said India was going to stand for the pledge like the other African-Americans in her class," the complaint states.
Neither Walters nor Irwin-Fitt are defendants in the lawsuit, which doesn't include their first names.
"Strother had recently been whipped into a frenzy by the publicity of African-American National Football League players kneeling during the National Anthem at NFL football games," the lawsuit says.
Kizzy Landry says she picked up her daughter a half hour after Strother expelled her, and unsuccessfully tried to get an explanation from Strother, who would not see her.
The mother called school administrators on Oct. 3 and 4 to see if India could return to school, she says, and Strother finally agreed to meet with her the morning of Oct. 5.
"Principal Strother iterated that India must stand for the pledge to be let back in at Windfern. Principal Strother said that sitting was disrespectful and would not be allowed," the complaint states.
It continues, "Principal Strother suggested that India write about justice and African-Americans being killed. Ms. Strother then said the meeting is over and if India does not stand for the pledge she cannot return to Windfern."
Kizzy Landry says a reporter from Houston's CBS affiliate KHOU called her later that morning about the "pledge controversy" and the station aired a story about India's expulsion the same day.
The coverage apparently led Strother to reverse her decision to expel India, as she called the Landrys the next morning, according to the complaint.
"Strother called and said now India could sit for the pledge. India returned to Windfern at 10:30 a.m.," the lawsuit states.
India told the New York Daily News she started sitting for the pledge during her freshman year, and that police brutality and Donald Trump's presidency are two reasons she continues to sit.
"I don't think that the flag is what it says it's for, for liberty and justice and all that. It's not obviously what's going on in America today," India told KHOU.
The Landrys seek punitive damages for alleged free speech and due process violations under the First, Fifth and 14th Amendments.
The school district did not immediately respond Monday to a request for comment on the lawsuit.
After several shootings of black people by white police officers in 2015 and 2016, former San Francisco 49ers quarterback Colin Kaepernick started kneeling during the national anthem before games.
"I am not going to stand up to show pride in a flag for a country that oppresses black people and people of color. To me, this is bigger than football and it would be selfish on my part to look the other way. There are bodies in the street and people getting paid leave and getting away with murder," Kaepernick told reporters in August 2016.
Kaepernick led the 49ers to the Super Bowl in 2013. He is still widely regarded as a top talent, but no NFL team signed him to a contract for the 2017-2018 season. Critics say NFL owners are blackballing him for his protests.
President Trump stirred up the controversy last month when he said at a rally in Alabama that NFL owners should fire players for kneeling during the national anthem, advising the owners to say, "Get that son of a bitch off the field right now, he's fired. He's fired!"
Trump also said if fans leave the stadium when players kneel during the national anthem, "I guarantee things will stop."
Vice President Mike Pence took Trump's advice on Sunday and walked out of a game between the 49ers and the Indianapolis Colts in Indiana because several 49ers players kneeled during the national anthem. Pence was Indiana's governor from 2013 through 2016.
"I left today's Colts game because @POTUS and I will not dignify any event that disrespects our soldiers, our Flag, or our National Anthem," Pence tweeted.