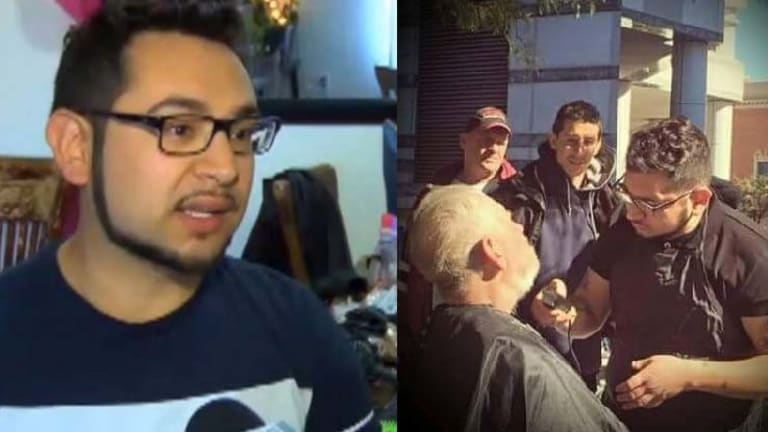 Good Samaritan Now Subject of Investigation — For Giving Free Haircuts to Homeless
A Tucson cosmetology student, whose school closed its doors, gave dozens of haircuts to the homeless. As a result, he is now under investigation.
Juan Carlos Montesdeoca, a Tucson, Arizona cosmetology student, thought it would be a great idea to give back to the community he so dearly loves. In honor of his mother, who lost her hair during her fight against cancer, Montesdeoca decided to offer free haircuts to the homeless in his city.
Little did he know it but his decision to serve the poor and the homeless would come at the risk of losing his cosmetology career before it even begins. At issue is the fact Juan Carlos has not yet completed cosmetology school. Knowing this, an unidentified person saw something, and thus, said something, and filed a complaint with the State of Arizona's Board of Cosmetology, alleging Juan Carlos was practicing cosmetology without a state-issued license.
Juan Carlos is now being investigated by the state's regulatory board for "practicing without a license." As The Free Thought Project has consistently reported, the government often takes a basic human right, licenses it, and then sells it back to the citizenry, using themes like safety, hygiene, and crime prevention as justification. For example, to build a house, fish, drive a car, fly on a plane, or even get married, one must now purchase a license from the most states. The licenses are sources of extorted revenue from citizens, leaving many feeling like they have no freedoms at all unless they pay the states' fees first. Now, it seems, even giving a willing person a haircut has consequences if one doesn't go to cosmetology school first, and buy a license from the state.
Even with the threat of not being able to obtain an AZ cosmetology license, Montesdeoca feels good about what he did for the homeless. He said two women who got their hair cut had gone months, even years without even so much as a trim. Montesdeoca gave dozens of free haircuts to the homeless. He did so, as he says, "Out of the kindness of my heart. Out of the memory of my mom, because she lost her hair." Juan Carlos said he himself was homeless once but after Regency Beauty School closed down last September, forcing him to take a break from his studies, he took the extra time he had on his hands to give away free haircuts and practice what he'd learned in school.
Juan Carlos drafted a letter to the Arizona State Board of Cosmetology in response to their investigation of the complaint against him alleging he was practicing without a license. In a Free Thought Project exclusive, we've obtained a copy of the letter he sent to the AZ licensing board.
After addressing the board with the proper salutations, he described the charitable actions with which he was involved.
"My name is Juan Carlos Montes De Oca. On Saturday Jan 28th 2017 at the downtown library in Tucson AZ, I assisted Ronnie Varela and Katie Burnett Licensed Cosmo[tologists] and did FREE Haircuts for the Homeless. We had donations of barbicide wipes and EPA registered disinfectant for our combs many which were all disposable from community donations and practiced proper sanitition procedures, disposable combs. Gloves etc.," he wrote.

He then described his motivations for doing so. "As a community we came together to uplift, encourage, offer LOVE and remind our homeless that they are not forgotten," he stated. Reflecting on the knowledge he'd acquired at the now defunct Regency Beauty School, he wrote, "When i was studying cosmetology I heard there it was ok to offer free haircuts to the homeless as long as there [sic] was a licensed stylist present. When Regency Beauty Institute shut its doors, I had to wait to go back to school which I am in the process of doing so now."

Juan Carlos mentioned one of his cosmetology heroes, "I thought about Mark Bustos and his mission that has inspired many across our nation to Uplift and Inspire those down on their luck," he wrote. Bustos is a high-profile cosmetologist whose clients include Norah Jones, Marc Jacobs and Phillip Lim.

Bustos was recently profiled in The New York Times for spending his Sundays giving free haircuts to the homeless. Throwing himself at the mercy of the licensing board Juan Carlos continued, "I have great LOVE for my community and now understand that i need to be licensed in order to provide any Hair services for the homeless. Now I am fully aware of the risks involved and plan, if given the chance, I want to become an educator of barbering and cosmetology someday. Thank you. Juan Carlos Montes De Oca," he concluded.
We attempted to reach out to the authorities for an update on Juan Carlos' investigation. We spoke with Kim Scoplitte, Deputy Director of the AZ Board of Cosmetology who had no comment to make about Montesdeoca's case. She did say the AZ Executive Director of Cosmetology, Donna Aune, would be in touch with us but to date, we have not spoken with Ms. Aune.
In the meantime, Montesdeoca isn't waiting around for Arizona to decide if he'll be the next brightest recipient of their state license. He's set up his own GoFundMe account asking supporters to help him finish his cosmetology studies. If you'd like to help out Juan Carlos, you can do so by clicking here where you'll be directed to his fundraising page. So far, he's raised $185 of his modest $8000 goal needed to complete his studies.