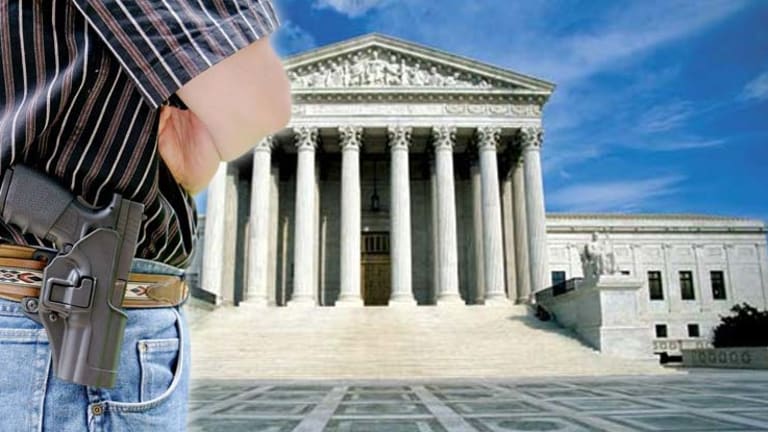 Supreme Court Rules Misdemeanor Domestic Violence Conviction Enough to Lose 2nd Amendment
On Monday, the Supreme Court upheld a broad federal law that bans people convicted of misdemeanor domestic violence from owning a firearm.
Washinton, D.C. - In the wake of the Orlando shooting, and renewed calls from Democrats for increased gun control measures, the U.S. Supreme Court has upheld a broad federal law that bans people convicted of misdemeanor domestic violence from owning a firearm.
The law in question, Lautenberg Amendment, states that any person "who has been convicted in any court of a misdemeanor crime of domestic violence" cannot purchase or receive a firearm.
The case stems from two Maine men, Stephen Voisine and William Armstrong III, who presented separate arguments to the Supreme Court. Voisine states that only a conviction for an intentional domestic assault offense should count for the federal gun prohibition while Armstrong argued that the ban violates their constitutional right to bear arms.
According to a report from The Trace:
Stephen Voisine and William Armstrong III, the men who brought the case, violated a federal law called the Lautenberg Amendment that prohibits domestic abusers from possessing guns. They are arguing that those convictions should be reversed, on the grounds that the particular domestic violence charges they were found guilty of in Maine should never have prevented them from getting guns in the first place. Viosine and Armstrong are making their case at a time when pro gun reform lawmakers and advocates are that the existing firearms ban for domestic abusers is neither broad enough nor effectively implemented.

According to the documents submitted to the Supreme Court, Voisine was charged with domestic violence in June 2003 after slapping his girlfriend while he was intoxicated. During the incident, his girlfriend had called 911 and told authorities that it was not the first time Voisine had hurt her. He pleaded guilty to the misdemeanor crime of simple assault, resulting in a conviction. Authorities didn't learn that Voisine owned a gun until 2009, after a stranger reported to the police that Voisine had killed a bald eagle with a rifle. (The Wall Street Journal notes that Voisine may have been the first person to kill one of the birds in the state since President Franklin Roosevelt signed a law granting them protected status 75 years ago.)

Armstrong similarly pleaded guilty to the misdemeanor crime of simple assault in 2002 after he pushed his wife against a wall during an argument, leaving a "red mark." Police found his weapons — six guns, as well as ammunition — years later, during a search of his house in 2010.

The justices rejected arguments that the law covers only intentional acts of abuse and not those committed in the heat of an argument. Initially, Supreme Court said it would only deal with the intentional domestic assault question, but during oral arguments in February Justice Clarence Thomas brought up the question of whether being convicted of a misdemeanor violation "suspends a constitutional right."
Gun rights groups argued in vain that the men should not lose their constitutional right due to a misdemeanor conviction. Be aware that the continued march towards disarming the U.S. domestic population continues through judicial and legislative means.
In a 6-2 ruling, the court upheld the opinion that domestic violence convictions can result in gun ownership restrictions, even if the misdemeanor is only the result of recklessness rather than intent. Justices Roberts, Kennedy, Ginsburg, Breyer and Alito were in the majority, with Thomas and Sotomayor dissenting.
Another facet to this report is the fact that police beat their wives or girlfriends at nearly double that of the regular population. Would the hundreds of officers a year convicted of misdemeanor domestic violence be forced to turn in their guns? If history is any indicator, the answer to that question is no.
There is a very real and ongoing attempt, with global origins (see UN Arms Trade Treaty), to regulate firearms out of common public ownership. The people would be wise to remain vigilant in the face of growing attempts at increased state control and regulation over one of the most basic of human rights; the right to self-defense.