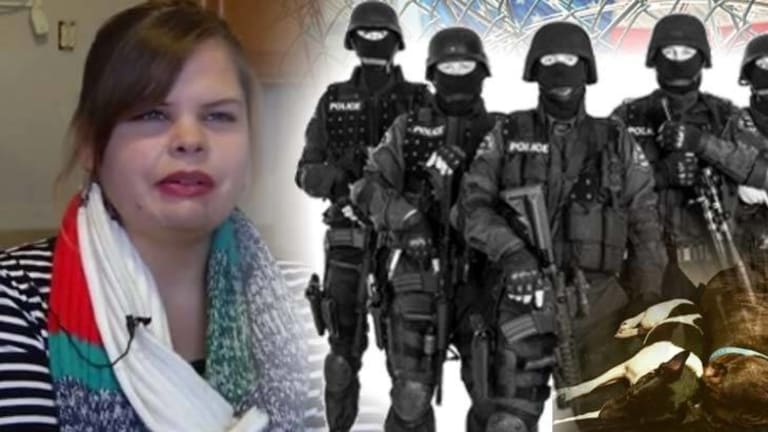 SWAT Team Raids Innocent Woman's Home, Terrorize & Mock Her, Threaten to Kill Her Dogs
Then they tell her that they were 'just doing their jobs.' No apology and her house was left in ruins.
Minot, ND - In a case of mistaken identity, SWAT officers issued a no-knock search warrant on Sunday, kicking down an innocent woman's door and holding her at gunpoint. Instead of apologizing for their mistake, the officers insulted her and threatened to kill her dogs.
While lying in her bed on Sunday afternoon, Lynette Bintliff heard a SWAT team breaking down her door before storming her apartment with their guns aimed at her.
"Just the door got kicked open really loud and all I saw was a gun, one of those long-barreled guns. A storm of SWAT team members came running in and they had their guns pointed at me and one of them tackled and handcuffed me," Bintliff told KFYR on Tuesday.
With no criminal record and having moved into the apartment two months earlier, Bintliff repeatedly attempted to tell the officers that they had apprehended the wrong person. Handcuffed at the foot of her bed for roughly 40 minutes, Bintliff wept as the cops mocked her and threatened to shoot her dogs.
"I don't think I deserve to have my door busted in, having guns pointed at me, and they threatened to kill my dogs," Bintliff recalled. "And they were making fun of the way I screamed, laughing at how high-pitched it was and chatting like nothing was going on out there while I was in here crying. I still didn't know what was going on. They still hadn't told me anything,"
Although the police claim they had a warrant to search her apartment, Bintliff questions how the cops obtained probable cause. Detained in her bedroom for an hour, Bintliff was released without charges and left with property damage to her apartment.
"The warrant for that apartment was supported with a probable cause reviewed by a state attorney and a judge, as all the warrants were," stated Minot Police Chief Jason Olson.
Shortly after 3:10 a.m. on Sunday, Minot police officers responded to a call of multiple gunshots. After arriving at the scene, officers found 30-year-old Roger Falana and a 43-year-old woman suffering from gunshot wounds. Both victims were transported to a local hospital, where the unidentified woman continues to receive treatment. Originally from Florida, Falana died as a result of his wounds at Trinity Hospital in North Dakota.
"There were a couple different calibers of ammunition found, casings that were found that would lead us to believe that there were at least a couple of shooters involved," stated Minot Police Capt. John Klug. "We don't know if it was an exchange of gunfire, we don't know exactly what took place."
While serving several no-knock search warrants on Sunday, the police arrested five people on unrelated charges that have nothing to do with the murder. After breaking down Bintliff's door and threatening to execute her pets, the Minot Police Department still has no idea who shot Falana and the 43-year-old woman found near him.
Too scared to sleep in her apartment, Bintliff decided to move back in with her parents and possibly take legal action against the police department. She would also appreciate an apology from the incompetent cops who nearly killed her.
While conducting a no-knock search warrant around 2 a.m. on May 28, 2014, Habersham County Deputy Charles Long threw a flashbang grenade into an innocent family's bedroom. The grenade landed in the crib of 18-month-old Bounkham Phonesavanh Jr., blowing a hole through his chest and leaving third-degree burns along his face and torso.
On July 22, former Habersham County Deputy Nikki Autry was arrested for falsely swearing to a judge that surveillance on the Phonesavanh family's house had been conducted and that a reliable informant had recently purchased meth from the house's occupants. Both statements have been proven false but were necessary in order for Autry to obtain the nearly fatal search warrant.
On May 16, 2010, a Detroit SWAT team conducting a no-knock raid tossed a flashbang grenade onto the couch where 7-year-old Aiyana Stanley-Jones had been sleeping. As the flashbang incinerated her blanket, Aiyana was immediately shot in the head by Officer Joseph Weekley. Although Weekley claimed that Aiyana's grandmother had reached for his weapon, ballistics and another officer's testimony refute his accusations. Police later realized they had forcibly entered the wrong apartment and killed an innocent girl.