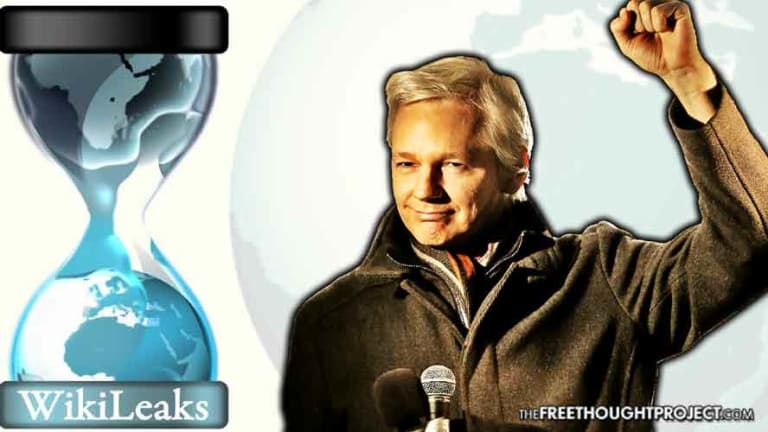 BREAKING: Sweden Drops Charges Against Assange, UK Promises to Arrest Him Anyway
Sweden has dropped its rape investigation against Julian Assange and will revoke its arrest warrant, the Swedish Prosecution just announced on its website.
London, UK — (RT) Sweden has dropped its rape investigation against Julian Assange and will revoke its arrest warrant, the Swedish Prosecution Authority has announced on its website.
The decision was made by Sweden's director of public prosecution, who confirmed that she decided to discontinue the investigation against the WikiLeaks co-founder.
"Director of Public Prosecution, Ms Marianne Ny, has today decided to discontinue the investigation regarding suspected rape (lesser degree) by Julian Assange," the prosecutor's office said in a statement.

Assange's defense lawyer, Per Samuelson, has called the prosecution's decision a "total victory."
"The preliminary investigation has been dropped and the detention order has been withdrawn, and from Sweden's point of view this is now over," he told Reuters.
The decision marks an end to a seven-year stand-off.
Assange has lived in the Ecuadorian Embassy in London since 2012, in order to avoid extradition to Sweden over the allegation, which he denies.
The decision comes after Assange's Swedish lawyer filed a motion which demanded that the arrest warrant be lifted, after US Attorney General Jeff Sessions said in April that arresting the WikiLeaks co-founder would be a "priority."
US authorities have been investigating Assange and WikiLeaks since at least 2010, when the site posted thousands of cables stolen by former US Army intelligence analyst Chelsea Manning.
The publication of classified US military and diplomatic documents represents one of the biggest information leaks in American history.
Just days ago, Ecuador voiced concern over the "serious lack of progress" by Sweden in dealing with Assange, citing a "serious failure" by the prosecution to complete the inquiry into the alleged sexual assault.
One of Assange's lawyers said earlier on Friday that closing the investigation or lifting the European arrest warrant would not necessarily mean he could easily leave for Ecuador, which has granted him asylum.
"The first thing one likely needs to do is seek guarantees from the British authorities that he won't be seized in some other way," Melinda Taylor told TT news agency.
Meanwhile, London's Metropolitan Police have announced that Assange will still be arrested if he leaves the embassy.
"Now that the situation has changed and the Swedish authorities have discontinued their investigation into that matter, Mr Assange remains wanted for a much less serious offence," it wrote in a statement.
Assange is wanted by Britain for skipping bail when he fled to the Ecuadorian Embassy in 2012.
A UN panel stated in February 2016 that Assange had been arbitrarily detained, and that the UK and Sweden should take immediate steps to ensure his freedom of movement.
Assange declared the ruling a "victory that cannot be denied," while both Britain and Sweden disagreed that he was being denied freedom, as he had entered the Ecuadorian embassy voluntarily.