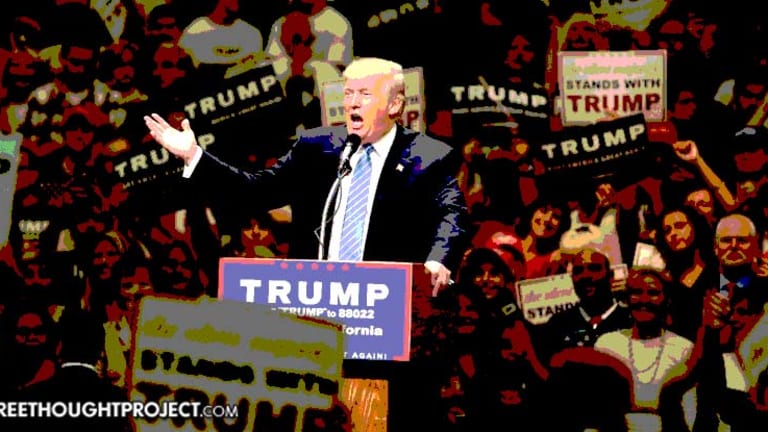 History Teacher & Holocaust Scholar Suspended for Factual Lesson Comparing Trump to Hitler
A California high school teacher and scholar was suspended for making a factual historical comparison of President-elect Trump to Adolf Hitler.
Mountain View, CA — Controversy exploded when a California history teacher with 40 years on the job was suspended for making a fact-based historical comparison of President-elect Donald Trump to Adolf Hitler.
Mountain View High School officials asked Frank Navarro, a Holocaust scholar, to leave midday Thursday after an irate parent emailed the school to complain about the history lesson.
"This feels like we're trying to squash free speech," Navarro told the Mercury News, echoing similar sentiments around the country less than one week after Trump's victory. "Everything I talk about is factually based. They can go and check it out. It's not propaganda or bias if it's based on hard facts."
Despite placing the history teacher and scholar on paid leave, officials declined to share the angry parent's email and refused to accept Navarro's offer to discuss his lesson plan to clear up confusion. Pending a review of the facts, Navarro could be allowed to return to work as early as today.
Navarro told the New York Daily News the parent accused him of saying, "Donald Trump grabs p***y" — but the father of three girls sharply rebuked that claim, adding he would never speak that way.
In fact, as an expert on the Holocaust, Navarro insists his lesson only comprised facts.
"I had a short lesson paralleling Hitler with Trump when Hitler was running from 1930 to 1933," he told the Daily News. "Hitler said he would make Germany great again, and Donald Trump said he would make America great again."
A number of scholars, academics, and historians have proffered the same comparison — it has not been considered a completely radical or fringe theory — and the similarities between Trump and Hitler are indeed striking. Further, the high school history and special education teacher contends he did not inject personal opinion into the lecture, and only sought to highlight notable parallels.
"I told [school principal David Grissom] as I told my students, that these are all factually based and that I am not making anything up," Navarro noted.
Mountain View/Los Altos High School District Superintendent Jeff Harding expressed hope to have the 40-year veteran teacher back to work as soon as possible, telling the Mercury News,
"We are interested in getting Frank back in the classroom…we're just trying to maintain our due diligence. We have a heightened emotional environment right now with the election. It's always a challenge to maintain a line in a classroom."
Navarro indeed has the exact expertise in the field to make such a comparison from an informed stance, not paranoid panic.
"The 65-year-old was named a Mandel Fellow for the U.S. Holocaust Memorial Museum in 1997 and has studied at the International Center for the Study of the Holocaust in Jerusalem. Hitler's persecution of Jews and rise to power has 'remarkable parallels' to Trump's comments on Latinos, Blacks and Muslims in his own bid for power, he said," reported the Mercury News.
"I said (to school officials), 'I'm not pulling these facts out of my hat. It's based on experience and work and if I'm wrong, show we where I'm wrong.' And there was silence," Navarro explained.
A petition to have the teacher fully reinstated had amassed nearly 24,000 signatures before dawn on Monday morning — but some students reportedly claimed Navarro's lessons tend to be biased against the president-elect. Nonetheless, the Change.org petition, created by a school alumnus, asserts silencing the teacher is an errant miscalculation, given the valid historical comparison, stating:
"It is dangerous and disgusting that the administration has decided to punish him for drawing parallels between two similarly dangerous moments in history."
Further, the petition contends the school owes Navarro an apology for "attempting to intimidate a respected educator."
But Navarro didn't intend to provoke with the lecture; rather, to draw the correlation that has been dismissed somewhat carelessly in the media and among some academic circles.
In February, Harvard University political theorist Danielle Allen penned an editorial in the Washington Post warning of the similarities in 1930s Germany's divided populace and the rise of Hitler as a charismatic savior figure to Donald Trump's enamored followers and keen critics.
"Like any number of us raised in the late 20th century, I have spent my life perplexed about exactly how Hitler could have come to power in Germany," Allen noted. "Watching Donald Trump's rise, I now understand. Leave aside whether a direct comparison of Trump to Hitler is accurate. That is not my point. My point rather is about how a demagogic opportunist can exploit a divided country."
A full six years ago, Noam Chomsky noted the resemblance of late Weimar Germany to the atmosphere building in the United States, telling Chris Hedges, "The parallels are striking. There was also tremendous disillusionment with the parliamentary system. The most striking fact about Weimar was not that the Nazis managed to destroy the Social Democrats and the Communists, but that the traditional parties, the Conservative and Liberal parties, were hated and disappeared. It left a vacuum which the Nazis very cleverly and intelligently managed to take over."
Navarro, who is Mexican-American, told the Mercury News he has concerns for his students in this tumultuous and deeply divided political climate:
"I've had Mexican kids come and say, 'Hey, Mr. Navarro, I might be deported.'
"Is it better to see bigotry and say nothing? That's what the principal was telling me (during our conversation). In my silence, I would be substantiating the bigotry."
Although some theories about the Trump-Hitler parallels have been laughed off as hyperbolic fearmongering, Navarro and others insist they aren't making a direct correlation, rather highlighting similarities worthy of discussion and heightening awareness to the cyclical nature of history.
"This parent said that I had said Donald Trump was Hitler, but I would never say that," he told the San Francisco Chronicle on Saturday. "That's sloppy historical thinking."
Navarro told the Daily News he intended only to "make the history relevant and show them that these issues have been around for a long time and are probably not going away."
Officials originally told Navarro he would be unable to return to teaching before Wednesday, but Harding, the school superintendent, said full reinstatement would likely be granted Monday. As the teacher-scholar has said, the petition notes,
"I feel strongly about this: to stand quiet in the face of bigotry and to turn your eyes away from it is to back up the bigotry, and that's not what I, or any history teacher, should be doing in our work."