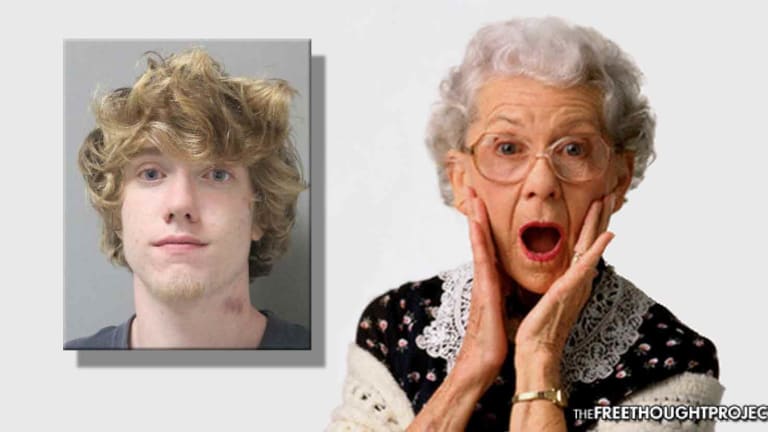 Teen Arrested, Facing 90 Days in Jail -- For Cursing Near an Elderly Woman
An 18-year-old college kid was arrested and thrown in jail for the alleged 'crime' of cursing near an elderly woman.
WEST MONROE, La. -- Freedom of speech, in the land of the free, is not guaranteed. Despite the wording of the First Amendment, claiming that "Congress shall make no law...abridging the freedom of speech," there are countless laws across the country designed to do exactly that. One glaring deprivation of rights and a clear violation of the First Amendment happened in Louisiana this month after an 18-year-old college student was arrested -- for swearing near an elderly lady.
Jared Dylan Smith was booked into jail on a 'disturbing the peace through language and disorderly conduct' charge on April 8, according to the Ouachita Parish Sheriff's Office. To be clear, Smith was not engaged in conversation with the 75-year-old woman, nor were any words directed toward the woman. No, he was simply arrested for the alleged 'crime' of cursing near her.
According to the complainant, in a statement on the probable cause affidavit, she said Smith was standing next to her when he yelled an expletive and "clearly disturbed her peace." Smith reportedly denied yelling the expletive.
As Louisiana law states, one can be arrested for disturbing the peace by "addressing any offensive, derisive, or annoying words to any other person who is lawfully in any street, or other public place; or call him by any offensive or derisive name, or make any noise or exclamation in his presence and hearing with the intent to deride, offend, or annoy him, or to prevent him from pursuing his lawful business, occupation, or duty."
Feel free now?
If found guilty of swearing next to an elderly woman, Smith could face up to 90 days in jail.
In the land of the free, a person can be kidnapped and thrown in a cage for arbitrary sounds made with their mouth that cause harm to no one.
Aside from this being clearly asinine, it's well established by the Supreme Court to be unconstitutional.
In Cohen v. California, the U.S. Supreme court upheld a citizen's First Amendment right to wear a jacket to court that read "Fuck the Draft," the court held:
"WHILE THE PARTICULAR FOUR-LETTER WORD BEING LITIGATED HERE IS PERHAPS MORE DISTASTEFUL THAN MOST OTHERS OF ITS GENRE, IT IS NEVERTHELESS OFTEN TRUE THAT ONE MAN'S VULGARITY IS ANOTHER'S LYRIC. INDEED, WE THINK IT IS LARGELY BECAUSE GOVERNMENTAL OFFICIALS CANNOT MAKE PRINCIPLED DISTINCTIONS IN THIS AREA THAT THE CONSTITUTION LEAVES MATTERS OF TASTE AND STYLE SO LARGELY TO THE INDIVIDUAL."
What's more, the U.S. Supreme Court ruled, in City of Houston v. Hill, that police must tolerate even more abusive speech than an average citizen. The court concluded that "in the face of verbal challenges to police action, officers and municipalities must respond with restraint," and added that, "the First Amendment protects a significant amount of verbal criticism and challenge directed at police officers."
Here at the Free Thought Project, we feel there are no such things as 'bad words' but, rather, certain words some people don't like to hear.
The arbitrary nature of government enforcing laws that dictate what vocabulary a person can use is as ridiculous as it is tyrannical. Sadly, it remains a part of society.
Have we learned nothing from history?
Telling people what words they can and can't say to 'protect' others is chilling. Freedom of speech does not come with terms and conditions as words alone, less the obvious yelling "fire" in a movie theater, cannot cause physical harm.
The act of being offended is a choice taken by those who hear certain words like the 75-year-old woman in this case. Limiting or changing language, or throwing an 18-year-old college kid in jail, does nothing to stop someone from offending in another manner or being offended.
Americans who support this kid getting thrown in jail for his words should heed the legendary George Carlin's advice below.