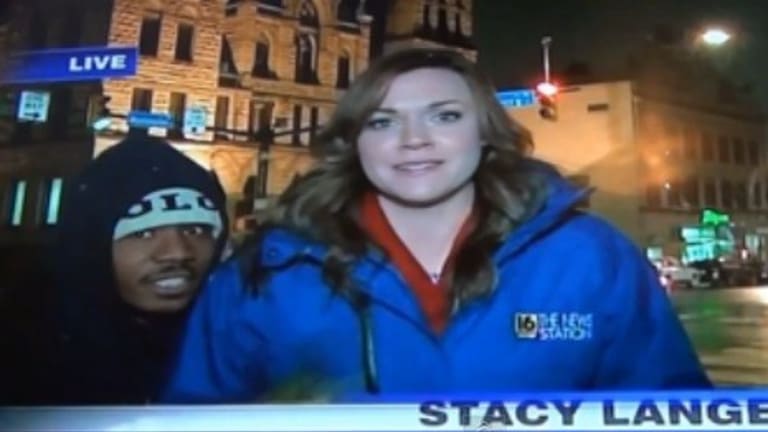 First Arrest Happens in the Viral News Trolling Act of "FHRITP"
Scranton, Pennsylvania - 18-year-old Tyrone Parker is facing charges after trolling a news reporter with the infamous "FHRITP" interruption.
The viral internet phenomena "FHRITP" began on January 4th 2014 when reporter John Cain did not realize that he was being broadcast live and made lewd comments about a missing 20-year-old girl that the network was doing a story on.
Cain was quickly fired for his on-air remarks, but they were immortalized just one month later when a hooded man with sunglasses named "Fred" jumped into the middle of a news report, grabbed the microphone and yelled "F*** her right in the P****", before running off.
The act has been imitated hundreds of times by frat boys and comedians all over the country without much incident, but this week young Tyrone Parker was arrested for staging the live interruption.
"It's an unfortunate and disturbing trend that's happening more often these days to reporters, all for the sake of getting a video to go viral on the web," WNEP News Director Carl Abraham told the Times Tribune this week.
Parker's interruption was actually far more tame than some that have been seen in the past, as you can see below.
After Parker muttered these words he ran into a dorm at Lackawanna College. Police then conducted an investigation after reporter Stacy Lange gave them footage and went after Parker.
He was arrested shortly after police confronted him. Police asked Parker if he was the one who yelled FHRITP and he initially denied it. Several moments later he admitted to it and was charged with falsifying a report.
It is truly a sad state of affairs in this country when police officers will investigate someone yelling profanity but completely ignore hundreds of thousands of rape cases and child rape cases.
John Vibes is an author, researcher and investigative journalist who takes a special interest in the counter culture and the drug war. In addition to his writing and activist work he is also the owner of a successful music promotion company. In 2013, he became one of the organizers of the Free Your Mind Conference, which features top caliber speakers and whistle-blowers from all over the world. You can contact him and stay connected to his work at his Facebook page. You can find his 65 chapter Book entitled "Alchemy of the Timeless Renaissance" at bookpatch.com.