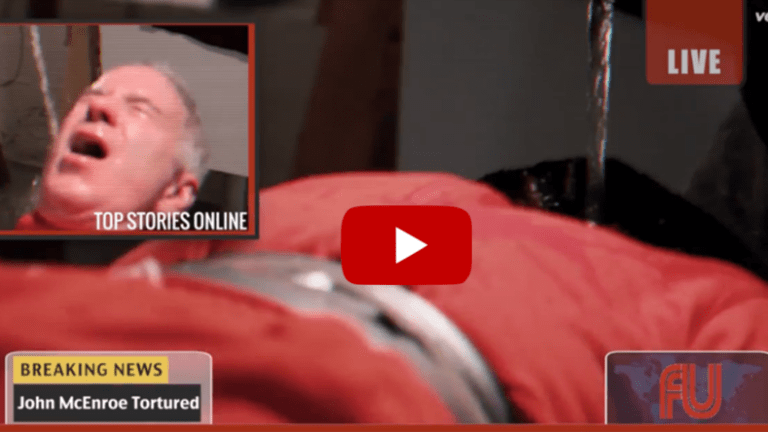 Tennis Legend John McEnroe Waterboarded In Controversial Video Exposing the Police State
"It's a pretty powerful clip," says McEnroe.
Los Angeles, CA (September 2, 2014) – Former Wimbledon champ JOHN McENROE gets waterboarded in "Clockwork," a controversial new video from electronic rock band FUTURE USER centered around police militarization.
Shot at an undisclosed location in Los Angeles, CA, the disturbing clip sees McEnroe being abducted, bound to a bench and tortured after dismissing a defeated tennis opponent with an obscene gesture.
There were no stunt doubles or visual effects used during the visceral and unnerving scenes; the outspoken tennis legend was immobilized, had a towel placed over his nose and mouth and then had water poured over his breathing passages to induce a drowning sensation. The steps were repeated approximately a half-dozen times over the course of a 90-minute shoot.
"It's a pretty powerful clip," says McEnroe. "A friend involved with the project asked if I wanted to participate, saying he was making a video about living in a police state where people are punished for the smallest of infractions – sort of a 'this could happen to you' scenario.
It seemed like a sci-fi concept at the time, but given everything that's been happening around us lately, this video could easily be mistaken for an evening newscast. As for what it was like to shoot my scenes, let's just say it was an experience I'll never forget. I read about waterboarding and all the debates, and let me tell you from firsthand experience, it's a brutal and terrifying form of torture. No one—American or otherwise—should ever have to endure that."
Paralleling today's headlines, "Clockwork" paints a picture of a nation in turmoil as the lines between military-style actions and law enforcement becoming increasingly blurred. Against a backdrop of media noise and shocking news footage, a single powerful message gets repeat plays: "What if this was someone you love?"
"Clockwork" is the debut video from electronic rock band Future User. Subversive and cinematic, Future User's songs serve as the soundtrack for S.W.I.M., a disenfranchised taxpayer who's grown tired of looking at the vista of ruin outside his window. As he walks streets littered with broken and abandoned promises, Future User's music becomes his travelogue, channeling a collective hurt into an exhilarating new sound. It's S.W.I.M. who plays McEnroe's masked tennis adversary in "Clockwork."
"The St. Louis student shot by a warrior cop. The African-American television producer wrongly arrested in Beverly Hills because he 'fit the description.' The homeless man shot by police in New Mexico while 'illegally camping.' We watch these news reports with the same emotional investment reserved for a TV crime drama," says S.W.I.M.
"But imagine how you'd feel if those things happened to someone close to you. What if one of those people was someone you loved? You'd be horrified. You'd be scared. You'd be angry. It's easy to look at this video and think it was shot over the course of the past couple of weeks as a statement about what happened in Ferguson, but this project was actually months in the making, yet couldn't be more timely. And that's tragic."
iTunes: https://smarturl.it/fuclockworks
VEVO: https://smarturl.it/clockworksvdv
Spotify: https://smarturl.it/clockworksspt
Beats: https://smarturl.it/clockworksbts