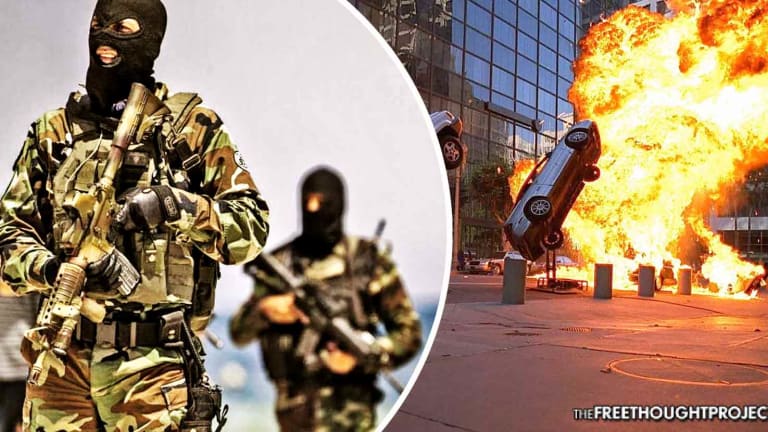 US Just Warned Traveling Citizens That a Terror Attack May Happen at Any Time
The US State Department has just issued an ominous warning to US citizens to be cautious while traveling as a terror attack may happen at any moment.
In a rather unexpected move, the United States has now issued a terror alert warning citizens about travel throughout the European Union, and — while the warning recalls relatively recent incidents in France, the UK, Russia, and Sweden — its timing, amid hostilities with North Korea and others, implies an ominous prognostication, rather than cautionary heads-up.
For the U.S. Department of State to issue such a warning — unconnected in immediacy to any specific incident in the E.U. — appears to adhere to guidelines of past warnings, in that its impetus likely rests in credible babble of an imminent threat to life.
"While local governments continue counterterrorism operations," the U.S. Department of State's newest Travel Alert reads, "the Department nevertheless remains concerned about the potential for future terrorist attacks. U.S. citizens should always be alert to the possibility that terrorist sympathizers or self-radicalized extremists may conduct attacks with little or no warning."
Interestingly, while the State Department admonishes citizens operatives of the Islamic State could strike at any time, it also cautions specifically against militants of al-Qaeda — the War on Terror's original Enemy Number One — a group which now claims to be fighting alongside the U.S. in Yemen, among other locations.
Nevertheless, the warning continues,
"Extremists continue to focus on tourist locations, transportation hubs, markets/shopping malls, and local government facilities as viable targets. In addition, hotels, clubs, restaurants, places of worship, parks, high-profile events, educational institutions, airports, and other soft targets remain priority locations for possible attacks. U.S. citizens should exercise additional vigilance in these and similar locations, in particular during the upcoming summer travel season when large crowds may be common.
"Terrorists persist in employing a variety of tactics, including firearms, explosives, using vehicles as ramming devices, and sharp-edged weapons that are difficult to detect prior to an attack."
Indeed, caution is necessitated — arguably, everywhere the United States continues fighting militarily in answer to political woes — and although the most dangerous locales undoubtedly lie in direct conflict zones, it is interventionist, imperialist foreign policy to blame for safety concerns.
Slated to continue through September 1, the travel advisement insinuates safety rests in the traveler's purview — and not in a constriction of troops from areas known hostile to U.S. presence, where rage and a feeling of exploitation thwart any potential good intentions.
By all outward appearances, President Trump's administration has not quelled the nefarious effects of blowback — a term murkily coined by both the U.S. Intelligence Community and journalists present abroad in delicate situations — comprising the negative and damaging repercussions, direct and surreptitious, from operations like regime change, undesired otherwise by civilian populations.
Blowback could not be more clear from the self-titled Islamic State, whose militants frequently cite U.S. operations interfering in the affairs of predominantly Muslim, sovereign States as the impetus for attacks carried out or threatened.
Unusual in the State Department's travel alert is its duration and lack of specificity — its ambiguity, alone, suggests U.S. Intelligence might possess additional information not made apparent to travelers to Europe.
Why, when all the conditions listed have not changed for months or years, would State abruptly announce the need for increased vigilance and wariness when traveling abroad to Western-allied nations?
Issuing a caution without elaborating on the details of its sudden imperative nature necessitates questions about the extent of knowledge withheld from the populace. While the matter likely isn't suspicious beyond what we've been told, the Department of State would not announce such a warning were no legitimate threat present.
"We continue to work closely with our European partners and allies on the threat from international terrorism," the alert concludes. "Information is routinely shared between the United States and our key partners to disrupt terrorist plotting, identify and take action against potential operatives, and strengthen our defenses against potential threats."
Perhaps, in an abundance of caution, State felt informing the public — without exploding latent fear and paranoia — usurped the need to provide comprehensive information.
Or, perhaps — as aforementioned — the U.S. Department of State knows more than it would ever provide, much less acknowledge openly.