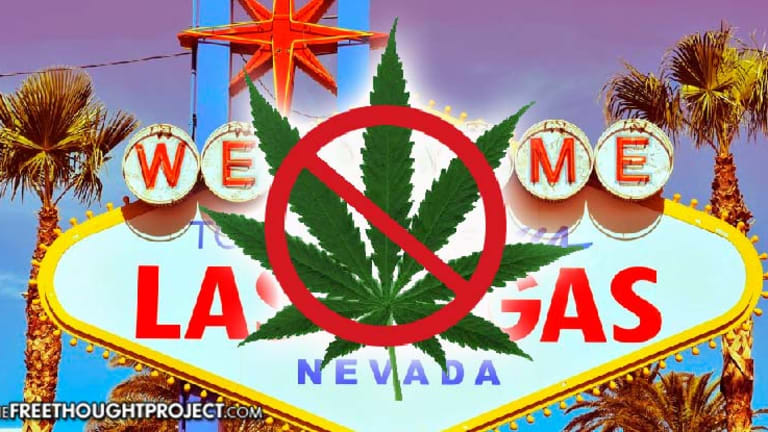 Thanks to the Feds, 2017 Cannabis Cup Has No Cannabis — Despite Being 100% Legal
In spite of the people of Nevada voting to legalize cannabis, the federal government felt compelled to threaten them over this year's cannabis cup.
Las Vegas, NV — Was this year's cannabis cup really cannabis-less? Thanks to the federal government trampling on states' rights, the answer to that question is an unfortunate, yes.
Nevada was one of four states to legalize recreational marijuana in November — bringing that total to eight states. There are also 28 states that allow marijuana for medical use. In spite of this overwhelming support sweeping the nation in favor of legal cannabis, the federal government, acting on behalf of the police state and big pharma, have continued to ruthlessly attack those who use it.
When news of this year's cannabis cup being held just outside of Las Vegas at the Moapa Paiute Indian Reservation began spreading, cannabis users were ecstatic considering the fact that pot is now legal in the state. However, thanks to the federal government's renewed push for the war on drugs, that excitement turned to bitter resentment after U.S. Attorney Daniel Bogden took a hard line in a letter, saying that federal law applies and pot smokers could be prosecuted.
As the Cannabist reports, the letter references the 2013 Cole Memo, an Obama-era directive that gave federal prosecutors and law enforcement guidance in states where marijuana has been legalized, on how to best prioritize their efforts regarding enforcement of federal marijuana laws. Bogden writes:
I am informed that the tribal council is moving forward with the planned marijuana event referred to as the 2017 High Times Cannabis Cup because it is under the impression that the so-called 'Cole Memorandum' and subsequent memoranda from the Department of Justice permit marijuana use, possession and distribution on tribal lands when the state law also permits it. Unfortunately, this is an incorrect interpretation of the Department's position on this issue.
Bodgen also referred to a 2014 Justice Department policy statement known as the Guidance Memorandum that focused on marijuana laws passed by tribes:
Moreover, both the Guidance Memorandum and the Cole Memorandum to which it refers explicitly state that even where none of the listed factors are present, federal investigation and prosecution may still be appropriate. Nothing in either the Policy Statement or the Cole Memorandum alters the authority or jurisdiction of the United States to enforce federal law in Indian Country.
Reacting to the federal threats, Cannabis Cup spokesman Joe Brezny told participants that it will essentially be just a concert this year.
"We've removed the marijuana," he said. "There will be no smoking area, no edibles competition, no cannabis topicals or lotions."
This massive overreach by the federal government comes in spite of Donald Trump's promises to leave recreational marijuana up to the states — largely because of his anti-cannabis Atty. Gen. Jeff Sessions.
Sessions noted that "states they can pass the laws they choose" but emphasized "it does remain a violation of federal law to distribute marijuana throughout any place in the United States, whether a state legalizes it or not."
As the Cannabist reported, the letter and threats "were enough to prompt the tribe to declare that its police and event security won't allow smoking, selling or transporting marijuana at its festival grounds," ironically located right "near its fireworks stand, liquor outlet and smoke shop just off Interstate 15."
The good news is that the crowds largely disobeyed. 
On Saturday, according to our reports from inside the Cup, pot clouds filled the air and mass arrests were not prevalent. Although the stress-free environment was tainted by the risk of being kidnapped and caged for a plant, most users didn't seem to care.
Unfortunately for the thousands of people who bought tickets to the event, however, the Sunday part of the show was canceled due to high winds.
The future of cannabis in America now remains uncertain as the federal government promises to continue to wage war on those who use it. However, as history has shown, as long as people keep civilly disobeying unjust laws, eventually the enforcers of those laws will be exposed as brutal tyrants.
Thank you Cannabis Cup attendees for refusing to obey an unjust law.
[author title="" image="https://tftpstagingstg.wpengine.com/wp-content/uploads/2016/03/magorist-e1456948757204.jpg"]Matt Agorist is an honorably discharged veteran of the USMC and former intelligence operator directly tasked by the NSA. This prior experience gives him unique insight into the world of government corruption and the American police state. Agorist has been an independent journalist for over a decade and has been featured on mainstream networks around the world. Agorist is also the Editor at Large at the Free Thought Project. Follow @MattAgorist on Twitter, Steemit, and now on Facebook.[/author]