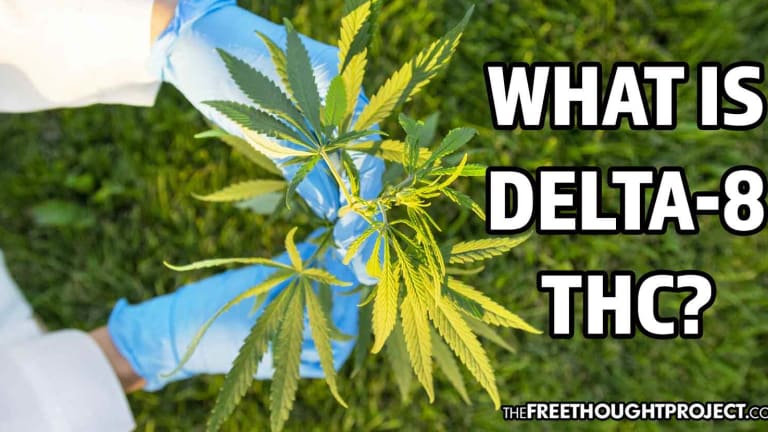 Thanks to the Farm Bill, a Cannabinoid that Gets You High is Legal Across the US—For Now
Thanks to a loophole created by the Farm Bill, Delta-8-THC is legal in all 50 states — for the time being.
Across the board, opioid drug use and deaths associated with their use have increased at alarming rates over the past two decades. No amount of AR-15s, SWAT police, MRAPs, or any other military gear has had a hand in lowering these statistics. In fact, the exponential increase in overdose deaths nearly coincides with the increase in militarization in the last decade and a half.
One drug, or rather plant, which is still viciously sought after in the state's immoral war on drugs is absent from the ever-increasing list of overdose deaths, however. That plant is cannabis.
In spite of some form of cannabis being legal in some fashion in well over half the country, the government still violently and with extreme prejudice continues to seek out those who dare possess it. But thanks to the legalization of hemp — the non-psychoactive version of the cannabis plant — that is starting to change.
Hemp has taken the market by storm and for all the right reasons. Hemp flower is now a highly desired product achieving prices that rival its psychoactive cousin. Even in states with draconian anti-marijuana laws, the hemp flower is defying the police state.
Though most hemp cannot get you high because it lacks the cannabinoid molecule delta-9-tetrahydrocannabinol, aka THC, a new product is on the rise that actually does have those effects.
Both the marijuana and hemp plants have over 140 cannabinoids, many of which we are only beginning to understand. One of those cannabinoids is Delta-8-THC which is found in both the hemp and marijuana plants.
According to the National Cancer Institute, delta-8-THC can be defined as:
"An analogue of tetrahydrocannabinol (THC) with antiemetic, anxiolytic, appetite-stimulating, analgesic, and neuroprotective properties. [Delta-8-THC] binds to the cannabinoid G-protein coupled receptor CB1, located in the central nervous system…This agent exhibits a lower psychotropic potency than [delta-9-THC], the primary form of THC found in cannabis."
In other words, Delta-8-THC gives users a body high whilst leaving most of the mental effects of marijuana behind. To many, this is a far better experience as the mental high from marijuana can sometime be overwhelming.
According to Best Damn Buds, their processors extract and concentrate it since it only exists naturally in small percentages within the HEMP/Cannabis flower. Like other cannabinoids,, it interacts with the body's endocannabinoid system – specifically the CB1 receptor of the nervous system – to bring on its psychotropic effects.
They sell a myriad of products on the website:
Infused Bud
Moonrocks
Shatter
Distillate Syringes
Tinctures
We spoke to the owner of Best Damn Buds, a company blazing the way for the industry, who told TFTP, "this stuff is flying off the shelves in all the stores that we stock. Everyone is loving this new buzz and coming back for more. And more. And more."
For those who would like to know more, you can visit their website or, you can talk to the Best Damn Buds folks at the Pennsylvania Cannabis Festival coming up April 17 & 18.
Though Delta-8-THC is legal since it is derived from the hemp plant, because it gives users a "buzz" it has already grabbed the attention of the police state.
Despite it being entirely legal in South Carolina, cops in Clinton, SC recently raided a vape store and seized their products which contained Delta-8-THC. Since cops only like loopholes which benefit them, the loophole created by the 2018 Federal Farm Bill, allowing the production of Delta-8-THC, is likely making them furious.
"Some say, 'OK, now we have legal rights to grow hemp, so maybe now we can extract Delta-8-THC and use that for selling.' Because legally we cannot isolate Delta-9-THC - law says you cannot have over 0.3 THC," explained Dr. Prakash Nagarkatti who is the vice president of research at the University of South Carolina and has studied cannabinoids for over 20 years.
Sadly, the police state's crack down on the legal substance is hurting senior citizens, who use Delta-8-THC to ease their sore joints and aches and pains. Delta-8-THC also helps children and cancer patients too. According to Leafly, in a study out of Jerusalem, delta-8 THC was administered to eight children ranging from 3 to 13 years of age with various hematologic cancers. These children had been treated with different drugs and [chemotherapy] for eight months prior to treatment with delta-8-THC. The delta-8-THC treatments started two hours before each session of chemo and continued every six hours for 24 hours. With this treatment, vomiting was completely prevented and side-effects were reported as negligible. Amazing indeed.
However, as TFTP has reported numerous times, the police state does not care that this plant can help the young and elderly alike, they have but one mission — eradicate it.
"Dealing in any way with Delta-8-THC is not without significant legal risk," said Alex Buscher, a Colorado lawyer who specializes in cannabis law.
Hopefully, as the drug war continues to crumble, this madness comes to a halt and people can ingest anything they want. Until then, however, for those who wish to remain "legal," Delta-8-THC is a fantastic option.