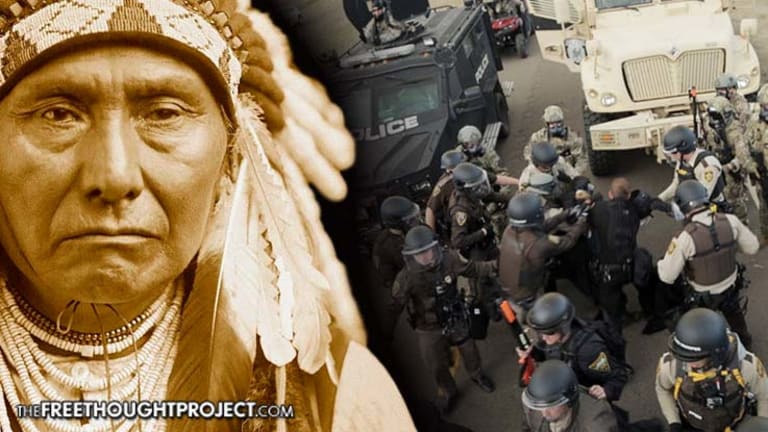 On Thanksgiving -- Native Americans are Being Beaten, Gassed, & Shot in North Dakota
On Thanksgiving Day, during Native American Heritage Month, police are using tear gas, rubber bullets and water against Native American water protectors.
While most of America will spend hours with family preparing a feast of Thanksgiving, reflecting with gratitude on blessings bestowed over the years, those original to this land have a less idyllic perspective on this holiday — one steeped in the déjà vu of historical context playing out in a battle for clean water.
For the Standing Rock Sioux Tribe, the peaceful fight to stop construction of the Dakota Access Pipeline isn't environmental activism; it's preservation of life, protection of a living entity — the Missouri River and Lake Oahe reservoir — as real as flesh, or plant, or animal. Opposing a potential threat of oil contamination to that water would never be a question — the Missouri has sustained generations and must sustain those to come.
But these water protectors wage this prayerful campaign of preservation with centuries of exploitation, brutalization, and genocide crisp in memory — both centuries old and as recent as Sunday night, when State agents chose the ironic weapon of water to devalue the lives of anyone daring to protect the water from careless corporate greed.
On Sunday, an attempt to clear an obstruction blocking the primary access point to the Standing Rock Sioux Reservation — the fastest route for emergency services — sparked a barbarous assault by a multi-state, inappropriately-militarized police force.
Amid a relentless haze of tear gas and weaponized water, a tribal elder went into cardiac arrest, twice, one man suffered a grand mal seizure, a young woman was shot in the head with a rubber bullet and may have permanent eye damage, a man vomited blood after a rubber bullet to the stomach caused an internal injury, and a young woman, Sophia Wilansky — who traveled from New York City to assist in protecting the water — might lose her arm after a concussion grenade tore through flesh all the way to the bone.
Medics from the Standing Rock Sioux and Cheyenne River Sioux Tribes reported 26 people hospitalized and around 300 injured, dozens suffered hypothermia from being soaked by police in 23° Fahrenheit temperatures. Medics and witnesses observed police intentionally shooting rubber bullets and other 'less than lethal' projectiles at people's heads and legs — and that officers appeared to purposefully target journalists and anyone helping the wounded.
Vanessa, a medic from the Oceti Sakowin camp with 30 years of experience as an EMT, noted in an ">interview after the police attack that even Standing Rock and Bismarck EMS crews "said that they had never seen anything like this, and they did not realize that this was what is was like when Morton County [Sheriff's Department] unleashed on us. So, they were not aware of the injuries that were happening."
Although the Morton County Sheriff's Department flatly denies the use of concussion grenades and dismissed weaponizing water as 'just a fire hose,' evidence from the scene disputes the former and live video from taken Sunday night utterly contradicts the latter.
In fact, eyewitnesses, video footage, still photographs, human rights observers, and journalists on the scene for multiple incidents of police escalation and extreme, unjustifiable force prove the sheriff's department to be hubristic liars — often twisting the narrative after the fact to accommodate unconscionable acts of violence, like spontaneously drenching a crowd of 400 in icy water in frigid weather.
But perhaps the only greater irony than weaponizing water against Native American water protectors is its occurrence during President Obama's token proclamation of November as Native American Heritage Month — an utterly sardonic and hollow gesture, considering the deafening silence from the White House about the vigilantism against Native Americans by police protecting construction of a pipeline only Big Oil wants.
On second thought, maybe that's the point. For the government of the United States, the heritage of Native Americans has been little more than an obstacle to complete domination of land. Its Fort Laramie Treaty of 1851 — which should have ceded the very land to Indigenous peoples where the battle for clean water presently plays out — was fast abandoned with the discovery of gold in South Dakota's Black Hills, and has been strategically trimmed when convenient ever since.
What better way for the State to celebrate Thanksgiving Day during Native American Heritage Month than by perpetrating or ignoring further brutalization and exploitation of peoples whose only crime was to have inhabited these lands centuries before Europeans arrived.
While the world watches in horror as a shameful history repeats itself in North Dakota, the first African American President of the United States fecklessly conjures the specter of genocide — also remaining embarrassingly tight-lipped on the parallel ghost of water weaponized against black civil rights protesters in the 1960s.
"During National Native American Heritage Month, we pledge to maintain the meaningful partnerships we have with tribal nations, and we renew our commitment to our nation-to-nation relationships as we seek to give all our children the future they deserve," Obama's empty proclamation reads.
But considering the current struggle the Standing Rock Sioux have been forced to endure for the sake of protecting the water from potential contamination with crude oil, it is impossible to extrapolate precisely what the president meant by "deserve."
Faced with lack of definitive action by the federal government, water protectors and their supporters have attempted appeals to police officers' consciences — pleading for them to consider their viciousness of targeting grandmothers, grandfathers, young children, mothers, fathers — to put violence in a humanitarian light. Several reports claimed two officers had, indeed, turned in their badges, but that was never confirmed.
Vanessa, the medic — shocked by the abrupt escalation of aggression Sunday night — had a message for the Morton County Sheriff and officers the department is coordinating with in perpetrating callous violence against the water protectors:
"Stop being stupid. There's no sense in what you're doing. Peaceful, prayerful people — even if they're yelling and screaming — they're not shooting. They're not hurting you. They're there protecting the water. Just stop. What you're doing is beyond wrong. You're violating civil rights, you're violating international laws, you're just … you've lost control. And your officers have lost control of themselves. You need to stop now before you kill someone."
Noting the scores of injured, including Sophia Wilansky who might have to have her arm amputated, Vanessa implored, "There are just so many things that you're doing wrong. I pray for you. I pray that you get a soul because, right now, you don't have one. And you are hurting real people, with families, with friends, with loved ones. You need to stop — and stop now."
It appears unlikely, even on the generally cordial Thanksgiving holiday, police and the Obama administration will heed this plea — if indeed they hear it at all.
">