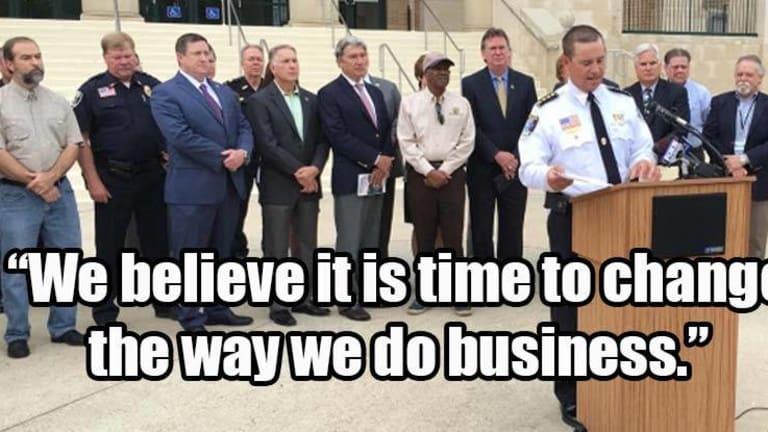 "They need HELP, not HANDCUFFS" Brave Cops Stand Against Drug War, Stop Arresting Users
"It is time to treat addiction as a disease and not a crime." In the world's largest prison state -- courageous cops are taking a stand.
Covington, LA -- On Monday, Police Chiefs, Sheriffs, District Attorneys, and other government officials from the Eastern part of Louisiana came together to make a courageous and revolutionary statement -- "It is time to treat addiction as a disease and not a crime."
Louisiana is one of, if not the worst state in the union when it comes to Draconian laws on the books that target those caught with drugs. Back in 2011, the Associated Press reported on the case of Cornell Hood II, who received a life sentence for possessing two pounds of pot. Hood received the maximum sentence under Louisiana's habitual drug offender law because he had three prior marijuana convictions, although none of them were significant enough to result in even a single day of jail time.
Mulitple decade sentences in the state of Louisiana for possessing a plant are not uncommon and, in fact, they've lead the state to the highest incarceration rate in the world. Louisiana imprisons more of its people, per head than any of its U.S. counterparts which by default makes them first in the world for locking people in cages. Louisiana's incarceration rate is nearly five times Iran's, 13 times China's and 20 times Germany's.
Due largely in part to the war on drugs, in just the past two decades, Louisiana's prison population has doubled. One out of every 86 Louisiana citizens is behind bars, and that rate is far worse for black men. One in 14 black men is behind bars in Louisiana with one in seven either being in prison, on parole, or on probation.
The political pull and lobbying efforts of the sheriffs that keep these overly harsh punishments on low-level and victimless crimes have created a prison state second to none on the planet. So, when a group of law enforcement comes out publicly and threatens that prison for profit cash cow belonging to cops throughout the entire state, they deserve to be commended, not only for their courage, but for their ability to see past the barrel of a gun and seek out solutions to problems without using violence or depriving people of their freedom.
On Monday, Chief Tim Lentz of the Covington Police Department was joined by his partners in law enforcement including, Mandeville Police, Pearl River Police, Madisonville Police, Slidell Police, Folsom Police, Sheriff's Office, District Attorney Warren Montgomery, Parish President Pat Brister, Coroner Dr. Charles Preston, Mayor Mike Cooper, Covington City Council Members, Public Defender John Linder, Judges of the 22nd JDC, St. Tammany Schools Supt. Trey Folse, church leaders, members of the bar, and friends to make a paradigm shifting announcement. Opening up the press conference Lentz made the following profound statement:
"Throughout my career I have watched the devastation that occurs when individuals become addicted to drugs. This addiction has ranged from cocaine to alcohol. Our profession seemed to address those suffering from addiction by arresting them and placing them in jail. We believe it is time to change the way we do business. We think we should give those suffering from addiction the help they need instead of handcuffs. It is time to treat addiction as a disease and not a crime."
The fact that a police chief is unafraid to speak such truth to power is astonishing. Despite the war on drugs being an abject failure and an immoral stain on humanity, police departments across the country continue to support it. Those who speak out against it are shunned by the same Police Unions who lobby Congress for more strict drug laws.
The program Lentz is adopting comes from Gloucester, Mass., and was created by their Chief of Police, Leonard Campanello. Aptly titled, Operation Angel, Campanello's program provides addicts with the help they need instead of locking them in cages.
The program works by letting users know that they will not be arrested for seeking help and can actually walk into the department, turn in their drugs and receive help -- in lieu of baton blows.
"We encourage you to seek help. You will not be charged with a crime, we will not ask where you got the drugs from. We will connect you with programs that will give you the help you need. We would rather you spend six months in a treatment program than spend six months in jail. We want to keep you out of the criminal justice system," explained Lentz.
The idea of treating an addict with compassion instead of violence is a revolutionary notion in this country. However, in other countries, such as Portugal, its effects have been realized for more than a decade. In 2001, the Portuguese government decriminalizedall drugs.
15 years later, drug use, crime, and overdoses have drastically declined in Portugal exposing the disturbing reality of prohibition.
Campanello's initiative and St. Tammany Parish's adoption of it are nothing short of bombshell, especially considering the prison state that is Louisiana. It is revolutionary, and will undoubtedly lead to progress.
This is how change comes -- not through the barrel of a gun -- but through empathy and peace.
Share this article with your friends and family to show them the power one good cop can have. Maybe you will open their eyes to the horrid reality that is the war on drugs.
[author title="" image="https://tftpstagingstg.wpengine.com/wp-content/uploads/2016/03/magorist-e1456948757204.jpg"]Matt Agorist is an honorably discharged veteran of the USMC and former intelligence operator directly tasked by the NSA. This prior experience gives him unique insight into the world of government corruption and the American police state. Agorist has been an independent journalist for over a decade and has been featured on mainstream networks around the world. Follow @MattAgorist[/author]