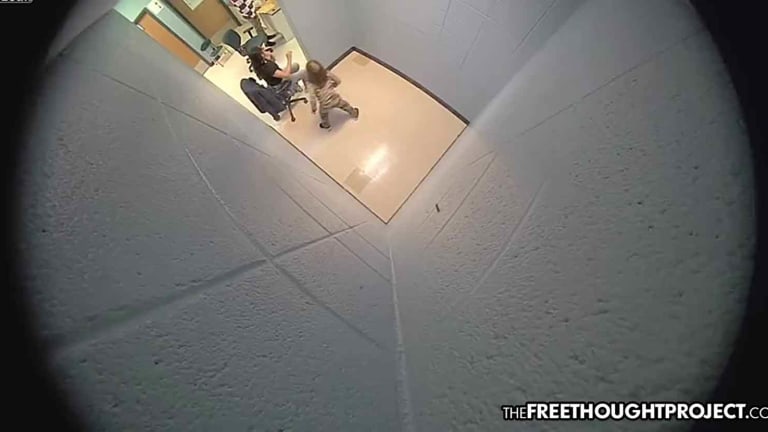 Tiny Children as Young as 7 Being Locked in Solitary Confinement for ADHD in Public School
One Illinois school is under investigation and one teacher's aide has been charged with abusing children inside a "seclusion room."
Illinois Public Schools still employ what they refer to as "time out" in isolation rooms for students with special learning needs. However, in one of the most egregious stories we have ever covered, one school in particular, Gages Lake School's use of the seclusion rooms is more likened to a prison than a primary school.
Not only does the school have seclusion rooms which resemble jail cells, but school staff have been caught on camera physically abusing school children placed inside such rooms.
Beth Sandy found out the hard way her son was being physically abused. The Department of Children and Family Services (DCFS) showed up at her door and informed her Staley, who is only 7-years-old, had been abused by a teacher's aide and had been locked away in one of the seclusion rooms.
Sandy knew something was amiss in Staley's education when he would hide under his bed when he knew the school bus was approaching his residence. Staley had complained about being sent to the "office" but little did she know that was what school employees called the seclusion room. According to one source covering the investigation:
Students are sent to the space, which is outfitted with four "Seclusion Rooms"- a small brick room with no windows, some with externally locking doors, some without. The details of the abuse cases are confirmed by surveillance cameras in the rooms, and include grabbing children tightly by the wrist, pushing them into the brick walls, and even blatantly throwing children on the ground.
Two of the school's employees were under investigation as a result of the reported abuse, claims which were confirmed by an insider whistleblower, an administrator at the school. Since May of 2019 there have been 21 investigations initiated into allegations of abuse of children at Gages Lake School.
Showing just how troublesome this situation is, Jennifer Aguirre, an 18 year school employee, killed herself in August soon after being the subject of abuse allegations. Two aides at the school resigned. The other aide, Nicholas Izquierdo, is now facing criminal charges in Lake County after prosecutors alleged he used excessive force on students. Izquierdo and his lawyer deny any wrongdoing.
Lake County Special Education officials identified at least 8 children who may have been abused by school employees and their controversial use of the separation rooms they called the "office".
The investigation into the school is ongoing with many other school personnel not yet being named as suspects in any criminal activity. Ironically, Aguirre was cleared of any wrongdoing, but not before she took her life as a result of the heinous allegations of abuse taking place at the school.
Sandy said it was incredibly difficult to see her son being abused by those entrusted with caring for the child. She told ProPublica:
I couldn't finish viewing it...I couldn't do it...This is messed up and other people need to hear about it...I want to be a part of something to stop this from happening to another child.
Staley's father, likewise, shares Sandy's frustration. Daniel Ester said:
It's been really hard to just keep my composure...I want accountability...and the apologies they give is not accountability at all.
Staley is now being homeschooled. District Superintendent Valerie Donnan was quick to point out once they learned of the allegations they began an investigation which included reviewing hundreds of hours of surveillance video, reported the abuse to law enforcement, and involved the services of DCFS.
The school district released the following video of Staley being abused and gave permission for Staley to share it with the press. We warn our readers and viewers the following video may serve as a trigger for those who have been abused as children.