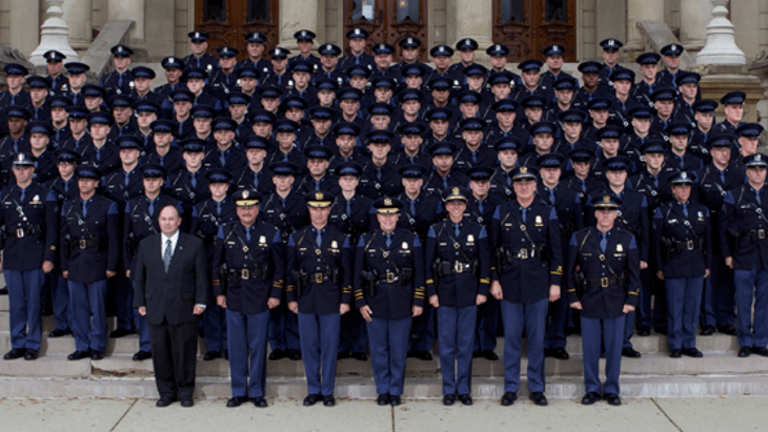 How Does a Town of 300 People Have 100 Cops?
A tiny Michigan town with less than 300 residents is finding itself in the national spotlight thanks to recent reports concerning a controversial ad-hoc police force in which upwards of 100 people paid money to be a part of.
The years-long saga surrounding the Oakley, MI Police Department has taken twists and turns as of late, and has been legally abolished twice in recent months, first by the town's Board of Trustees, then by the Saginaw County Circuit Court.
But while insurance issues were to blame for at least one of those shut-downs — the Board of Trustees said in September that officials would need to purchase a policy to operate as a police force — the heart of the drama surrounding the Oakley PD lately involves a long-standing program in which volunteers have been able to join the force by attending a weeks' worth of training and writing a check for barely a grand.
"The wanna-be officers pay about about $1,200 for a uniform, bullet-proof vest and gun, and some make additional donations to the police department. In return, they get a police badge and the right to carry their gun almost anywhere in the state, including places that people with normal gun permits can't, like casinos, bars, stadiums and daycare centers," ML Nestel wrote for Vocativ last month.
Those volunteer "reservists," Nestel reported, have included lawyers, doctors and even professional football players from the NFL since Robert Reznick became Oakley's police chief in 2008 and soon after extended admission in the force to anyone willing to pledge eight hours of service a month, 40 hours of training and, according to Vocativ, attend an indeterminate number of meetings. Sources told Nestel that the number of reservists at times has reached upwards of 100, although the chief said the statistic is merely half of that.
"They're doing a lot of work," Reznick told the website's reporter last month about his crew of cops.
According to TechDirt, Reznick has been accused of harassment, abuse and misconduct by residents since he took charge of the department six years ago. On the heels of the recent county-sanction disbandment, though, new arguments are raising eyebrows.
On Monday, journalists at the Detroit News — only an hour or so from Oakley — reported that the recent attention that the Oakley PD has generated has given investigators the ammunition to file numerous Freedom of Information Act requests in hopes of obtaining the names of all reservists who have worked under Reznick — requests that the chief doesn't believe should go forward
"He answers to no one," Oakley resident Nichole Rolfe told the paper about Reznick. "A man sworn to uphold the law snubs his nose to it."
Now a local attorney — a lawyer named as one of Reznick's reservists in October's Vocativ report — is leading a legal battle to try and keep the FOIA requests from being fulfilled. The Detroit News reported this week that reservist and first amendment attorney Herschel Fink is now making a firestorm of his own by fighting to keep the names of those officers under seal.
"The Village of Oakley is on notice that any such disclosure of confidential law enforcement personnel information may subject the Village — and Board members and their advisors individually — to liability," Fink wrote recently in an undated email seen by the paper.
In attempting to make his case, though, Frink didn't warn of local teenage pranksters possibly harassing Resnick's now disbanded squad. Instead, the attorney cited an October 13 bulletin issued by the FBI and Department of Homeland Security in which federal officials said extremists with the so-called Islamic State may target law enforcement officials and government workers in future attacks.
"To release identifying information about law enforcement personnel under such circumstances would not only result in damages against the Village, and everyone involved in such a release, it would likely be considered as having been done with malice, opening the door to punitive damages," Frink warned.
According to Detroit News, area residents aren't convinced by Frink's warning, especially in light of the attorney's years of experience as a First Amendment lawyer who fought for freedom of speech and won a lifetime achievement award from the Michigan chapter of the Society for Professional Journalists in 2005.
"He's a hypocrite," Shannon Bitterman, an Oakley resident who sued to have the names released, said of Frink to the Detroit News. "He based his entire career on the First Amendment. Now he's saying privacy is a good thing."
Republished with permission from Russia Today