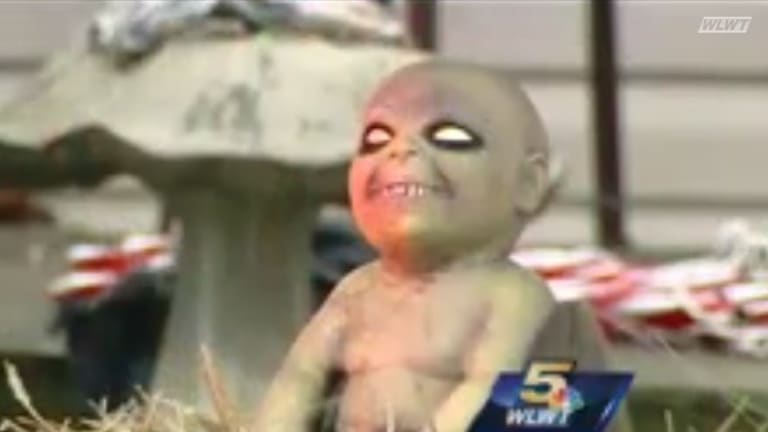 Town Government Threatens Legal Action If Man Will Not Remove Zombie Nativity Scene
Sycamore Township, Ohio - This week, the local government in a suburban town just outside of Cincinnati ordered a man to remove a zombie nativity scene that he built on his own property.
Resident Jasen Dixon was recently sent two zoning violations in the mail stating that the government had received complaints about the display in his yard and that it violated the town's rules on the size and placement of yard structures.
Dixon was also told that if he did not comply with the order by Friday that he would be fined $1,000 and face other possible legal penalties.
It is likely that many of Dixon's neighbor's have decorations scattered all over their yards and houses, but it seems that he was specifically targeted because he was doing something different, and possibly offending some of the more sensitive people in the neighborhood, which surely shouldn't be illegal.
Dixon is usually known for his elaborate Halloween displays because he is the manager of a haunted house attraction, but this year he decided to extend the Halloween season all the way through Christmas, and have some fun with decorations that he already had in stock.
"I wanted a Nativity and I worked with what I had. The neighbors don't like it. My father hates it and anything bad that happens he blames it on that. On the average we probably get 30 or 40 cars stop and taking pictures, getting out with their camera. People that follow zombie movies and stuff like that love it," Dixon told Fox 19.
"I've lived here for 15 years and I've never had a violation of any kind. It's a holiday decoration. I know if it was a real pretty Nativity scene they wouldn't be saying anything," he added.
Since Dixon's story has gone viral, many supporters have been urging him to leave the display up as an act of civil disobedience, but he has not yet confirmed how he is going to handle the issue.
However, he did leave a hint on his Facebook page saying that "Danger is my middle name."
John Vibes is an author, researcher and investigative journalist who takes a special interest in the counter culture and the drug war. In addition to his writing and activist work he is also the owner of a successful music promotion company. In 2013, he became one of the organizers of the Free Your Mind Conference, which features top caliber speakers and whistle-blowers from all over the world. You can contact him and stay connected to his work at his Facebook page. You can find his 65 chapter Book entitled "Alchemy of the Timeless Renaissance" at bookpatch.com.