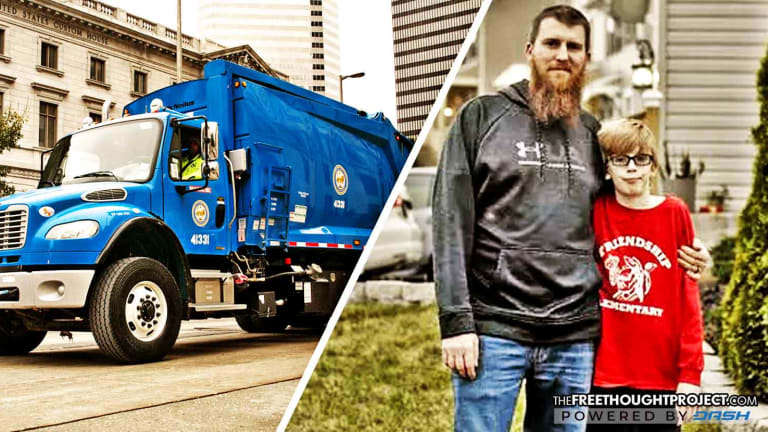 Trash Company, Owned by a Senator, Using Cops to Shake Down Poor Families Unable to Pay Bills
Hundreds of families are facing outrageous court costs and threats by police to sell their belongings at auction if they do not stay current on their trash bills.
York County, PA – A garbage company owned by a state senator has come under fire for using the police to intimidate and search the homes of hundreds of families who have fallen behind on their trash bills, by filing writs of execution and threatening the sell their homes.
Penn Waste, the trash company owned by State Senator Scott Wagner, has executed 263 writs of execution against homeowners and residents who have fallen behind on paying their trash bill since 2016. The extreme legal measure forces police to go into a person's home, take an inventory of their belongings, and threaten to sell those items at auction should the homeowner not be able to scrape up enough money to pay their past-due trash bill.
According to a report from the York Daily Record, most clients' past-due bills are small but with court costs, the small trash bills end up being costly. Wagner's political opponents are using Penn Waste's writs of executions to run attack ads against the legislator but we at TFTP do not engage in political attacks. We simply believe the practice of employing a legal measure to force police into extorting taxpayers to collect bills from private corporations is simply abhorrent.
Many trash companies around the country, like Republic Services, simply stop providing trash service to clients who refuse to pay their bills. They even take back their trash bins, leaving the homeowner to place the trash on the ground. The simple measure causes the trash to pile up around someone's home, or forces them to carry the trash in their vehicles to a trash bin nearby. Both methods are smelly alternatives to regular trash pick-up so most people figure out a way of disposing of their trash or simply catching up on their trash bills.
Penn Waste, however, seems to be the only trash company in Pennsylvania asking the courts to make a judgment against clients, and then using an extreme measure to employ police officers to enter a person's home while threatening to take their goods for sale at auction to pay for the bill. Some homeowners do not cooperate with police, at which time police use locksmiths to gain entry into their homes to conduct the inventory.
Most people simply pay the officer the overdue trash bill and are allowed to preserve their belongings from being sold at court-ordered auctions. Some Pennsylvania residents are fighting back, decrying the practice to the media. Joe and Christina Kirby shared their story with USA Today.
Often sick and in the hospital for months at a time, the Kirby family owed $160 on their trash bill and had fallen behind on making their payments. One day, Christina called Joe in a panic to tell her husband the police were conducting an inventory of their possessions for potential sale at auction to satisfy the bill.
The York County Sheriff's Officer on the scene had already inventoried their 11- and 16-year-old vehicles and he wanted to come inside to have a look around. Joe rushed home, met the officer and paid the bill, which had climbed to $650 with court costs. Even though the Kirby's said they paid $200 in February, the police officer showed up nonetheless, demanding payment.
"The Kirbys are now speaking out and calling the ordeal shameful. "It was really demeaning to us," Joe Kirby said. "If there's any route around not using Penn Waste...we're 100 percent going to cancel them."
The practice of obtaining writs of execution is not limited to Penn Waste, apparently. Several Pennsylvania homeowners associations also use the practice to obtain past-due bills. However, the overarching question remains, "Is it fair?" Should government be in the business of threatening to sell a person's possessions at auction on behalf of private companies such as a homeowner's association or a trash collection company? Whose property is private if government has a right to sell it if a citizen refuses to pay or cannot pay for whatever reason? The answer to those questions may be as unsettling as the collections practice itself.
If the government can come and take your belongings because you have not paid your cable bill, for example, then those possessions don't seem to belong to you in the first place. The entire practice of using writs of execution to place liens on someone's property—which is what homeowner's associations do—is reminiscent of how communist countries like Cuba operate.
In the tiny Caribbean country, people own no property whatsoever, including their own bicycles. At any time, the Cuban government can come and take back a bike, a horse, a cow, or a car for that matter. How is that practice any different from what is taking place in Pennsylvania when someone falls behind on their trash bill? In essence, one's property is only theirs if they are current on their payments.
In response to the Kirby's story, Penn Waste issued the following statement, which puts the blame for legal action on the client:
If a customer is unable to pay their bill, we give them multiple opportunities, both before and after legal action is initiated, to set up a payment plan that is acceptable for both parties.
Penn Waste claims their writs of execution are rarely used:
In extreme cases, if a customer continuously refuses to satisfy a judgment entered against them by the court, Penn Waste will pursue enforcement of the judgment through the execution process, which can eventually result in a Sheriff's levy and sale of property.
Again Penn Waste appears to blame the customer, as their statement continues:
At the point of the sheriff's sale, on average, the customer has been given nine months to satisfy their obligation to us. Penn Waste provides an important service to this community.
The trash company makes no apologies for getting the judicial system involved, even though other businesses use debt collection companies to do so. They write:
We do not think it is unreasonable to utilize the judicial system to collect money owed to us for services we have already provided.
As stated earlier in the article, other trash companies do not engage in such extreme legal measures as a matter of principle. We couldn't help but make the analogy between the way Penn Waste's uses writs of execution to satisfy judgments and the way law enforcement agencies use civil asset forfeiture schemes.
As TFTP has reported, police can and do confiscate property belonging to citizens to be sold at auction if they deem the valuable goods eligible for confiscation. Since Penn Waste's owner is a Pennsylvania legislator, the lines between public and private are more unclear.