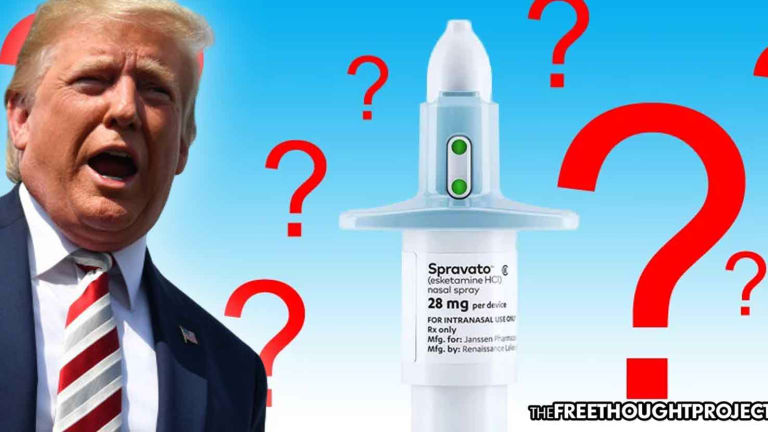 Trump Bows to Big Pharma, Shills for 'Risky' Anti-Depressant While Attacking Medical Pot
An investigating team has requested emails and financial records as they investigate why the president told the VA to "corner the market" on a Johnson & Johnson drug.
In August, president Donald Trump proudly and enthusiastically proclaimed that he directed the Department of Veterans Affairs to buy "a lot" of a drug known as esketamine, a controversial new depression treatment approved by the FDA last year. This brand of esketamine is made by Johnson & Johnson, called Spravato and was approved in 2019 by the FDA to treat depression.
"Its results are incredible," Trump said at a veterans convention in Kentucky. "I've instructed the top officials to go out and get as much of it as you can." Since his remarks in August, Johnson & Johnson have seen their stock prices make a surge only falling recently with the massive crash across the entire market this week.
The drug is similar to ketamine, an anesthetic that is often referred to as a "party drug" as it is used recreationally. However, the FDA imposed rather unusual restrictions on Spravato citing "the risk of serious adverse outcomes" and "the potential for abuse and misuse." They require a health professional to monitor a patient for two hours after every dose of the drug.
With off-label uses including treatment for pain, anxiety, and post-traumatic stress disorder, among others, ketamine has definitely shown promise to treat certain ailments. However, it is definitely not for everyone.
According to a report by ProPublica this week, in one of the trials, six people taking the drug died, including three by suicide. One of them, a 41-year-old man, drove his motorcycle into a tree 26 hours after taking the drug, according to the transcript of the FDA's hearing on the drug. There were no deaths among the patients taking a placebo.
"I'm concerned that it may be presented to some desperate patients as some sort of panacea. It is not," Jess Fiedorowicz, a professor of psychiatry, epidemiology and internal medicine at the University of Iowa who served on the advisory panel that reviewed Spravato, said in an emailed response to questions. "The effect sizes are small at best and may even be exaggerated."
Erick H. Turner, MD, who sits on one of the FDA advisory committees that recommended approval of Spravato, published an editorial online Oct. 31 in Lancet Psychiatry, warning that the drug did not meet standard criteria for FDA approval and that there was little evidence to support its safety and efficacy based on data from three short-term, phase 3 trials and one withdrawal trial.
Turner pointed out that only one of the three very short trials for Spravato landed the drug's approval.
"Accepting just one short-term trial as being enough is an historic break from precedent," Turner told Medscape Medical News.
What's more, according to the report out of ProPublica, a new investigation looking into Donald Trump is examining whether his enthusiasm over Johnson & Johnson's Spravato was genuine or involved under the table dealings.
According to ProPublica:
The chairmen of the House veterans affairs and oversight committees sent letters last week asking for emails and financial records from the three advisers, Marvel Entertainment chairman Ike Perlmutter, physician Bruce Moskowitz and lawyer Marc Sherman.
The investigation was launched because all these unofficial advisers met together with Trump at Mar-a-Lago, Trump's private club. These three men have been dubbed the "Mar-a-Lago Crowd" because after this meeting, Trump gave them sweeping influence over the VA despite their lack of any relevant experience, such as having served in the U.S. military or government.
In 2017, the Mar-a-Lago advisers worked with the VA and Johnson & Johnson on a suicide-prevention awareness campaign that culminated in an appearance at the New York Stock Exchange. The event put the VA secretary alongside Johnson & Johnson representatives and superhero characters from Perlmutter's company, Marvel, and its parent, Disney.
It appears that this Big Pharma giant, with an annual revenue over $80 billion, who spends more than $5 million annually lobbying government, may have been setting the stage, quite literally, to push this drug on veterans for the last several years.
It gets worse. According to the report:
After the FDA approval, Johnson & Johnson immediately set its sights on the VA, according to emails obtained by ProPublica through the Freedom of Information Act. On March 6, the day after the FDA acted, a company official emailed Deborah Scher, an adviser to VA Secretary Robert Wilkie, from a Spravato launch event, saying, "We have been talking about you and the VA throughout the day."

A day later, on March 7, Wilkie talked with Johnson & Johnson CEO Alex Gorsky, according to an email between Scher and a company liaison. Scher replied that the VA's top health official, Richard Stone, was taking charge of getting Spravato into the VA system. "He says this project is well underway," Scher told the Johnson & Johnson contact. "He has coordinated all of the appropriate leaders from pharmacy, mental health, etc."

Wilkie had the conversation with Gorsky at the urging of Trump, according to the president's own account. "I had seen it somewhere, and I've read it, regularly, quite a bit about it," Trump said of Spravato at a White House event on opioids on June 12. "I said, 'Order — corner the market on it and give it to anybody that has the problem.'"
These comments make Trump sounds like a pharmaceutical rep more than the president of the United States.
Though expanding potential uses for ketamine, widely considered little more than a party drug, marks necessary progress, cannabis activists should immediately note the glaring hypocrisy by the FDA, DEA, pharmaceutical industry, and of course, Donald Trump.
As TFTP reported this week, Trump has never openly supported marijuana legalization though he said he had no objection to US states legalizing forms of marijuana. When it came time to act, however, he did the opposite.
According to a recent report from the Sun Sentinel, the Trump Administration has proposed removing medical marijuana protections in the 2021 fiscal budget and leaked audio revealed the President's belief that smoking weed makes you dumb.
What's more, Marc Lotter, a top Trump campaign spokesperson who serves as director of strategic communications for Trump's 2020 campaign, was asked about the President's stance on changing federal cannabis laws, and minced no words when he said the devil's lettuce has no place in the legal market.
"I think the president is looking at this from a standpoint of a parent—a parent of a young person—to make sure we keep our kids away from drugs," Lotter said. "They need to be kept illegal. That is the federal policy."
As TFTP previously reported, cannabis has proven time and again enormous flexibility for treating a full spectrum of illnesses, disorders, and psychiatric conditions. Yet less than one week prior to fast-tracking ketamine in 2017 for FDA approval, the DEA — which falls under the FDA's regulatory control — humorlessly announced it would not move to reschedule cannabis from its current status of a narcotic substance lacking any potential medical benefit.
Innumerable anecdotal accounts from doctors, researchers, and patients show cannabis — both smoked and in its derivative cannabidiol form — performing what would otherwise be called miraculous healings of conditions ranging from chronic seizures to PTSD. Where's Trump's enthusiasm on this information? It is nowhere to be found and cannabis remains classified by the US government as having no medical use.
Tens, if not hundreds, of thousands of patients successfully treated with cannabis in the U.S., alone, would vehemently beg to differ.
Beyond the obvious benefits, cannabis has provided directly to drug war profiteers — the for-profit prison industry, police and the government's militarization handout, the unfathomable total local and state governments reap in court fines and costs, etc., ad infinitum — the biggest benefactor is the elephant-in-the-room: Big Pharma.
In fact, if any doubt lingered about the connection between government and the insidious pharmaceutical industry, the contrasting decisions in failing to reschedule cannabis versus greenlighting the sometimes-party drug ketamine handily annihilates any uncertainty.
To call the decision hypocritical would not only be an understatement, it would obfuscate the glaring relationship between Big Pharma and its lapdog government overseer.
Of course, this isn't meant to downplay the importance of loosening controls on ketamine, since the drug certainly provides relief for many who desperately need it. But the criticism stands as further validation the drug war was never about drugs — it's about the profits via the politicization of control.
Decades of inexcusable false propaganda from the government — first in the attempt to essentially criminalize black people and hippies, then through scaremongering on the nonexistent dangers of cannabis — have left an untold number of people without critical treatment the plant could provide.
Were the government actually interested in preventing injury, the drug war would end entirely — with it, incidentally allowing doctors to treat patients with whatever substance they choose; halting violent and deadly raids on otherwise law-abiding civilian homes; emptying the prison industry's compartmentalized, overcrowded, and equally problematic penitentiaries; many military operations abroad would need to be abandoned; and removing the so-called need for the government's military surplus handouts to police departments across the country.
In short, if you are worried about suicidal veterans, stop creating them in wars for profit.
But it isn't interested in that — because the corporate plutocracy masquerading as our government must feed its gluttonous lust for profits, or it will simply wither and die. And the legalization of cannabis and every other so-called illicit substance pose an existential threat to the State and its cohorts.