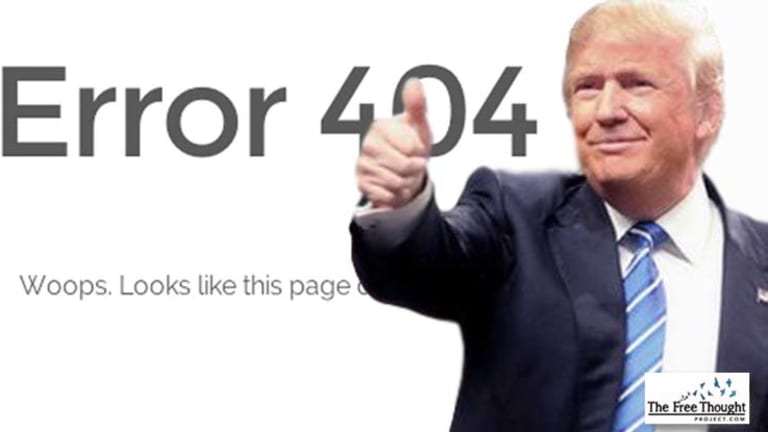 The Minute Trump Took Office, All Reference to 'Climate Change' was Deleted Off White House Website
The exact minute Trump took office, drastic changes began taking place, including the immediate deletion of anything mentioning climate change.
Exactly one minute before President-elect Donald Trump took office, the official White House website, https://www.whitehouse.gov, had a lengthy information page on climate change and the steps federal government had planned to address it. Exactly one minute after that, when Trump took office — it was gone.
According to VICE, it's customary for www.whitehouse.gov to flip over to the new administration exactly at noon, but the only mention of climate on President Trump's new website is under his "America First Energy Plan" page, in which he vows to destroy President Obama's Climate Action Plan, which is a government-wide plan to reduce carbon emissions and address climate change. To reiterate: It is normal that the site is completely new; it is notable that climate change is not mentioned on any one of Trump's new pages.
Just before Trump took office, here's what the climate change page looked like on whitehouse.gov:
And here is what it looks like now:
As the Free Thought Project previously reported, contrary to claims of shunning the establishment and embracing the working class, he is surrounding himself with billionaires eager to put exploitation into high gear.
His promises to "drain the swamp" are ringing hollow as yet another Wall St. megabank figure will be directing his administration. Goldman Sachs executive Gary Cohn was named head of Trump's National Economic Council, even though Trump rightly pointed out during campaigning that Goldman Sachs is part of a "global power structure" sucking wealth from the middle class.
But Wall St. predators are not the only special interests Trump is bringing in. His energy advisers are almost exclusively fossil fuel lobbyists and tycoons such as Harold Hamm, and these billionaires are helping him find the most subservient bureaucrats to fill positions related to energy.
It is important to note that the Free Thought Project is not advocating for the existence or the non-existence of climate change — we are not climate scientists. However, we most certainly think that it is a topic worthy of discussion and research.
Of course, drastic government mandates and sweeping bans on items is no way to handle any situation. However, that is becoming more and more unnecessary given the market's reaction to fossil fuels and their alleged potential to contribute to global warming
The U.S. Dept. of Energy's second annual report found that, in 2016, solar employment was almost double that of fossil fuel employment in the Electric Power Generation sector.
"Proportionally, solar employment accounts for the largest share of workers in the Electric Power Generation sector. This is largely due to the construction related to the significant buildout of new solar generation capacity. Solar technologies, both photovoltaic and concentrating, employ almost 374,000 workers, or 43 percent of the Electric Power Generation workforce. This is followed by fossil fuel generation employment, which accounts for 22 percent of total Electric Power Generation employment and supports 187,117 workers across coal, oil, and natural gas generation technologies.
Solar energy is clearly the choice of the market as, just last year, solar energy companies employed more people in electricity generation than coal, gas, and oil — combined.
However, judging from Trump's cabinet picks, all this free market energy progress could be turned around by the use of massive corporate welfare programs designed to prop up Big Oil.
Even under the progressive Obama, in the U.S., Big Oil special interests receive about $37 billion per year in subsidies.
Again, it is important to note that no one here is advocating we immediately halt the use of fossil fuels. Without them, humanity would still be in the stone ages and much of the renewable energy products that exist today would've been and still would be impossible to make.
However, only humanity loses when outdated technology is propped up by taxpayer dollars.
It has now been reported that unsubsidized solar is now cheaper than fossil fuels in many countries for large-scale electricity generation. But this could all change.
As Trump complains about "subsidized the armies of other countries," his nominee for Secretary of State, former Exxon CEO Rex Tillerson, wants to continue to help the oil-rich and corrupt Saudi Arabian regime bomb the impoverished nation of Yemen, Zaid Jilani notes writing for the Intercept.
Within 25 years, it is expected that renewable energy sources such as solar, wind, geothermal and biomass will outcompete and eclipse fossil fuels – due to market forces — not government ones.
Again, however, if Trump continues down this path of surrounding himself and every government agency with oil lobbyists, this cleaner, more efficient, cheaper, and non-government subsidized energy — could turn into a pipe(line) dream.