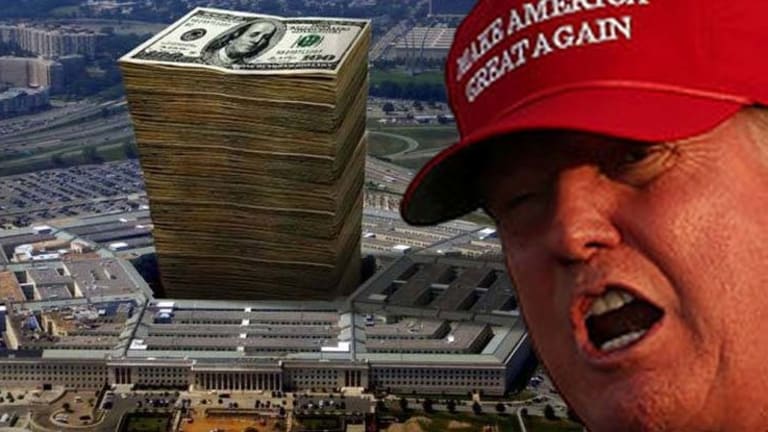 BREAKING: Trump Signs Executive Order Freezing All Federal Hiring — "Except for Military"
Making his intentions clear on where he wants to spend taxpayer dollars, Trump signed an order Monday freezing all state jobs but the military.
Washington, D.C. — Here at the Free Thought Project we are non-partisan and are unafraid to call out the good and bad we see in Washington, no matter who does it.
Included in one of the many executive orders signed by president Trump today, was an order for the US to withdraw from the tyrannical Trans-Pacific Partnership (TPP). Also included was an executive order for the Federal Government that implements a hiring freeze on all government jobs.
Considering Bush Jr. sent federal employment up 17 percent, and Obama up another 10 percent, placing a hiring freeze certainly seems like a good idea — and it is — in theory.
Trump is not pioneering the idea of freezing government hiring. President Ronald Reagan also signed a hiring freeze on his first day in office in 1981. President Jimmy Carter froze federal hiring three times over his four years in office.
Both of these former presidents differ from Trump, however, as Reagan noted that there will only be "exemptions in those rare and unusual circumstances where exemptions are necessary for the delivery of essential services."
The only conditions to be released by the president's office for the hiring freeze so far is that all hiring stops "except for the military." 
In a press conference on Monday, White House Press Secretary Sean Spicer further elaborated on this freeze, essentially noting that only jobs to grow the security state will be added.
Spicer said the freeze would apply "except when necessary to meet national or public security responsibilities." Spicer also explained that the freeze will prevent the filling of vacant positions as well as halt the creation of new ones.
"There's been a lack of respect for taxpayer money for years in this town," Spicer said. "To see money wasted in Washington on a job that is duplicative is insulting [to taxpayers]." And, we agree. However, equally insulting is using taxpayer money to foster and grow a police state.
While growing a police state wasn't specifically noted by the president or his press secretary, Trump has shown a propensity toward expanding it through his platform as well as his cabinet picks.
The United States' military budget dwarfs that of the entire world. When everything is cut except for the department which we far exceed the rest of the world in, Trump's intentions become clear. Why isn't Trump addressing the 6.5 Trillion that went missing from the Pentagon last year to rein in the budget?
Why isn't Trump addressing the 6.5 Trillion that went missing from the Pentagon last year to rein in the budget?
It is also important to note, as GovExec reports, that a 1982 General Accounting Office (now the Government Accountability Office) report on Reagan and Carter's hiring freezes found the policy was not an "effective means" of controlling federal employment "regardless of how well managed."
According to the GAO:
The government-wide hiring freezes had little effect on federal employment levels and it is not known whether they saved money. Because they ignored individual agencies' missions, workload and staffing requirements, these freezes disrupted agency operations and, in some cases, increased costs to the government.

Any potential savings produced by these freezes would be partially or completely offset by increasing overtime, contracting with private firms, or using other than full-time permanent employees. Decreased debt and revenue collections also occurred as a result of hiring freezes..
If the government has a decreased ability to collect revenue, that is certainly a positive. However, simply moving money around within the system is not saving anything and it is little more than smoke and mirrors.
"President Trump's action will disrupt government programs and services that benefit everyone and actually increase taxpayer costs by forcing agencies to hire more expensive contractors to do work that civilian government employees are already doing for far less," J. David Cox, president of the American Federation of Government Employees said on Monday.
Therein lies the problem with the executive order. Allowing the President to act on a whim, whether or not it has a perceived benefit associated with it — is a bad idea. The executive order, to those who value liberty, is nothing short of a tyrannical mandate that entirely circumvents the will of the people and even the approval of Congress.
Ron Paul prophetically predicted last May, that "Trump will be the champion of the executive order." So far, he is spot on.
Over the last century, presidents have abused the executive order — using them to make laws without Congressional approval. If Trump's first working day in office is any indicator, we're sure to see plenty of abuse even if there are intermittent gems like withdrawing from the TPP.