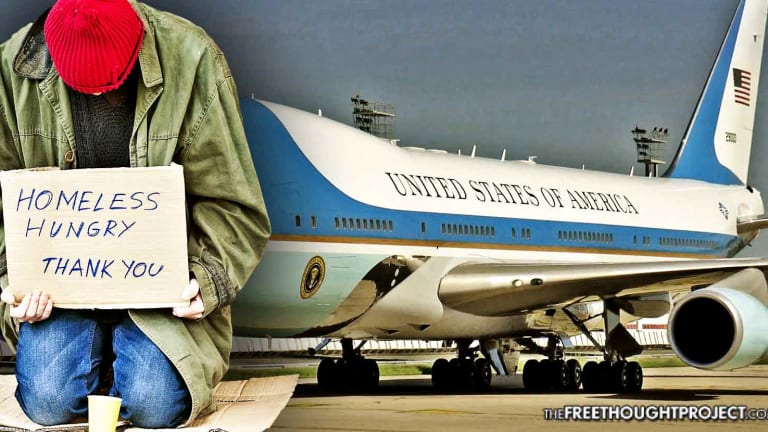 Trump's New Fridge Will Cost Taxpayers Enough to Feed Every Homeless Person in DC for a YEAR
The new refrigerator on Air Force One is going to cost taxpayers a whopping $24,000,000.00 which is enough to feed every homeless person in D.C. for over a year.
Washington, DC — When Donald Trump was seeking the office of President, he frequently criticized the taxpayer dollars wasted on Air Force One. Trump even called for the canceling of the Boeing contract to construct a new fleet. However, like most of his promises made on the campaign trail, his since changed his mind.
Illustrating the insane nature of the US government's bloat and excess, the taxpayers will be robbed of a whopping $24,000,000.00—to install a new refrigerator in Air Force One—seriously.
Boeing was awarded a $23,657,671.00 contract to design, test, and install two VC-25A G12/G13 chillers for the customized 747 jumbo jet in December.
"The Air Force requires that the current air chillers in the G12 and G13 galleys be modified with new cold food stowage to improve reliability and maintainability," a contract notice from the Pentagon states.
Because the president is so important, he needs the ridiculously priced multi-million dollar refrigerator to store massive amounts of food—just in case one of the wars he is provoking forces him to stay onboard Air Force One for an extended period of time.
Although serviced on a regular basis, reliability has decreased with failures increasing, especially in hot/humid environments," Air Force spokesman Ann Stefanek told Defense One. "The units are unable to effectively support mission requirements for food storage."
Naturally, the Defense Department is conducting damage control claiming that the $24 million fridge will save lives and claims that no one is getting rich off the deal.
"It's not a contractor issue, it is a requirements issue," said Richard Aboulafia, vice president of analysis at the Teal Group consulting firm. "It's not getting people rich."
To put this amount of money into perspective, however, let's look at the homeless population in Washington D.C. Current estimates put D.C.'s homeless population among the highest in the nation. The most recent data suggests there are roughly 11,600 homeless people inside the D.C. city limits alone.
If the $24 million would be given to city's homeless population it would feed every one of them for an entire year. The cost of a year's supply of storable, non-perishable food is roughly $1,800.
Obviously government spending doesn't work like that, however, this is merely a simple comparison to highlight not only the hypocrisy of Trump's flip-flop but the sheer gluttonous waste of the federal government.
Last week, the conservative watchdog organization, Judicial Watch released the total dollar amount of Trump's family travel expenses so far. Added to the previously released costs, the known travel costs for President Trump's political and leisure travel is now $13,533,937.28, according to the group.
These numbers do not include the costs of security, secret service, or any of the other peripheral costs associated with the ridiculous task that is moving Donald Trump around the country.
"The president is accountable to the taxpayers – they spend our hard-earned dollars and that's why Judicial Watch keeps track of certain travel costs," said Judicial Watch President Tom Fitton. "Trump's regular trips to his homes are adding up to a hefty sum."
Laughably, Eric Shultz, a former White House deputy press secretary under former President Barack Obama, tweeted Friday "we would have been impeached" if the repairs were made under the previous administration.
However, as TFTP reported at the time, the Obama administration was just as gluttonous and just as corrupt.
Obama's total travel costs during his reign as president cost the taxpayers a whopping $114 million. As we noted at the time, this was enough money to end homelessness in Washington D.C. for over a year.