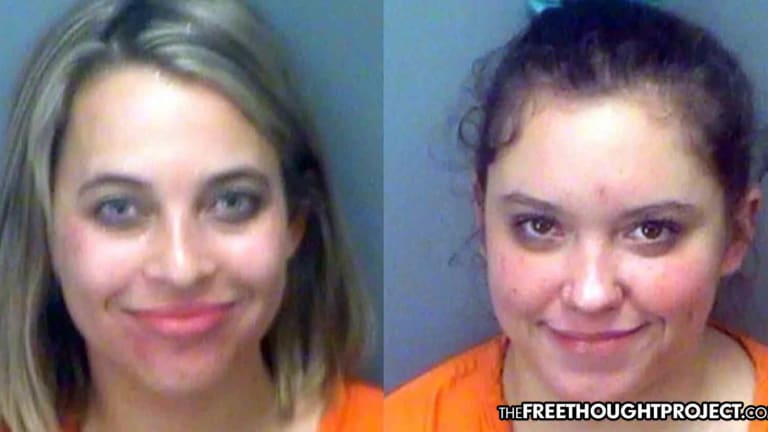 Two Women Arrested, Facing Life in Prison for Throwing Glitter at Man in His Apartment
Two Florida women are facing the possibility of life in prison after they were arrested for throwing glitter on a man in his apartment.
Clearwater, FL — Judging from the size of their smiles in their mugshots, 27-year-old Kaitlin O'Donovan and 29-year-old Sarah Franks don't think that what they did was too serious. However, thanks to the callous nature of the state, these two pranksters are facing the possibility of life in prison — for throwing glitter into a man's apartment.
As Law and Crime reminds us, while the particles used in the alleged incident may be paltry in the extreme, the charges decidedly are not. Each woman faces the possibility of life in prison, according to Florida Statutes.
According to the arrest affidavit, for unknown reasons, the two women engaged in an argument with a man named Jacob Colon at Colon's apartment. Originally, the argument started outside as the women yelled back and forth with Colon from his apartment balcony.
During the argument, O'Donovan and Franks both threw small containers of glitter at Colon. As the argument escalated, according to police, Franks then climbed over the balcony fence, went into the man's apartment and threw more containers of glitter at him.
Once entering Colon's apartment, Franks made her way to the front door, where she unlocked it to let in O'Donovan. Once inside, O'Donovan and Franks, apparently armed with the entire stock of glitter from Hobby Lobby, proceeded to shower Colon with the sparkly particles.
After covering the man in glitter, Colon called police. The girls were tracked back to Franks' home in Seville where police launched an investigation into the shiny assault.
In the arrest affidavit, police claimed that the hood of Franks' vehicle was still warm and glitter litter was found inside.
As WFLA reports, Franks and O'Donovan were both arrested and charged with felony burglary with assault or battery. Franks was also charged with misdemeanor criminal mischief because police said she kicked a window until it broke as she was leaving the apartment.
The two women were booked into Pinellas County Jail and were assessed bonds in the amount of $75,000 each — and face life without parole — for throwing glitter.
While the girls will not likely receive the maximum life sentence for throwing glitter — hopefully — it is not unheard of for folks to face life in prison for ridiculously petty offenses.
In a report about ridiculous sentences, the ACLU detailed several cases in which folks were sentenced to die in a cage for offenses similar to the glitter incident. Patrick Matthews was sentenced to life after he stole and subsequently pawned tools from a shed.
"I never in the world would've thought that could happen," he says. "Made one mistake and was treated like a murderer."
Other offenses, similar to the glitter debacle saw life sentences for possessing a crack pipe, having decongestant pills, possession of stolen scrap metal, and shoplifting t-shirts.
TFTP has reported on several of these incidents as well, like the case of Trishawn Cardessa Carey, who faced life in prison for picking up a police officer's baton that he dropped on the ground.
Aaron Harvey, also faced the possibility of life in prison for allegedly benefiting from the crimes of a gang. His alleged crime was posting pictures to Facebook in which he is allegedly flashing gang signs during the shooting of a rap video. Luckily, logic prevailed and all charges were dropped. 
Others have not been so lucky.
Ross Ulbricht is currently serving two consecutive life terms for building the Silk Road website. That is all. His "offense" is not even close to throwing glitter.
The Silk Road allowed people to purchase drugs from the comfort of their living room to avoid the risk of getting mugged in a dark alleyway. It also allowed them to read reviews of the products that their potential dealer was selling, saving them from tainted drugs and dirty batches that could put their lives at risk.
Ulbricht should have gotten the Nobel Prize for his visionary application of a new and revolutionary technology, but instead, he was arrested in October 2013 and has been sitting in federal prison ever since.
Meanwhile, cops are raping kids and skipping out an any jail at all.