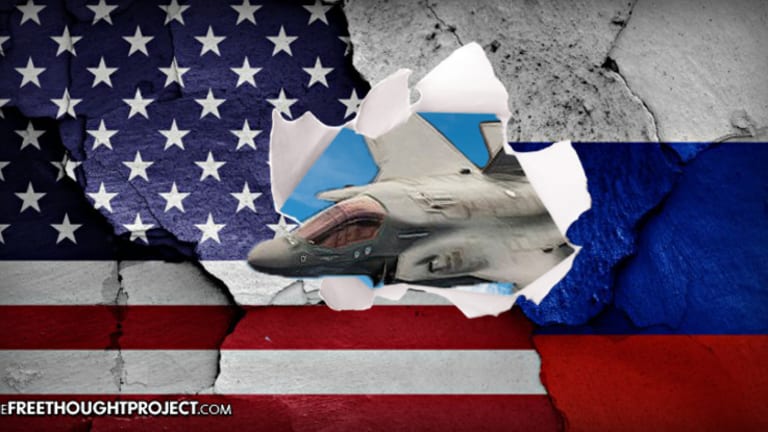 US Scrambles Fighter Jets To Intercept Two Russian Nuclear Bombers 100 Miles From Alaska
The U.S. Air Force scrambled two F-22 stealth fighters on Monday night to intercept a pair of Russian nuclear-capable bombers
(ZH) The U.S. Air Force scrambled two F-22 stealth fighters on Monday night to intercept a pair of Russian nuclear-capable bombers which came as close as 100 miles from Alaska's Kodiak Island, Fox reports. This was the first time since President Trump took office that Moscow has sent bombers so close to the U.S.
The two Russian Tu-95 "Bear" tactical bombers flew roughly 280 miles southwest of Elmendorf Air Force Base, within the Air Defense Identification Zone of the United States. The U.S. Air Force promptly scrambled two F-22 stealth fighter jets and an E-3 airborne early warning plane to intercept the Russian bombers.
The American jets flew alongside the Russian bombers for 12 minutes, before the Russian bombers reversed course and headed back to their base in eastern Russia.
An official quoted by the Washington Examiner said that while TU-95s are capable of carrying nuclear weapons, the planes involved in Monday's incident did not appear armed. The interception was conducted in a "safe and professional" manner, the official added, as the bombers did not violate U.S. airspace or break international norms.
Monday's incident comes amid escalating tension between Russia and the U.S., particularly over Syria's ongoing civil war. Trump's decision to strike Assad's government earlier this month put the U.S. at odds with Russia, which has long supported Assad. Russian Foreign Minister Sergei Lavrov said last week that the chemical attack was staged.
Lavrov also said that another U.S. military strike in Syria could prompt "grave consequences not only for regional but global security." Secretary of State Rex Tillerson said earlier this month that U.S.-Russia relations have hit "a low point" following the strike. The top U.S. diplomat added that "improvement in the long-term relationship" between both nations is required to resolve the conflict in Syria.
* * *
The last time Russian bombers flew near the U.S. was July 4, 2015, when a pair of Russian bombers flew off the coasts of Alaska and California, coming as close as 40 miles to Mendocino, Calif. Russian President Vladimir Putin called then-President Barack Obama to wish him a happy Independence Day while the bombers cruised the California coastline.