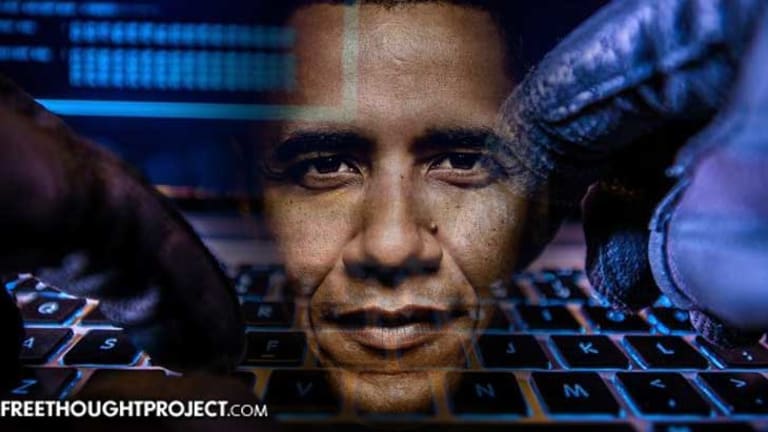 BREAKING: US Military Just Hacked Into Russia's Entire Infrastructure Prepping for Massive Cyber Attack
US military officials claim they've hacked into Russian critical infrastructure and planted malware they'll activate if there is any indication Russia interferes in the election on Tuesday.
Russia is demanding answers after a report from an unnamed senior U.S. intelligence official claimed the United States military has successfully hacked into "Russia's electric grid, telecommunications networks and the Kremlin's command systems, making them vulnerable to attack by secret American cyber weapons should the U.S. deem it necessary," according to NBC News.
Speaking to the anonymous intelligence official and after a review of putative top-secret documents, NBCreported it can confirm long-swirling rumors the U.S. has penetrated critical Russian systems and left behind malware operable from afar and on command.
Russia, understandably, has not taken the news with a grain of salt.
"If no official reaction from the American administration follows," Russian Foreign Ministry spokesperson Maria Zakharova said in a statement, "it would mean state cyberterrorism exists in the US. If the threats of the attack, which were published by the US media, are carried out, Moscow would be justified in charging Washington."
Indeed in recent months, hotly escalating tensions between the two Cold War foes has reached a fever pitch — with both the United States and Russia having established albeit thin justifications to strike the other first under the ironic premise of offensive self-defense.
Hillary Clinton's campaign and the Obama administration continue to tout evidence of Russian interference, both in voluminous hacked leaks of damning documents and in the ongoing military conflict in Syria.
In the last few weeks, anti-Russian rhetoric has centered around the wholly unbased prediction Russia is preparing to actively interfere in the U.S. presidential election on Tuesday — even expanding to include altogether laughable accusations Donald Trump has direct and covert dealings with Moscow.
In fact, the latter point comprised the unnamed intelligence official's rationalization for the military's alleged malware implantation in Russian infrastructure.
However, none of these assertions from seemingly paranoid American officials have proven unassailably true — and despite hyperbolic claims that, in essence, Russia has in mind to destroy the U.S., no evidence of a legitimate threat, much less outright aggression, has been uncovered.
Asked repeatedly to produce proof to justify allegations Russian state actors were responsible for hacked documents released to Wikileaks and other organizations, U.S. officials have only managed to counter with further bombast.
Although NBC reports such cyber measures penetrating, testing, and gaining an understanding of foreign nations' electronic infrastructures is considered nearly de rigueur in the modern context, the bold move of publicizing such an exploit constitutes a bit of a veiled threat.
In 2014, according to NBC, National Security Agency Chief Mike Rogers warned Congress adversarial nations had been performing such exploits to assess chemical treatment plants, the electric grid, and other crucial mechanisms in preparation to strike should the need present itself.
"All of that leads me to believe it is only a matter of when, not if, we are going to see something dramatic," Rogers said at the time.
On a superficial level, by design, the U.S. government could claim such acts of cyber cold-warfare amount to a defensive move — but in light of deteriorating Russian-American relations in recent months, delving into Russia's infrastructure could be akin, as the Foreign Ministry suggests, to an act of cyberterrorism.
Positioning malware is not the same as simple cyber reconnaissance and intelligence gathering — and publicizing the act implies not only confidence in its success, but, alarmingly, willingness to trigger it as a weapon.
"You'd gain access to a network, you'd establish your presence on the network and then you're poised to do what you would like to do with the network," Retired colonel and legal advisor to U.S. Cyber Command, Gary Brown, toldNBC News. "Most of the time you might use that to collect information, but that same access could be used for more aggressive activities too."
In short, the United States military has now readied itself to act to take down parts of Russia's critical infrastructure if it so chooses — and with politicians and administration officials continuing to claim without evidence Russian agents hacked government and non-government files, justification could come from thin air.
Think about that.
Without proof, state actors have positioned, at least ostensibly, malware that could leave Russian citizens vulnerable if U.S. officials see any intimation of interference in the coming election — and, based on the U.S. history of failing to provide evidence of Russian aggression, the decision could be made on a dime.
Thus far Russian officials have maintained startling cooler heads than their counterparts, and in response to the NBC report, Kremlin spokesman Dmitry Peskov said in a statement Russia had "cybersecurity measures taken at the level proper for the current situation, and the threats voiced against us by officials of other nations."
Indeed Russian President Vladimir Putin has even dismissed U.S. claims of interference countless times, including during the 13th annual meeting of the Valdai Club in late October, during which he stated,
"Another mythical and imaginary problem is what I can only call the hysteria the USA has whipped up over supposed Russian meddling in the American presidential election. The United States has plenty of genuinely urgent problems, it would seem, from the colossal public debt to the increase in firearms violence and cases of arbitrary action by the police.

"You would think that the election debates would concentrate on these and other unresolved problems, but the elite has nothing with which to reassure society, it seems, and therefore attempt to distract public attention by pointing instead to supposed Russian hackers, spies, agents of influence and so forth.

"I have to ask myself and ask you too: Does anyone seriously imagine that Russia can somehow influence the American people's choice? America is not some kind of 'banana republic', after all, but is a great power. Do correct me if I am wrong."
Early last month, the United States set the stage for electronic warfare in a formal accusation by the Director of National Intelligence and the Department of Homeland Security that held Russia solely responsible for hacking the Democratic National Committee, and subsequent damaging leaks of thousands of documents.
Now, through briskly sharpened posturing, the U.S. has again declared itself ready to commit an act of what it would consider, were the situation reversed, cyberterrorism and electronic warfare.
Whether or not the Obama administration, the U.S. military and intelligence officials, and the Clinton campaign will rein in this precipitous and arrogant scaremongering is yet to be seen — but the consequences of this dangerous game could affect us all.
"Cyber war is undefined," Brown cautioned about how to consider the muddled gray-area concerning the putative U.S. hack. "There are norms of behavior that we try to encourage, but people violate those."