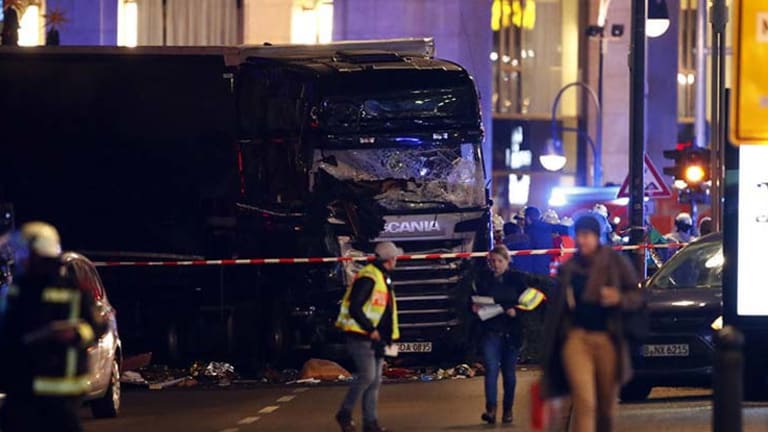 BREAKING: US Warned Citizens of Possible Terror Attacks on Markets Like Berlin's, Just 4 Weeks Ago
Only 28 days ago, the State Department warned American travelers of the very kind of attacks that just took place in Berlin.
Berlin, Germany — Monday night, a tractor-trailer truck plowed into a bustling Christmas market in Berlin, Germany, killing at least nine people — possibly many more — and wounding scores of others.
UPDATE: Local police now confirm 12 people were killed and 48 others injured in the attack.
According to reports from local media, police believe the incident to be an attack, and are treating it as a terror incident.
"We can confirm nine fatalities & many injured. A lot of our colleagues are at #Breitscheidplatz to investigate the background," the official police account
Wir können 9 Tote & viele Verletzte bestätigen. Viele Kolleg. sind am #Breitscheidplatz im Einsatz um die Hintergründe zu ermitteln.
— Polizei Berlin (@polizeiberlin) December 19, 2016
">tweeted.

"It looked like [it was done] on purpose," a police officer who witnessed the incident told Berliner Zeitung.
"Lorry just ploughed through Christmas market in #berlin. There is no road nearby. People crushed. I am safe. I am safe,"
Lorry just ploughed through Christmas market in #berlin. There is no road nearby. People crushed. I am safe. I am safe pic.twitter.com/63iWMmdSKr
— Emma Rushton (@ERushton) December 19, 2016
">tweeted Emma Rushton with a picture from the chaotic scene. There is, indeed, a road nearby the market, so it is unclear what Rushton meant.

"We heard a loud bang," Rushton toldCNN. "We started to see the top of an articulated truck, a lorry ... just crashing through the stalls, through people."
She added, "There's no way it was an accident."
Another eyewitness described dozens of people unconscious on the ground.
"Local media reports suggested the vehicle ran into the market outside the landmark Kaiser Wilhelm memorial church on Monday evening. They said police at the scene had said initial indications pointed to an attack," the Guardianreports.
A journalist from Berliner Morgenpost described the aftermath as a "gruesome scene."
Reports indicated the driver took no care to avoid hitting people and traveled at a high rate of speed through the open-air holiday market.
Interestingly, the U.S. State Department issued a travel warning last month cautioning Americans in Europe about attending Christmas holiday events — including, specifically, markets like this one — stating:
"The Department of State alerts U.S. citizens to the heightened risk of terrorist attacks throughout Europe, particularly during the holiday season. U.S. citizens should exercise caution at holiday festivals, events, and outdoor markets. This Travel Alert expires on February 20, 2017.
"Credible information indicates the Islamic State of Iraq and the Levant (ISIL or Da'esh), al-Qa'ida, and their affiliates continue to plan terrorist attacks in Europe, with a focus on the upcoming holiday season and associated events. U.S. citizens should also be alert to the possibility that extremist sympathizers or self-radicalized extremists may conduct attacks during this period with little or no warning. Terrorists may employ a wide variety of tactics, using both conventional and non-conventional weapons and targeting both official and private interests."
In fact, the State Department specifically mentioned terror attacks that had taken place in Germany and other European nations, warning additional attacks might still occur:
"While extremists have carried out attacks in Belgium, France, Germany, and Turkey in the past year, the Department remains concerned about the potential for attacks throughout Europe."
Chaos unfolded after the truck drove headlong into the market around 8 p.m. — what would have been its busiest hour. According to Bild Berlin editor-in-chief Julian Reichelt, cited byReuters, a massive security operation is currently underway, and "The scene certainly looks like a reminder of what we have seen in Nice."
On Bastille Day in Nice, a truck driver drove through a massive crowd gathering for a parade, leaving at least 80 people dead and several hundred injured.
Police later detained the suspected driver of the truck nearby — and confirmed his putative accomplice, the passenger, died after being detained shortly after the vehicle crashed.
Police also asked people to stay away from the scene and not rush to conclusions until a thorough investigation concludes.