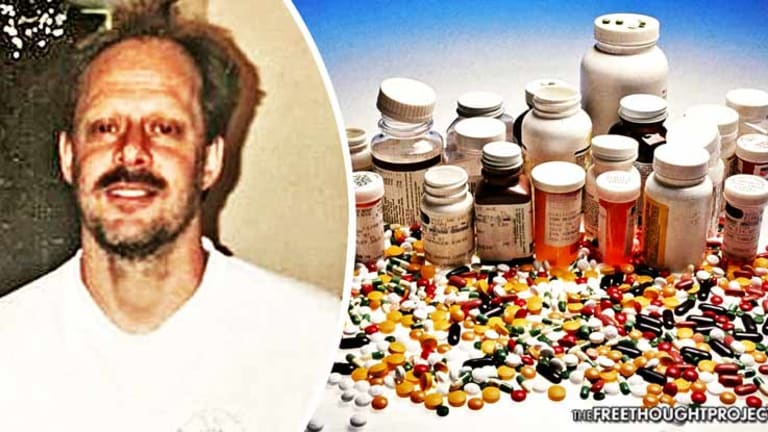 Vegas Gunman Was Prescribed Psychotropic Drugs that Can Cause Violent Behavior
As many have predicted, it has just been revealed that Stephen Paddock was on psychotropic meds known to cause violent behavior.
The deranged psychopath responsible for the worst mass shooting in modern U.S. history was on psychotropic drugs that can lead to violent behavior, according to a report out of the Las Vegas Review-Journal. This information was predictable as most mass shooters are on some type of the same medication.
It was also revealed Tuesday, that Paddock transferred $100,000 to the Philippines before the shooting. This information was given to the Journal by a source within law enforcement who was not authorized to speak publicly about this case.
As the Journal reports:
Records from the Nevada Prescription Monitoring Program obtained Tuesday show Paddock was prescribed 50 10-milligram diazepam tablets by Henderson physician Dr. Steven Winkler on June 21.

A woman who answered the phone at Winkler's office would not make him available to answer questions and would neither confirm nor deny that Paddock was ever a patient.

Paddock purchased the drug — its brand name is Valium — without insurance at a Walgreens store in Reno on the same day it was prescribed. He was supposed to take one pill a day.
Valium, although often used as a sedative and calming medication, can have serious side effects of aggression. According to the FDA, diazepam can elicit the following side effects:
confusion, hallucinations, unusual thoughts or behavior;
unusual risk-taking behavior, decreased inhibitions, no fear of danger;
depressed mood, thoughts of suicide or hurting yourself;
hyperactivity, agitation, aggression, hostility;
"If somebody has an underlying aggression problem and you sedate them with that drug, they can become aggressive," said Dr. Mel Pohl, chief medical officer of the Las Vegas Recovery Center. "It can disinhibit an underlying emotional state. … It is much like what happens when you give alcohol to some people … they become aggressive instead of going to sleep."
As the Journal reports, a 2015 study published in World Psychiatry of 960 Finnish adults and teens convicted of homicide showed that their odds of killing were 45 percent higher during time periods when they were on benzodiazepines.
A year earlier, the Australian and New Zealand Journal of Psychiatry published a study titled, "Benzodiazepine Use and Aggressive Behavior." The authors wrote: "It appears that benzodiazepine use is moderately associated with subsequent aggressive behavior."
There are most certainly people of all ages that can benefit from certain prescription medication. However, the most worrisome aspect of Paddock's ties to this medication is that the majority of mass shooters in recent U.S. history have links to these same meds.
This is not some conspiracy theory either. The side-effects listed by the drug companies themselves include delusional thinking, suicide, and homicidal ideation.
One single psychiatric medication prescribed to help people quit smoking has been tied to an epidemic of aggression and suicide.
In only five years, 544 suicides and 1,869 attempted suicides were reported to the FDA as "adverse events" in connection with the drug Chantix, according to documents obtained by America Tonight under the Freedom of Information Act.
The website SSRIstories.org has also been documenting the link between selective serotonin reuptake inhibitors (SSRIs) and violence. On the site is a collection of over 6,000 stories that have appeared in the media (newspapers, TV, scientific journals) in which prescription drugs were mentioned and in which the drugs may be linked to a variety of adverse outcomes including violence.