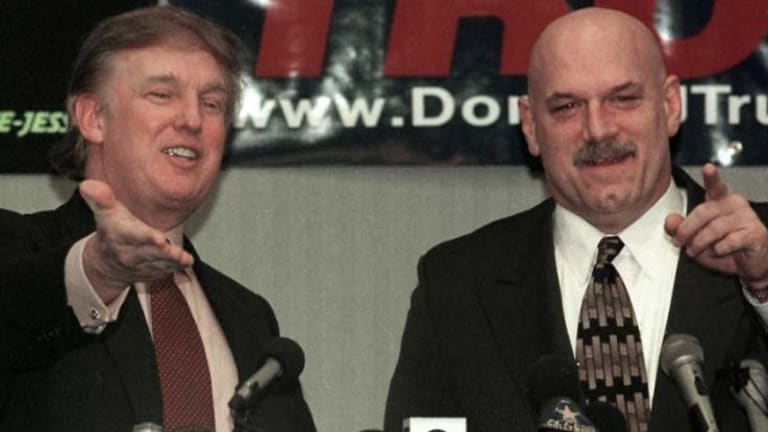 Jesse Ventura Ceases Trump Support, Publicly Blasts Hypocrisy Over Crackdown on Pot
Former Minnesota Governor Jesse Ventura blasted President Trump on Facebook for bowing to the for-profit prison industry over the interests of Americans in continuing the war on drugs.
Outspoken former Minnesota Governor Jesse Ventura excoriated President Donald Trump over the weekend for disregarding campaign promises to be a 'man of the people' — and that he "is following in the footsteps of every president that came before him: he thinks the Government knows what is best for us."
Ventura, whose history as a WWE professional wrestler and brash style has been loosely compared to Trump's, slammed the president as a carbon copy leader of each preceding administration — particularly in regard to draconian cannabis legislation and the prison-industrial complex — in a post to Facebook.
"I thought Donald Trump ran his campaign as 'a man of the people.' Someone who vowed to end the corporate takeover of our government, someone who vowed to bring jobs back," Ventura asserted. "Even thinking about reversing state law and making legalized recreational marijuana illegal is going against the people's will. This is going against job creation and a reliable part of a state's economy. The citizens of these states VOTED to make recreational marijuana legal. It wasn't the politicians, it was WE THE PEOPLE. Obviously President Trump is following in the footsteps of every president that came before him: he thinks the Government knows what is best for us."
Since Inauguration Day, critics have blasted Trump for not only failing to drain the swamp as promised but for actively padding top positions with the same Big Bank financiers and industry insiders the American public was told would be booted from Washington.
Denouncing the former reality game show host turned president might not be news in itself, but the style similarities in the seemingly far-flung political ambitions of Trump and Ventura — including popular support as outsiders to the establishment — put the two unlikely politicians on a plane not shared by the Washington career set.
But the former wrestler, whose meteoric rise to the Minnesota governor's mansion — following a four-year stint as mayor of Brooklyn Park — took the state by storm, kept the best interests of his constituents at heart.
While keeping hard-working citizens out of prison and able to work should seemingly be a priority for any person in power, Ventura lambasted Trump's failure to dismantle the nefariously cordial relationship between for-profit prisons and the criminalization of drugs for keeping cages full of nonviolent offenders.
Almost pleading with followers to heed warning signs the drug war-based system still functions as legal and financial quicksand for all unfortunate enough to be ensnared, Ventura exposed the true impetus for keeping substances like cannabis highly illegal — and why Trump's failure to follow voters' opinions is evidence his administration will be more of the same industry-loyal policy-as-usual.
"He's been president for a little over a month," Ventura continued, "and he's already forgotten that 'We the People' are the Government! AND he's planning on reinstating private prisons? Let's connect the dots: Private prisons need to be 80 - 90% full to be profitable. If they aren't, then states pay a fine. Non-violent drug offenders make it possible for private prisons to be full."
Rather than take cues from legalization and decriminalization of cannabis in a quickly amassing cadre of states, White House press secretary Sean Spicer stumbled awkwardly through an ostensible explanation on the moral differences between medical and recreational weed, as the media grappled with an announced plan to crackdown using marijuana's official federal illegality.
"I do believe that you'll see greater enforcement of [recreational marijuana]," Spicer said in a daily press briefing. "There's two distinct issues here: medical marijuana and recreational marijuana. I think when you see something like the opioid addiction crisis blossoming in so many states around this country, the last thing we should be doing is encouraging people.
"The states where [medical marijuana] is allowed, in accordance with the appropriations rider, have set forth a process to administer and regulate that usage, versus recreational marijuana. That's a very, very different subject."
Of course, Spicer's odd choice to illustrate the (nonexistent) dangers of recreational cannabis by summoning the national opioid epidemic wholly dismisses a number of studies and anecdotal tales showing the plant — and other Schedule 1 substances, such as psychedelics — can actually move addicts away from the actual, dangerous painkillers.
Ventura surmised the president's fealty to the prison industry means Americans would be deprived of the few cannabis freedoms won through decades of work to dispel anti-pot propaganda woven into public thought by deft politicians connected to the cagey alcohol industry.
Like it or not, Trump has not and will not live up to popular appeals made on the campaign trail — nor would have any of the other candidates, necessarily. Ventura's post implores everyone to consider Trump the same as almost any ruler, and as such, to expect the profitable business of caging people for ingesting a plant to experience a boom.
"Reverse legalized recreational marijuana, and private prisons will remain full," Ventura concluded of coming legislation. "That's his plan, people."