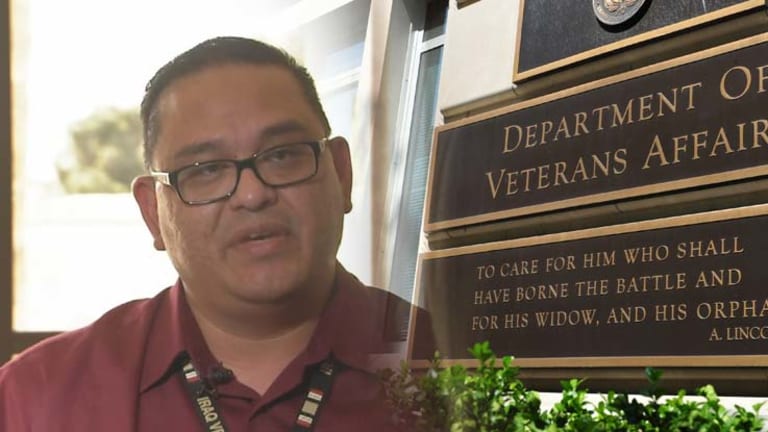 VA Whistleblower Received Death Threats for Supporting Troop Who Died Awaiting Care
The Chief of Specialty Care Clinics for the VA says he received death threats after exposing the massive corruption involving dead veterans.
Kuauhtemoc Rodriguez isn't just a whistleblower in the Veterans Affairs Administration. He happens to be the Chief of Specialty Care Clinics at the Phoenix VA Health Care System, the same system of VA hospitals which were at the center of the firestorm of the scandalous controversy of 2014. Freethinkers may recall the Phoenix VA hospital was ground zero for a scheduling scandal where some 40 veterans passed away while waiting to see a doctor at the VA.
The scandal led to the firing of several senior-level hospital administrators, criminal investigations by the FBI, several bills in Congress passed to protect veteran's healthcare needs, and eventually led to the replacement of the Secretary of Veterans Affairs. President Obama replaced VA Sec. Eric Shinseki with former Proctor & Gamble CEO Robert A. McDonald. But Phoenix, AZ's Rodriguez says more work still needs to be done, and he blew the whistle again in March 2016, on the VA's handling of canceling appointments. Recall that the first scandal involved veterans not being able to get an appointment in time, leading to several deaths. Rodriguez noticed appointments made by veterans who had already passed away were being cancelled by those same dead veterans.
Rodriguez took his case to the court of public opinion and, according to AZ Family, the Chief of Specialty Care Clinics showed reporters several screenshots which indicated the deceased veterans had actually cancelled their own appointments. AZ Family reported in March, "hundreds of appointments that were more than 120 days past due to be scheduled were deleted from the system. That means many are still waiting to be seen and might not even realize they're no longer in the system. 'Obviously, if you're deceased you're not going to call the clinic and cancel your own appointment,' said Kuauhtemoc Rodriguez, Chief of Specialty Care Clinics at the Phoenix VA."
Months later, in May of 2016, Rodriguez, an Army veteran, felt the need to use the federal whistleblower system to report alleged retaliation against him, which he claimed also included death threats. According to the whistleblower form obtained by The Free Thought Project, Rodriguez alleged, "The Medical Center Deputy Director and the Medical Center Director have engaged in retaliation by notifying me that I was going to be removed from my position as Chief of Specialty Care Clinics at the Phoenix VA. The intent of these acts is merely to retaliate against me for exposing wrong doing, patient deaths due to delay of care, and mismanagement of Veterans programs by executive leadership and mid level managers. In addition I have exposed continued mismanagement at the Health System Specialist Level, Supervisory Level and Human Resources which has created a hostile working environment for me."
The VA executive, after making the case that the retaliation against him was because he blew the whistle, then detailed the type of harassment he's received since coming forward with such damning accusations. "I'm continually harassed by management at the highest levels, kept from meetings, have had my duties removed, and have been threatened with removal. In addition data shows that my leadership has enabled the facility to reduce patient backlog in consults, appointments for the last year and I have been still rated as fully successful in order to deny me advancement. In addition I have been denied advancement in positions I have applied for and have been recommended for hiring, again due to my whistleblower status."
Whistleblowers are supposed to be protected under the federal Whistleblower Protection Act, from harassment for speaking out, but Rodriguez says he feels anything but protected. "Also the facility has failed to create a safe environment for me and has allowed various employees to threaten me physically, and one employee who threatened my life are still allowed to operate with impunity," he writes. He also notes that his complaints to administration have fallen on deaf ears. "In addition I have and continue to be slandered by other managers at the phoenix VA with executive leadership knowing about it, and covering it up. The executive leadership of the facility seems to encourage personal attacks upon me professionally by allowing these attacks to happen. I have been subjected to this abuse for over a year now and they are still occurring," he writes.
Now, Rodriguez is being called to answer for his actions. Instead of the VA answering for theirs, according to The Free Beacon, Rodriguez is, "now being forced to testify before an Administrative Investigation Board (AIB) regarding allegations that his department leadership created a hostile work environment and engaged in discriminatory practices. In conversations with the Washington Free Beacon, Rodriguez described the administrative investigation as the latest attempt by hospital leaders to 'deflect from their malfeasance,' claiming that hospital staffers have been retaliating against him for months after he blew the whistle on management failings at the facility."
By all appearances, it seems that Rodriguez' fate has already been decided, whether he knows it or not. As The Free Thought Project has faithfully reported, when whistleblowers do come forward, they're often harassed, censored, fired, or worse, and yet, in the end, many of the whistleblowers end up suing their employers, often winning millions of dollars in restitution. But for now, Rodriguez can only hope, wait, and endure whatever comes his way.
According to the Free Beacon's report, the problem at the VA, under the Obama administration, has not gotten better. Instead, it has gotten much worse. The latest report by the Office of the Inspector General found that 200 veterans had died waiting for appointments, up from the 40 deaths from the scandal of 2014. Now, the one person who blew the whistle is apparently being brought up on charges. "Rodriguez was informed on Dec. 9 that he was being summoned to provide testimony for the administrative investigation into allegations that leaders at the Health Administration Services (HAS), his department, 'created a hostile work environment and engaged in discriminatory practices.' The hearing, convened by RimaAnn Nelson, interim director of the Phoenix VA, was initially scheduled for Dec. 22 but has since been rescheduled for Jan. 12."
The Free Beacon also contacted another VA employee turned whistleblower. His name is Brandon Coleman, a Marine veteran who helped coordinate mental health care at the VA hospital in Phoenix. Coleman reportedly told the Free Beacon, "In my case, it was proven up to 17 suicidal vets had escaped from the hospital and for that disclosure I was sent home for 460 days of leave, had my successful program destroyed, and even had a gag order placed on me by the hospital director trying to take away my First Amendment rights by forbidding me from seeking health care as a disabled veteran at the Phoenix VA hospital," Coleman said. "I am one of the lucky ones...I won my case with (sic) help of Congress and the media. But there are hundreds of nameless VA whistleblowers no one will ever know who were also brave enough to bring up wrong doing."
Coleman blames Obama and his administration for going after whistleblowers in some supposed attempt to avoid scandals. "If the next administration wants to protect whistleblowers then they first must acknowledge us. Under President Obama, VA leadership (both locally and nationally) was allowed to 'hunt' whistleblowers and many of us were sent running for our lives, forced to try and restart our careers at new locations, for doing nothing wrong other than telling the truth," Coleman concluded.
Ironically enough, Valerie Jarrett, Obama's top advisor, proudly proclaimed last Sunday on CNN's Fareed Zakaria GPS, "The president prides himself on the fact that his administration hasn't had a scandal and that he hasn't done something to embarrass himself." Arguably, an untold number of whistleblowers would likely disagree with Jarrett, having been silenced by the same type of intimidation Rodriguez reportedly has experienced, even to the point of death threats being leveled against them.