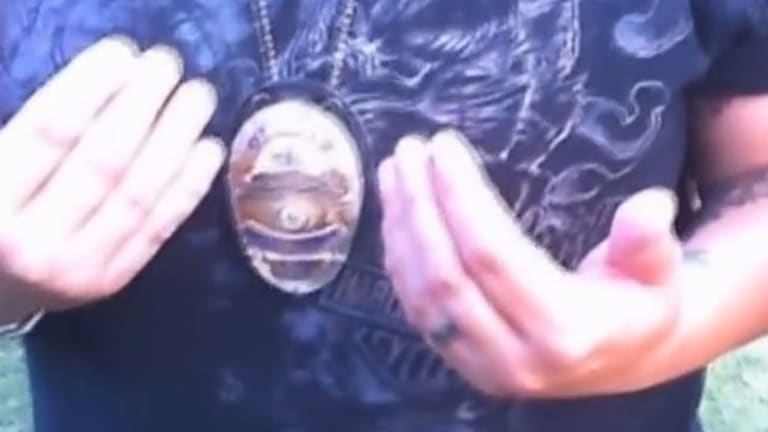 VIDEO: Cop vs. Cop. How Can these People Police Americans When they Can't Police Themselves?
April 8, 2014
An embarrassingly hilarious display of unprofessional behavior is caught on a lapel cam as one cop, who didn't get the memo, tries to arrest an undercover cop during an altercation at the New Mexico Wine Festival.
According to the State Police incident report, Rio Rancho police officer John Francis and Bernalillo police officer Anthony Ortega, who is listed in the report as George Ortega, were involved in a confrontation at the wine festival.
Ortega told State Police officers that he was aware that Francis is a Rio Rancho police officer, but did not know he was on duty and working the event. Francis was working in plain clothes as part of an underage drinking/DWI task force, according to the report.
Ortega missed a mandatory briefing prior to starting his shift that would have made him aware of Francis working at the event. Ortega thought Francis was off-duty and fighting with other attendees.
Ortega then placed Francis in an arm hold and asked him to step back. Francis repeatedly lifted up his shirt to display his badge.
Francis was trying to defuse what appeared to be a domestic dispute that was escalating at the event, according to information provided to State Police by a Rio Rancho police officer who was partnered with Francis during the event.
Ortega missing the briefing and Francis not continuously displaying his badge created confusion and misinterpretation between the two officers, the State Police investigation concluded, according to the report.
This incident happened some time ago but it highlights the complete lack of accountability and professionalism among the police. Just this past weekend, we witnessed an all out brawl and complete loss of self-control at an NYPD FDNY hockey game. 
How can these clowns be tasked with protecting and serving Americans when they can barely keep it together themselves?