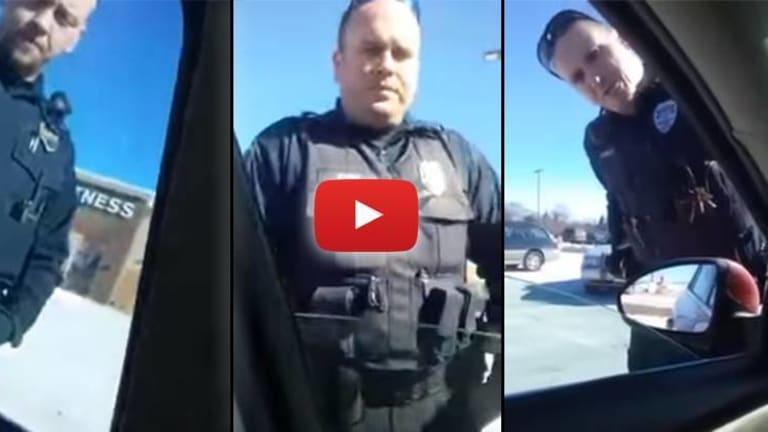 Video: Man Makes Cops Look Like Foolish Tyrants as they Come After Him for Suspicion of Pot
Instead of cowering before authority, this man took a stand and exposed the drug war for what it really is.
West Dundee, IL - In an absolutely shocking display of brutal honesty, a brief video submitted to the Free Thought Project yesterday is demonstrating the undeniably true nature of America's continued war against Cannabis.
The video, uploaded by a graphic artist who asked only to be identified as Raphael, begins after he has been approached by multiple officers who inform him that they received a report of someone smoking cannabis in a vehicle. However, instead of simply prostrating himself before authoritarians enforcing an immoral law, Raphael proceeds to vocally point out the absolutely ridiculous nature of his detainment, stating:
"Here are some officers doing their patriotic duty to arrest and enslave someone for suspicion of Cannabis, what is known to be proven a harmless plant"
In an interview with The Free Thought Project, Raphael told us that he was minding his own business while sitting in his car in the parking lot at a local gym. When the officers who approached his vehicle began questioning him he decided to film the interaction. During the encounter, Raphael can be seen repeatedly pointing out the absolutely ridiculous nature of the situation. However, after his phone unexpectedly stopped recording, Raphael stated he was arrested by officer Hicks (badge #207) for allegedly possessing a plant that is legal in some form in more than 2 dozen states.
While many may find his claim that he is being "enslaved" to be somewhat grandiose in nature, the fact is that he could not be more accurate. Slavery is indeed alive and well in the US to this very day. According to the Prison Policy Initiative, one hundred percent of able-bodied prisoners are required to work while they are in prison. For their labor, these inmates receive compensation of twenty-three cents to a dollar and fifteen cents per hour.
Not only are these practices permissible in the "Land of the free," but the government is complicit in ensuring prisons always have "able-bodied" workers. As the Free Thought Project previously reported, data released by the FBI shows that over 620,000 people were arrested for simple possession in the past year. This number averages out to 1,700 people per day, or one person every 51 seconds.
Although many people continue to hold onto false information from the past, the truth is that all cannabis use is medicinal, whether you know it or not.
As the National Institutes of Health reported:
"The recent identification of cannabinoid receptors and their endogenous lipid ligands has triggered an exponential growth of studies exploring the endocannabinoid system and its regulatory functions in health and disease…

In the past decade, the endocannabinoid system has been implicated in a growing number of physiological functions, both in the central and peripheral nervous systems and in peripheral organs. More importantly, modulating the activity of the endocannabinoid system turned out to hold therapeutic promise in a wide range of disparate diseases and pathological conditions, ranging from mood and anxiety disorders, movement disorders such as Parkinson's and Huntington's disease, neuropathic pain, multiple sclerosis and spinal cord injury, to cancer, atherosclerosis, myocardial infarction, stroke, hypertension, glaucoma, obesity/metabolic syndrome, and osteoporosis, to name just a few."
Thankfully, not all police officers support the destructive policy that is the war on drugs. As we reported last year, Washington D.C. Police Chief Cathy Lanier embraced her city's new marijuana legalization policy stating,
"Marijuana smokers are not going to attack and kill a cop. They just want to get a bag of chips and relax. Alcohol is a much bigger problem. It is not healthy, but I'm not policing the city as a mom, I'm policing it as the police chief"
Raphael echoed Chief Lanier's comments exactly when he spoke with The Free Thought Project, telling us that he was simply trying to relax before his regular kickboxing workout. Instead, he was harassed, arrested and is facing extortion and even the possibility of being locked in a cage simply for possessing dried plant material. As Raphael poignantly stated when asked for a comment regarding his arrest,
"Smoking weed is not a real crime, it doesn't make you unhealthy. They (the cops) need to go find a real job or at least go fight some real crime."
It is time to end this immoral war on drugs, which would be more aptly named, a war on American citizens.
Johnny Liberty is a researcher and investigative journalist. You can follow him on twitter @LibertyUnltd