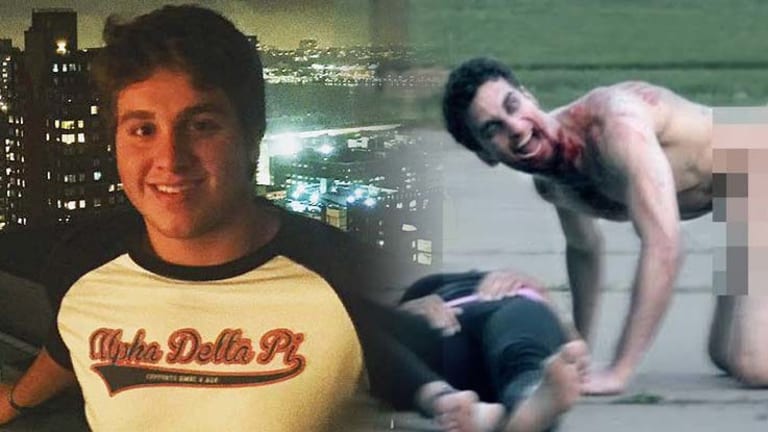 How the War on Drugs Makes People Eat Other People's Faces After Stabbing Them to Death
The state's ban on substances does not remove demand. Instead, far more dangerous alternatives fill the void -- case in point -- flakka.
The news that 19-year-old Florida State University student Austin Harrouff stabbed two strangers to death, and then proceeded to bite chunks of a deceased victim's face off, seems too bizarre to believe – unless you've heard of the drug flakka.
When police arrived, "It was an impossible task to get him off of the victim." A Taser had no effect, nor did a police dog. It took multiple cops and several minutes of fighting with "every bit of strength" to pry Harrouff, who was a football player and wrestler, from the face-eating bear hug he had on the dead man.
Harrouff was making "animal-like" noises when he was transported to the hospital, and could die of "sustained trauma" from officers or a drug overdose. Toxicology reports will confirm whether flakka was in his system, but Martin County Sheriff William Snyder says he would not be surprised.
"When you see a case like this where someone is biting off pieces of somebody's face, could it be flakka?" Snyder said. "The answer is it absolutely could be a flakka case."
Flakka, a synthetic drug similar to bath salts, has taken off in popularity in South Florida over the past few years. It causes delirium and the feeling of superhuman strength, and is known to cause extremely bizarre behavior – including a 17-year-old girl "running down a street naked, covered in blood and screaming, "I am God! I am Satan!"
" target="_blank">YouTube videos abound showing people in the midst of dangerous, erratic flakka-induced behavior, and headlines appear regularly of bizarre crimes being committed on flakka.
Homeland Security Investigations in Miami said the area is "ground central" for flakka shipments, which often come from China. There is no known legitimate use for the substance. The DEA has put a temporary ban on flakka, but drug makers can just stick a "not for human consumption" label on it to get around the ban.
At one point there were at least three flakka hospitalizations a day in Broward County. It's extremely difficult to know how much one is ingesting, and the synthetic drug can have devastating, permanent effects on the body.
Why the hell would anyone want to come near this stuff?
The War on Drugs.
Because psychoactive drugs that humans have used for centuries have been banned by most modern governments, people turn to synthetic attempts at mimicking the high. Just as Spice (synthetic marijuana) has emerged to supposedly mimic cannabis, flakka is sought after to mimic cocaine.
But the difference is, Spice and flakka cause psychotic symptoms, bodily damage and death, whereas cannabis has never caused an overdose and has well-recognized medicinal value. Cocaine sourced from the black market, which is laced with other unknown chemicals, can cause overdose death – but people aren't stabbing and eating the faces of other people while on cocaine.
Flakka is far more dangerous than cocaine.
Much of the dangers associated with cocaine would diminish if the drug were legalized and people had the freedom to put what they want into their own bodies. In a legal market, this extract of the coca leaf – which has been used for thousands of years by South Americans – would be produced in exact dosages known to the consumer, free from harmful synthetic chemicals.
If people could go to the store and buy a bit of cocaine, as they can buy alcohol, we could expect the demand for flakka to be reduced or non-existent.
Prohibition does nothing to curb the supply or the demand of drugs, but it enriches the corporatocracy and gives the State immense power over our personal freedom. It creates void in the demands for drugs and those voids are filled with even more dangerous substances such as flakka.
We should have learned the lesson that prohibition only causes greater harm, during the miserable attempt at alcohol prohibition from 1920 to 1933. When government attempted to ban alcohol, its production and distribution shifted to the black market, and people suffered and died.
Reports of blindness and death were common as people attempted to make their own alcohol but failed to realize the dangerous by-products that can be produced. Bootleg alcohol fueled violent criminal gangs exploiting prohibition for financial gain. We are seeing the exact same scenario play out today.
There will always be demand for psychoactive drugs, and there will always be supply to meet this demand. If government attempts to ban substances, making it a little harder for some people to get things like cocaine, they will synthesize some other, more dangerous substance.
So now we have flakka, which emerged as a replacement for bath salts, which had emerged (now banned) as something you could buy at the store for a cocaine-like high.
The government keeps banning things, and people keep getting worse off. Synthetic drugs are killing people, especially our kids.
But government has a novel approach this time – it's working on banning flakka, and they're trying to get China to ban certain chemicals and stop their export. As the DEA admits, when they manage to ban one substance, producers will slightly alter the compound to make it a new substance free from the "controlled substances" ban.
There's a saying about doing something over and over again and expecting different results, being the mark of insanity. Prohibition is the perfect demonstration of this, and we are witnessing the physical manifestations in the crazed, murderous behaviors caused by flakka.