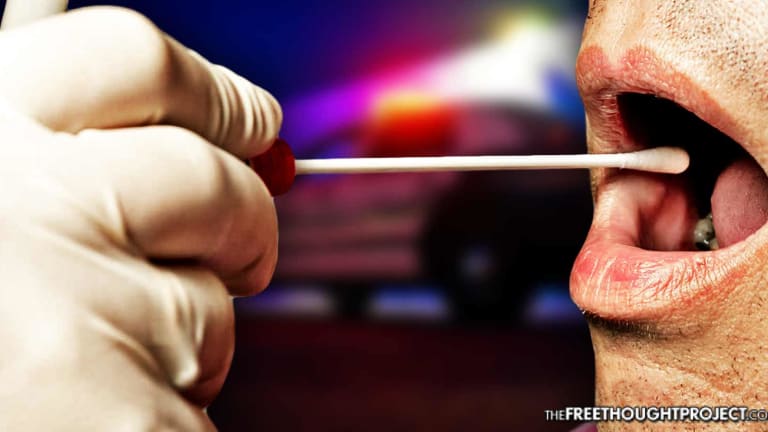 Police Kick Off Program to Warrantlessly Test Saliva to Check for 'Drugged Driving'
Civil liberties experts are up in arms over the police state rolling out a warrantless saliva testing program to test people for drugged driving.
Michigan State Police have begun a year-long pilot program, being held in five Michigan counties, to warrantlessly test the saliva of drivers suspected of drugged driving.
"The five-county pilot program will be used to help determine accuracy and reliability of the tests," Gov. Snyder said in June after signing the bill into law, as MLive reported.
Residents of these five unlucky counties will be forced to act as guinea pigs by the state, in what is sure to be an exercise in trampling on civil and constitutional rights of individuals.
The program calls for Drug Recognition Experts (DRE officers), a designation given to cops who earn a designation certifying them to visually recognize if a person is under the influence of a controlled substance, to administer the tests.
"Saliva analysis will only be administered by a DRE, [Banner] said, and will be given along with the drug recognition 12-step evaluation currently used. DREs employed by state, county and municipal agencies could also be involved," according to MLive.
The imposition of a pilot program to warrantlessly test the saliva of drivers is a clear advancement of a dystopian police state-like agenda that infringes on citizens' rights without hesitation -- under the guise of keeping the public safe.
According to a report by MLive:
The Alere DDS2 oral fluid test instrument will be used to measure for the presence of drugs in drivers' saliva, Michigan State Police spokeswoman Shanon Banner said. The device will record results based on threshold limits set by the manufacturer and test for six substances: amphetamine, benzodiazepines, marijuana/cannabis, cocaine, methamphetamine and opiates.

Banner said it should be noted that threshold levels for saliva are different than that of blood.

Drug Recognition Experts (DREs), officers with advanced training in the assessment of alcohol and drug impairment, will carry the devices, MSP said. DREs only will administer an oral fluid test under the pilot program, Banner said.

The drug test will take place roadside, like alcohol preliminary breath test (PBT).

Refusing the oral fluid swab test, a preliminary test, will result in a civil infraction, just like an alcohol PBT, Banner said.

DREs will continue to take blood draws as part of standard procedure in addition to saliva tests, Banner said.
Naturally, no one wants an impaired person to get behind the wheel and potentially harm innocent people. However, there are already programs in place to prevent this. Warrantlessly testing saliva is another power grab by the police state to roll out inaccurate science that jeopardizes innocent people's lives.
Attorney Neil Rockind, founder of Southfield-based criminal defense law firm Rockind Law, told MLive he opposes the law and called the proposed testing "bad science."
"The criminal justice system wants to take science and turn it into a fast, easy utility," he said.
"Science is neither fast nor easy."
Rockind says the program sets a "dangerous precedent" for Michigan.
"A pilot program is a test program and, in this case, treats people as guinea pigs to be studied," Rockind said.
"People are not guinea pigs. No citizen should be the subject of a test program when their liberty and way of life are on the line."
Rockind himself was certified in DRE training and believes the process is fundamentally flawed.
"What works in a lab doesn't work in court," he said.
Several studies have found that impairment caused by THC can't accurately be tested by blood.
In fact, the Arizona Supreme Court unanimously ruled in November last year the presence of THC (tetrahydrocannabinol) — the psychoactive ingredient in cannabis — in the blood does not necessarily indicate impairment.
Additionally, the lack of a requirement that law enforcement secure a warrant to test a bodily fluid is extremely troubling and should raise a red flag for all civil libertarians.
The arbitrary nature of the entire process will almost certainly lend itself to profiling and harassment of certain targeted groups and individuals – based upon unfounded "science".