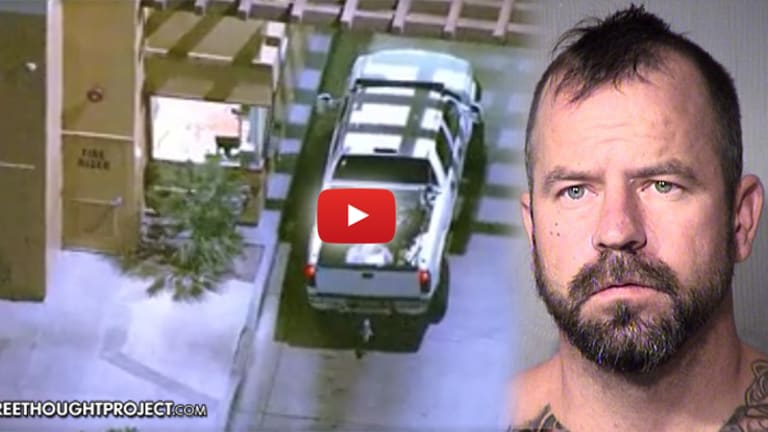 Watch: Aerial Footage Catches Man Stopping at a Drive Thru -- While Being Chased By Police
An Arizona man recently led police on a bizarre low speed chase.
Chandler, AZ - In a scene that seems straight out of a Hollywood satire film, an Arizona man was caught on video going through an In-N-Out drive thru while he was involved in a "low speed" chase with police.
According to reports, police attempted to stop the 35-year-old burger-loving suspect just before 10:30 pm. The suspect then fled at low speeds, leading police on a chase through South Phoenix into East Valley. The chase then took a strange turn when the suspect pulled into the In-N-Out Burger location near Chandler Boulevard and Ray Road.
While sitting in the drive thru, the suspect, identified as 35-year-old Josh Adkins, appears to order food before pulling away several minutes later.
After leaving the restaurant parking lot, Adkins reportedly exited his vehicle and attempted to flee through backyards, where he was pursued and eventually surrendered to officers.
According to police, Adkins was arrested and charged with suspicion of unlawful flight from law enforcement, aggravated assault-domestic violence, and unlawful imprisonment.
While this chase may seem humorous and thankfully ended peacefully, sadly this is more often than not an exception to the rule. As The Free Thought Project previously reported, a shocking study has found that, on average, one person every day is killed or injured during a high-speed chase.
According to the study, more than 5,000 bystanders and passengers have been killed in police car chases since 1979. Tens of thousands more were injured as officers repeatedly pursued drivers at high speeds and in hazardous conditions.
Even more shocking, is the fact that, according to the International Association of Chiefs of Police and the National Institute of Justice, a whopping 91 percent of high-speed chases are in response to non-violent crime; most of which involve only minor traffic infractions.
These statistics are yet further proof that there is no law so trivial that the police will not kill you to enforce it. As America slips further into a dystopian nightmare, it's time for people to wake up to the reality of what policing has become in 2016.
Johnny Liberty is a researcher and investigative journalist. You can follow him on twitter @LibertyUnltd