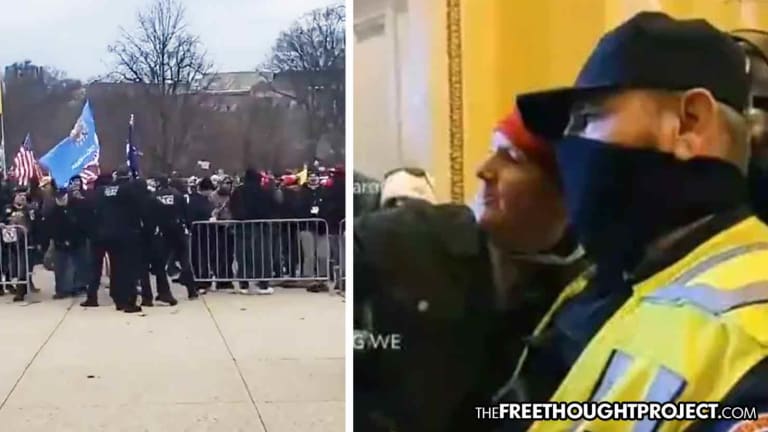 WATCH: Capitol Police Open Gates Deliberately Let MAGA Protesters In, Then Pose for Selfies
Video evidence shows police not only allowing the rioters into the capitol but also celebrating their actions by taking selfies with protesters.
January 6, 2021 is a day that will forever go down in infamy. It marks the day a sitting president's supporters marched on and then stormed the capitol of the United States, and did so with a near seeming impunity as only a few dozen arrests were made. Headlines across the country are now claiming that police simply weren't ready or were ill-prepared for this massive act of insurrection but this is simply not true.
By a landslide, Washington D.C. has the highest number of police officers per capita. It is more than anywhere else in the country. That number sits at 547 cops per 100,000 people. However, those cops apparently had better things to do yesterday than to stave off this mass insurrection. In fact, as some of the evidence below illustrates, many officers not only allowed and facilitated it, but they also celebrated it by taking selfies.
Mainstream media outlets reported that police at the Capitol building were caught off guard and didn't expect people to breach a series of fences leading up to the building. However, these protests were planned for weeks and Trump acted as the ring leader, instructing his followers to march on the capitol.
When the protesters arrived, video emerged showing police actually removing barricades and allowing the rioters in to continue to the capitol steps.
In addition to the video above, after the rioters were allowed into the capitol, quite literally storming through the front doors, the cops inside did very little to stop them. In fact, during a live stream, a cop was filmed taking selfies with one of the rioters. This action by police should come as no surprise, however, as the protesters are outspoken supporters of police. In fact, in many of the photographs that surfaced during Wednesday's chaos, Trump supporters were seen carrying massive thin blue line flags as they marched on the capitol. Had these Trump supporters been Black Lives Matter protesters carrying signs that said "stop police brutality," rest assured, the gates would have never been opened, no selfies taken, and rubber bullets, pepper balls, and tear gas would have rained down from the sky in an almighty hellfire. Instead, however, because they donned the uniform of support with their red MAGA hats, American flags, and Qanon t-shirts, most capitol police officers simply stepped out of the way and let them in. This turned out to be a fatal mistake. Her name was Ashli Babbitt. Babbitt of San Diego, a 14-year veteran of the US Air Force, was tragically struck by a bullet after she entered the legislative complex with fellow rioters. She was shot by a Capitol police officer, after "multiple individuals forced entry into the Capitol building, and attempted to gain access to the house and attempted to gain access to the house, room, which was still in session," Washington, D.C. Metropolitan Police Department Chief Robert Contee said. On Tuesday morning she tweeted: "Nothing will stop us….they can try and try and try but the storm is here and it is descending upon DC in less than 24 hours….dark to light!" Babbitt's special treatment by police on the way into the capitol undoubtedly gave her extra confidence. She had no idea that she would face the barrel of a gun, after all, she — like the thin blue line flag waiving masses outside — "support the police." However, this was a false sense of security and when one of the officers inside the room in which Babbitt was climbing into "feared for his life," he shot the unarmed woman in the chest, killing her. Babbitt's death would prove to be the turning point for how police acted toward the protesters on Wednesday. Not until an "active shooter" call was made and a woman's life taken did police and protesters realize that this is not a game. Shortly after she was hauled away in an ambulance, heavily armed riot police descended on the capitol and pushed back the MAGA folks with relative ease, showing the unnecessary nature of Babbitt's death and the storming of the capitol.