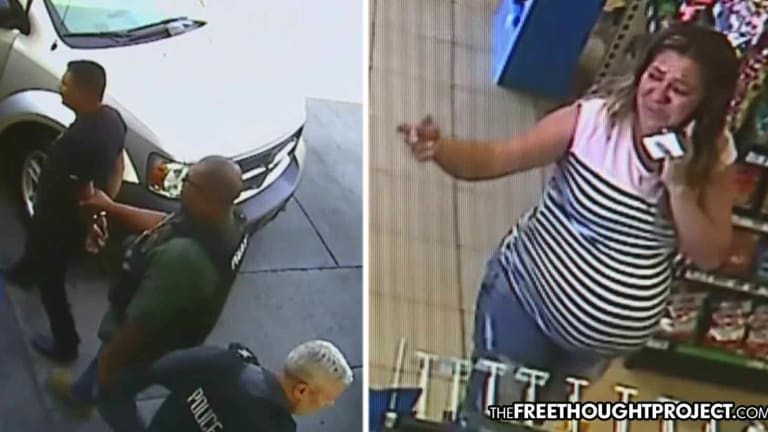 WATCH: ICE Kidnaps Dad as He Drives Wife to the Hospital to Deliver Baby, Leave Mom Stranded
A mother had to drive herself to the hospital to deliver her baby after her husband was kidnapped and arrested by ICE agents.
San Bernardino, California - Last week, a couple was held up by ICE agents on their way to the hospital to deliver a baby, even worse, the father was detained and unable to witness the birth of his baby, and is now facing deportation.
Maria del Carmen Venegas and her husband Joel Arrona were on their way to the hospital this Sunday for a scheduled Cesarean section, but when they stopped to get gas on the way, their car was surrounded by police vehicles and numerous ice agents jumped out and began asking them for identification.
The couple has reportedly been living together for 12 years in Southern California and have four other children.
Venegas was able to show them ID, but unfortunately, her husband was not, so he was carried away by ICE agents, leaving the pregnant mother to drive to the hospital on her own and deliver her baby by herself.
"I [asked] them why they separated good people like that. Why they did not arrest people who are bad and do bad things, let us go, but they told me that they were only doing their job. I never thought ... that they would take him away, that they would hand him over, and that they would leave me at the gas station," Venegas said, according to KVEA.
Luckily Venegas did not face any complications from the encounter or from getting herself to the hospital, but she was hours late for her appointment had elevated blood pressure when she arrived at the hospital.
ICE spokeswoman Lori Haley released the following statement:
"Mr. Arrona-Lara, a citizen of Mexico illegally residing in the United States, was taken into custody Wednesday by ICE Fugitive Operations Team officers in San Bernardino, Calif. Mr. Arrona-Lara is currently in ICE custody pending removal proceedings with the Executive Office for Immigration Review. ICE continues to focus its enforcement resources on individuals who pose a threat to national security, public safety, and border security. ICE conducts targeted immigration enforcement in compliance with federal law and agency policy. However, ICE will no longer exempt classes or categories of removable aliens from potential enforcement. All of those in violation of the immigration laws may be subject to immigration arrest, detention and, if found removable by final order, removal from the United States."
Venegas says that ICE will not allow her to contact her husband or even let him know that their child is ok.
"My husband needs to be here. He had to wait for his son for so long, and someone just took him away," she said.
"The last thing he knew was that I was here in the hospital. I'm sure he's worried," she added.
ICE officials released a later statement to NBC saying that Arrona was wanted for murder in Mexico, however, if the warrant was the reason he was targeted this should have been in the first statement.
His family maintains his innocence and says that he has never been in trouble before and has not been to Mexico for many years.
The family's attorney Emilio Amaya, says that there is no official record of him being a murder suspect.
"Using the name and date of birth, we couldn't find anything saying he was in any criminal proceedings," Amayo said.
A GoFundMe fundraiser has been set up to help the family. To donate, click here.