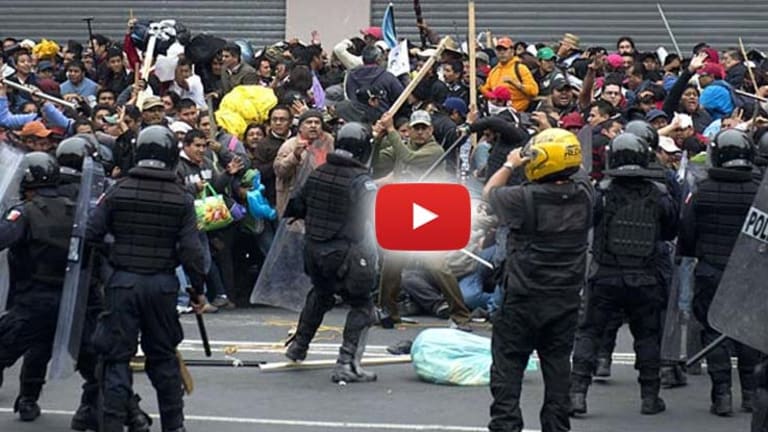 WATCH: Protesters in Mexico Kick Feds Out of Town, Storm Buildings As Govt Raises Gas Price
Mainstream media in the US is virtually silent as Mexico is on the verge of full blown revolution over gas price increase.
Monterrey, Mexico - Hundreds have been arrested, and at least 3 people have been killed after several days of intense protests and riots in Mexico, that started as the result of a 20% gas price increase.
It was reported that some of the deaths resulted from protesters being shot by police with live ammunition.
"To deter the disturbances, the officers used tear gas, but the protesters did not withdraw and continued their aggressions, (and) gunfire was heard at the scene," the Mexican government admitted in a statement.
President Enrique Pena Nieto is unwavering by the protests, and has promised to follow through with the price increase, explaining that previous subsidies enacted by the government have kept the price of gas artificially low.
"I know that allowing gasoline to rise to its international price is a difficult change, but as president, my job is to precisely make difficult decisions now, in order to avoid worse consequences in the future. Keeping gas prices artificially low would mean taking money away from the poorest Mexicans, and giving it to those who have the most,"Nieto said.
Given the previous subsidies, it is clear that the government created this problem in the first place by tampering with prices, creating an artificially low price that people grew accustomed to. Now the rug is being swept from under their feet, and causing an increase in the cost of living that was not expected by the average consumer. This is one of the unfortunate but eventual unintended consequences of subsidies, price controls, and other government interference in industry.
It is important to note that rioting and looting are certainly not condoned as this harms innocent people and is entirely unjustified.
Looting and rioting have slowed down in the past few days. However, some of this continues in other areas, and protests are ongoing. Meanwhile, there has not been a word of this mentioned in the American mainstream media. This is likely because the establishment in America has an interest in keeping their population docile and hiding them from the constant cycle of unrest and revolution that exists in many parts of the world.
In the footage below large groups of demonstrators chase a line of heavily armored police vehicles out of town.
In the footage below, a group of masked demonstrators attacks the state government building in the Mexican city of Monterrey.
[author title="" image="https://scontent-lax3-1.xx.fbcdn.net/v/t1.0-0/p206x206/11180635_10206767821827999_559224194627129346_n.jpg?oh=1629dfaa493cde9bde7d896161275ada&oe=58A44235"]John Vibes is an author and researcher who organizes a number of large events including the Free Your Mind Conference. He also has a publishing company where he offers a censorship free platform for both fiction and non-fiction writers. You can contact him and stay connected to his work at his Facebook page. John is currently battling cancer naturally, without any chemo or radiation, and will be working to help others through his experience, if you wish to contribute to his treatments please donate here.[/author]