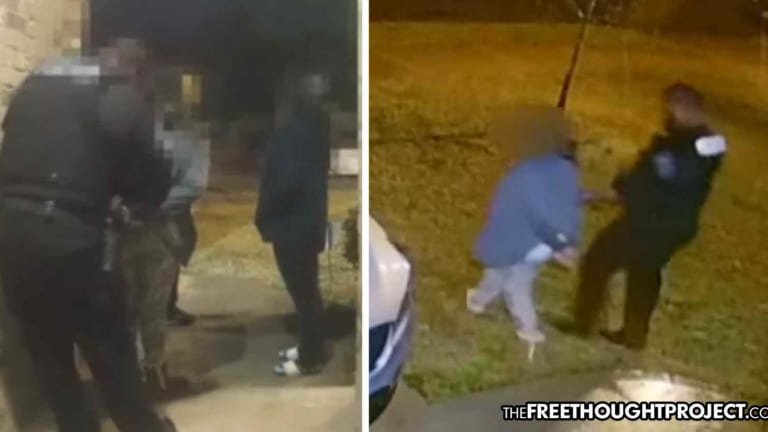 WATCH: Mom Furious As Cops Mistake 11yo Daughter for Car Thief, Cuff Her, Try to Kidnap Her
A mother was shocked when police came to her house, accused her 11-year-old daughter of being a car thief and tried to kidnap her.
Dekalb County, GA — The mother of a young girl is speaking out this week noting that she is "livid" after she says police mistook her 11-year-old daughter for a car thief and detained, handcuffed, and attempted to take her away in the patrol car. The mother has the video to prove her case and prove her daughter's innocence.
Cynthia Hendricks says she was startled Wednesday night when officers with the DeKalb County Police department rang her doorbell around 7:15 p.m. and asked for her daughter by name. According to Hendricks, police told her that her daughter was suspected of attempted car theft only minutes before they rang the doorbell.
Luckily for Hendricks, however, she had a home surveillance system which proved her daughter's innocence — but not before cops tried to kidnap her. Hendricks says she told police that she had proof her daughter was inside and could show them on the Ring system but they took her anyway.
Hendricks told 11 Alive the DeKalb officer told her that a teen girl about 16 years old and two teen boys tried to steal a car on the same street. The neighbor gave her daughter's name as someone possibly involved. The cop told the mother that the suspect allegedly ran off in the direction of Hendricks' home.
Despite offering a water tight video alibi, officers would come back later and try to take Hendricks' daughter again.
As 11 Alive reports:
The officer, according to Hendricks, then said the detective in charge of the case would want to speak with them and she said she would do so to clarify the situation.

Hendricks, however, said four officers and detectives showed up to her house 20 minutes later and detained her daughter.
"(The officer) placed handcuffs on my daughter, placed her in back of police vehicle with intent to transport her to juvenile detention," Hendricks said.
Only after questioning the little girl for several minutes did police eventually realize they had the wrong person. Police mistook Hendricks' daughter for a 16-year-old suspect and were surprised to find out she was only 11, according to Hendricks.
Luckily, before she was further traumatized and brought to jail, the cops figured it out and the 11-year-old was let go — but the damage had been done.
"I am beyond livid and disgusted at DeKalb County Police for, one, not bothering to ask my daughter's age before traumatizing her, two, blatantly ignoring the fact that our surveillance cameras show that London did not exit the house whatsoever, and, three, not doing their due diligence before coming to my home to attempt to arrest my child," she said.
According to 11 Alive, the news team reached out to the DeKalb County Police Department for a statement, but a spokesperson said it was "not made aware of any concerns."
Below is the footage from Hendricks' Ring cameras showing this glaring case of mistaken identity.
Luckily for Hendricks, her daughter came away from this situation physically unharmed. Other innocent teenagers who have been wrongfully accused by police cannot say the same. As TFTP reported in January, Dion Humphrey was mistaken for a suspect and ended up in the hospital after police savagely attacked him.
In January, Humphrey had just walked his siblings to school and was heading back home when he heard what sounded like gunshots coming from a White SUV. Humphrey took off running, but was cut off by another vehicle, and then hit with baton rounds, a type of non-lethal weapon. The teenager is quite fragile, weighing no more than 90 pounds, a direct result of sickle cell anemia and asthma. After having his egress blocked by cops, stunned with an auditory device, and shot with baton rounds, he was then tackled to the ground.
After cops dumped the teenager off back at his house, Humphrey's father then took his son to Phoenix Children's Hospital where he was admitted to the Intensive Care unit for five days as a direct result of having been stunned, hit with painful non-lethal rounds, and tackled to the ground. It was determined there was swelling around his heart. Luckily, he survived.