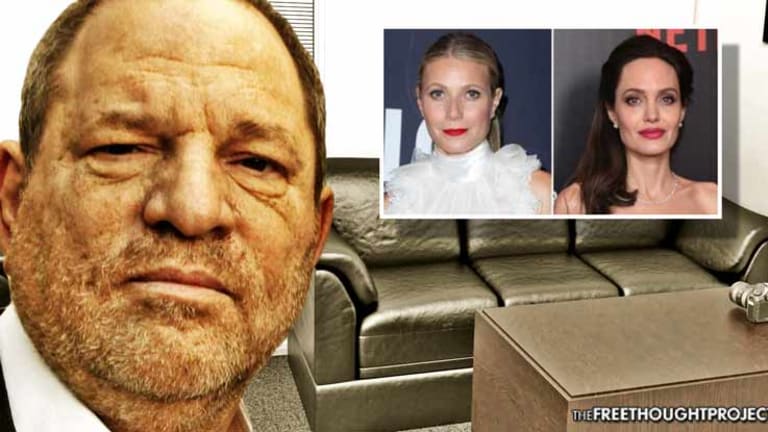 Weinstein Recordings Show Hollywood, Corporate Media Love Sexual Predators—Until They're Caught
The media, celebrities, politicians, local elected officials and members of law enforcement are all responsible for covering up Harvey Weinstein's crimes.
A recording has been released that gives insight into the accusations that led to the resignation of media mogul and producer, Harvey Weinstein, and it casts a dark shadow on the celebrities, media outlets, politicians and members of law enforcement who covered up his despicable actions.
In an in-depth report published by the New Yorker, Ronan Farrow details a 10-month investigation, in which 13 women gave accounts of sexual harassment or assault by Weinstein, and three of them claim that he raped them.
One of the most telling revelations comes from a case in 2015, when 22-year-old Ambra Battilana Gutierrez, a finalist for Miss Italy, met Weinstein during a reception for a show he was producing at the Radio City Music Hall. The report's account claimed that her agency reached out after the event and said that Weinstein "wanted to set up a business meeting as soon as possible."
"Gutierrez arrived at Weinstein's office in Tribeca early the next evening with her modelling portfolio. In the office, she sat with Weinstein on a couch to review the portfolio, and he began staring at her breasts, asking if they were real. Gutierrez later told officers of the New York Police Department Special Victims Division that Weinstein then lunged at her, groping her breasts and attempting to put a hand up her skirt while she protested. He finally backed off and told her that his assistant would give her tickets to 'Finding Neverland,' a Broadway musical that he was producing. He said that he would meet her at the show that evening."
Gutierrez went to a New York Police Department precinct and reported the assault. In response, investigators suggested she plan to meet Weinstein the following day and wear a wire with the mission of attempting "to extract a confession or incriminating statement."
During a meeting at the Tribeca Grand Hotel in which Gutierrez was wearing a wire, Weinstein invited her to come up to his hotel room while he took a shower. She refused, and he appeared agitated. Weinstein told Gutierrez that she was embarrassing him, and she insisted that she just wanted to leave. She then asked him why he groped her breasts the day before.
"Oh, please, I'm sorry, just come on in," Weinstein responded. "I'm used to that. Come on. Please."
"You're used to that?" Gutierrez asked.
"Yes," Weinstein said, adding, "I won't do it again."
The report from the New Yorker claimed that two sources close to the investigation said "they had no reason to doubt Gutierrez's account of the incident." However, there were a number of tabloid stories that emerged after the incident, showing that this was not the first time she had made allegations of sexual assault.
Manhattan Attorney General Cyrus Vance Jr. eventually dropped the investigation. Weinstein thanked him by sending him a $10,000 campaign contribution by way of David Boies, Weinstein's attorney.
"We had the evidence," a police source involved in the operation told Farrow. "It's a case that made me angrier than I thought possible, and I have been on the force a long time."
After dealing with threats from Weinstein's robust legal team, Gutierrez reportedly agreed to a financial settlement, and signed "a highly restrictive nondisclosure agreement with Weinstein, including an affidavit stating that the acts Weinstein admits to in the recording never happened."
Weinstein's unwanted advances, which led to sexual assault in many cases, were not uncommon in Hollywood. Prominent actresses Gwyneth Paltrow and Angelina Jolie have testified to being harassed by Weinstein when they were in their early 20s.
While some actresses are now saying that their initial experiences with Weinstein made them avoid working with him in the future, there are some actors and even media outlets who covered up his crimes.
The allegations have been ongoing for years, and in 2004, New York Times reporter Sharon Waxman claimed she attempted to reveal the truth about Weinstein. She flew to Italy to investigate claims of a man who was paid hundreds of thousands of dollars to schedule Russian escorts for Weinstein.
"The story I reported never ran," Waxman wrote. "After intense pressure from Weinstein, which included having Matt Damon and Russell Crowe call me directly to vouch for Lombardo and unknown discussions well above my head at the Times, the story was gutted. I was told at the time that Weinstein had visited the newsroom in person to make his displeasure known."
The hypocrisy has included a number of prominent politicians, and in a surprising editorial, CNN's Chris Cillizza noted that, "Five days after the New York Times broke the news that Weinstein, the head of Miramax and a major Democratic donor, faced a series of allegations of inappropriate behavior toward women over a several-decade span, neither Bill or Hillary Clinton nor Barack Obama has said a single word about the incidents."
From editors at the New York Times, to prominent celebrities and politicians, to local elected officials and members of law enforcement, it took a village to cover up Harvey Weinstein's crimes. But the fact is that he is not the only one, and while he will inevitably become the new poster-child for sexual harassment in Hollywood, it is still an on-going epidemic.