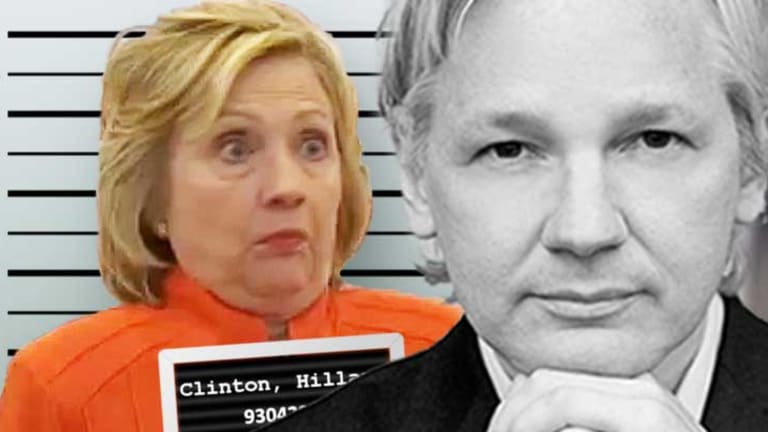 WikiLeaks Planning to Release More Clinton Emails -- "Enough Evidence" to Indict Says Assange
Julian Assange, the co-founder of WikiLeaks, indicated during an interview that the whistleblowing organization is preparing to publish more emails that former Secretary of State Hillary Clinton sent and received on her private email server while U.S. Secretary of State.
"We have upcoming leaks in relation to Hillary Clinton which are pending publication, that is correct," Assange said Sunday during an interview on ITV.
About 32,000 emails from her private server have been leaked by Wikileaks so far, but Assange did not indicate how many emails will be published or a time frame for the release of the new information.
According to the report in The Guardian:
WikiLeaks launched a searchable archive in March of 30,322 emails and email attachments sent to and from Clinton's private email server while she was secretary of state. The 50,547 pages of documents are from 30 June 2010 to 12 August 2014, and 7,570 of the documents were sent by Clinton, who served as secretary of state from 2009 to 2013.
The treasure trove of Hillary Clinton's emails has given keen insight into the operations of Clinton and her team, with some of the information sent/received potentially indicating that U.S. national security was seriously compromised.
Speaking via video link from the Ecuadorian Embassy in London, Assange said that there was enough information in the emails to indict Clinton, but that was unlikely to happen under the current Attorney General, Obama appointee Loretta Lynch.
"She's not going to indict Hillary Clinton, that's not possible. It's not going to happen. But the FBI can push for concessions from a Clinton government," he said.
It is assumed that the U.S. Attorney General will not indict the former Secretary of State given her political loyalties - despite the preponderance of evidence.
Last month, an internal State Department review found she had broken several government rules by using a private server rather than more secure government systems. The 78-page investigation by the inspector general of the state department singled out several previously unknown breaches while Clinton was secretary of state, including the use of unsecured personal mobile devices to send and receive potentially classified information without State Department approval.
Sworn testimony from State Department officials revealed that Clinton did not "know how to use a computer to do e-mail," and instead relied on her unsecured personal Blackberry for official government communications. Clinton's office was designated Sensitive Compartmented Information Facility (SCIF), where the use of wireless devices was not permitted as a security measure against electronic espionage, which precipitated Clinton leaving her office and going to an unsecure location in order to access her emails.
During the interview, Assange labeled Clinton a "liberal war hawk," stating that WikiLeaks had published emails showing her to be the driving force pushing for the overthrow of Muammar Gaddafi in Libya, despite Pentagon insistence that post-war Libya would most likely fall into the hands of terrorists.
"They predicted that the postwar outcome would be something like it is … she has a long history of being a liberal war hawk," he said.
Clinton's use of a private email account was discovered in 2013, after a Romanian hacker going by the name of Guccifer accessed the email account of her aide Sidney Blumenthal.
[author title="" image="https://pbs.twimg.com/profile_images/686105769691885568/ZXxXjzO2.jpg"]Jay Syrmopoulos is a political analyst, free thinker, researcher, and ardent opponent of authoritarianism. He is currently a graduate student at University of Denver pursuing a masters in Global Affairs. Jay's work has been published on Ben Swann's Truth in Media, Truth-Out, Raw Story, MintPress News, as well as many other sites. You can follow him on Twitter @sirmetropolis, on Facebook at Sir Metropolis and now on tsu.[/author]