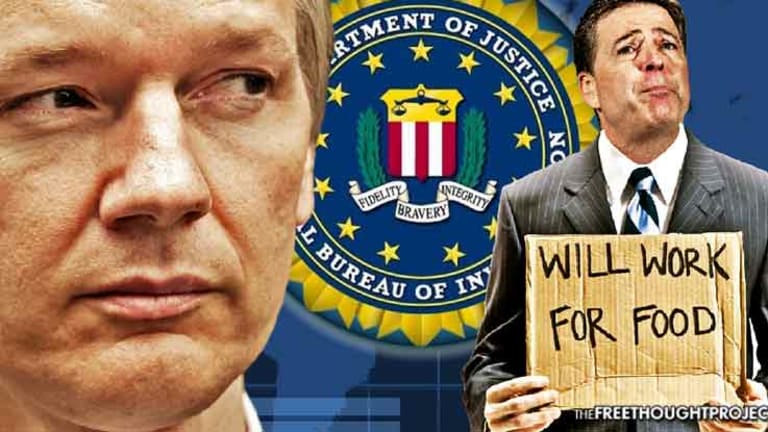 WikiLeaks' Assange Offers Comey a Job: 'Mr. Comey Knows Where Many Bodies are Buried'
Julian Assange and WikiLeaks offered fired FBI Director James Comey a job — seriously noting how big of a source he could become.
Washington, D.C. - Only hours after the unexpected firing of FBI Director James Comey, WikiLeaks founder Julian Assange extended a job offer to the embattled former federal bureau chief.
Assange tweeted, "WikiLeaks would be happy to consider hiring James Comey to help lead it's D.C. office", where the now unemployed top G-man could "properly investigate the U.S. government." Only minutes prior to Assange's job offer to Comey, WikiLeaks offered to assist, posting that "If James Comey or any other former or current FBI officers have information on why he was fired, we want to help: wikileaks.org/#submit"

And for those that thought Assange was simply trolling the recently fired Comey, he posted another tweet that metaphorically (and perhaps literally) explained his reasoning for the job offer, noting that, "Comey knows where many bodies are buried."
While the offer of employment by WikiLeaks, to the man who recently labeled the transparency organization as "intelligence porn" that compromises sources and methods by publishing sensitive material without regard to who it may affect, is surprising in some regards, it makes sense given the extensive access to highly sensitive information Comey was privy to.

Assange predicted a politicized backlash within the FBI would precipitate a massive amount of new leaks from within from the bureau and suggested that Comey could eventually make a presidential run himself in 2020 (given the highly partisan atmosphere surrounding his dismissal).
Given the fact that the head of the CIA, Mike Pompeo, recently labeled WikiLeaks a "non-state hostile intelligence service" during an April 13, 2017, speech, it seems unlikely that Comey would be willing to accept WikiLeaks employment offer.
"It's time to call out WikiLeaks for what it really is: a non-state hostile intelligence service often abetted by state actors like Russia," Pompeo told an audience at the Center for Strategic and International Studies.
The irony of Pompeo's assertion is that WikiLeaks essentially operates as an intelligence service for the citizenry of the world. It's the opposite of hostile actor, as it operates in the public interest.
In fact, the only way for the public to hold their elected representatives responsible is by having a thorough understanding of the actions undertaken globally in their name. Without the basic knowledge provided to the public by WikiLeaks, government can operate with virtual impunity, with actions shrouded in secrecy.
The idea that releasing truthful and verified original documentation pertaining to the actions of governments and their representatives, in an effort to open up governments and force greater transparency, can be classified as a hostile action, reveals the lack of morality that underpins the U.S. government position on WikiLeaks.
WikiLeaks operates as a public information portal that sheds light on the policies and actions of state actors, and their representatives, that often take place unbeknownst to the public they claim to represent.
While we won't hold our breath for Comey to accept WikiLeaks offer, it would be amazing to see the revelations he could provide as a source.
Please share this article, and let us know what you think about Assange's job offer to Comey in comments below.