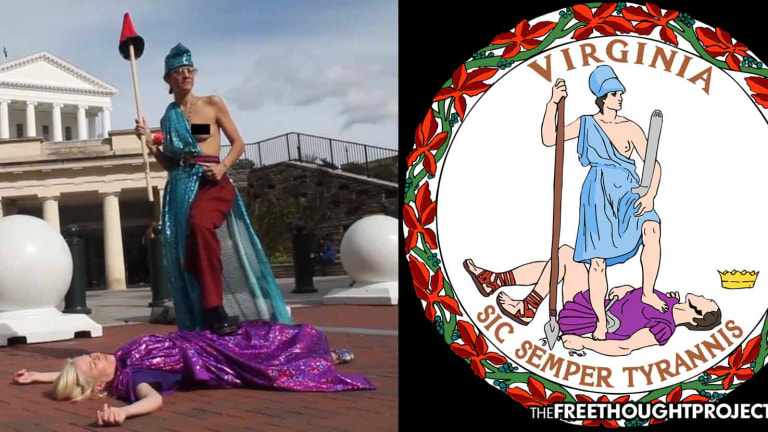 Woman Arrested, Held Without Bond For Reenacting Scene on State Flag Which Shows a Breast
For exposing a single breast to reenact the scene on the state flag, a woman was kidnapped, thrown in a cage and held without bond.
Richmond, VA — As social justice warriors constantly take to the internet to promote equality of outcome, pounce on anyone who questions their tactics, and silence those who disagree with them on issues, a very real practice of inequality and chauvinism has been and is currently upheld throughout the country and is largely ignored in their circles. In the land of the free, if you are a man, you can take your shirt off and bare your nipples on any street and on any digital platform. However, if you have two X chromosomes, doing this exact same thing with your breasts will land you in jail or facing a ban.
One particularly egregious case of this inequality comes out of Richmond, Virginia this month in which a woman was kidnapped and caged by police for reenacting the scene which is emblazoned on the Virginia state flag. For literally dressing up like the woman on the state flag, this innocent woman was handcuffed, thrown in a cage and was held without bail for days.
Michelle Renay Sutherland, 45, who is a pro-Equal Rights Amendment activist, took to the streets this week to reenact the scene on the Virginia state flag. Within just a few minutes, Sutherland found herself swarmed by police, handcuffed, and then whisked off to jail where she is being held in a cage.
As she's being arrested, Sutherland tries to tell police that what she is doing is simply free speech. But they wanted nothing to do with her rights as a human. Because she was a female, this breast was illegal and they were going to make sure they made her pay.
"I'm not sex. I'm actually dressed up as the woman who's on, like, literally the flag," she can be heard saying before she's arrested. "This is what happens to women in America."
The state seal on the flag, shown in various designs since 1776, depicts the Roman goddess Virtus "representing the genius of the Commonwealth," the Virginia state website says. She is dressed as Amazon and rests one foot on top of Tyranny and her left breast is exposed.
The irony of being arrested for reenacting a scene on the flag, which under the logo says "Sic Semper Tyrannis" (thus always to tyrants)—which is a thousands-year-old epithet against abuse of power—is incredible. It also shows just how symbolic our ostensible "freedom" in this country has become.
While TFTP reports on other instances of woman being arrested for exposing themselves, this one is particularly ominous as Sutherland being held without bond for this misdemeanor charge was unprecedented.
According to the Richmond Times-Dispatch:
A magistrate on Monday set a secured bail of $700 for Sutherland, an artist who has lived in Brooklyn for five years and has no criminal record, according to Richmond General District Court records. But during a video arraignment Tuesday, Judge Lawrence B. Cann III ordered Sutherland to be held without bond. Cann, the court's chief judge, declined to be interviewed.
"What the woman did in re-enacting the flag/seal is classic political speech entitled to the highest free speech protection known to law," Kevin Martingayle, a lawyer in Virginia Beach and past president of the Virginia State Bar said by email, according to the Richmond Times-Dispatch. "She should win and the denial of bond seems to be totally inappropriate. I am very surprised to see that done in a case in which she'd be unlikely to get jail time even if convicted."
Indeed, the idea of caging a woman for over a month, until she gets her day in court on March 21, is not only extreme, but is seems like retaliation against a woman who'd dare to assert her rights.
"They're putting the goddess of virtue in jail and this is the goddess that is on the seal of Virginia overthrowing a tyrant," fellow activist Natalie White, who was the one Sutherland is seen standing on in the video, said. "You know that this is coming from a political standpoint."
It seems that the tyrants in Virginia were winning until Thursday, however, when the judge was forced to release her. Chief Judge Lawrence B. Cann III, who initially held Michelle Renay Sutherland without bail, agreed to release her Thursday morning on a $1,500 personal recognizance bond, said her lawyer, David Baugh, according to WaPo.
Sutherland was freed on Thursday after sleeping in a cage for 3 nights. She will now be forced to defend herself in court for doing something any man in Virginia could've done without worry.
While this was Sutherland's first arrest, the activist known as "Holly Van Voast" has been arrested multiple times for going topless. She won a $40,000 settlement after suing the New York Police Department, according to Heavy.
It's not just New York either and Virginia either. As TFTP previously reported, Chicago officials held no punches when they directly attacked the female nipple in an absurdly chauvinist and tyrannical motion. As the Chicago Tribune reported:
"The city on Wednesday filed a motion to dismiss a federal lawsuit over the right of women to go topless in Chicago, arguing that nudity is not protected expression under the Constitution and that 'female breasts are considered erogenous in a way that male breasts are not.'"
Yes, they really said that.
Nothing highlights the sheer asinine nature of anti-nipple laws quite like transgender women baring their breasts. As Parker Molloy points out, writing for Bustle.com:
In 2013, a transgender woman named Ashley Del Valle was arrested in Savannah, Georgia, for allegedly exposing her breasts. Like my sweet home Chicago, it's illegal for women to show their breasts in public in Savannah. Then something magical happened, something that can only happen when transphobia and misogyny combine: Del Valle was placed in a men's cell because the prison determined that she was "technically a male," based on what I'm sure was a wonderfully invasive genital examination.

So hold up: If she's "technically a male," then she didn't commit any crime at all, right? Either she should have been free to bound through the streets braless without consequence, or she should have been placed in a women's prison, but certainly not arrested for illegal toplessness as a women and placed in a men's facility... right? Eh, apparently not. Logic be damned, Del Valle was tossed in with men before eventually being locked in solitary confinement "for her own safety."
So continues the logic of the state and the tyrants who enforce it. Sutherland's actions, and other women like her, serve to show the tyrannical nature of the laws and like those before them, it is their disobedience that will one day lead to the equal rights of others.