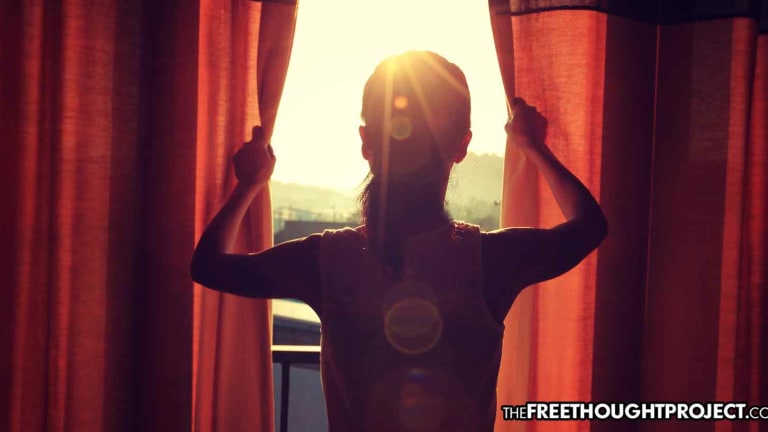 Woman Facing Prison, Will Have to Register as Sex-Offender for Being Topless in Own Home
For being topless in her own home, a woman was charged with three counts of lewdness, is facing prison, fines, and sex offender status.
As social justice warriors constantly take to the internet to promote equality of outcome, pounce on anyone who questions their tactics, and silence those who disagree with them on issues, a very real practice of inequality and chauvinism has been and is currently upheld throughout the country and is largely ignored in their circles. In the land of the free, if you are a man, you can take your shirt off and bare your nipples on any street and on any digital platform. However, if you have two X chromosomes, doing this exact same thing with your breasts will land you in jail or facing a ban. One particularly egregious case out of Utah shows how far the statists are willing to go to "protect" you from the female nipple. An innocent woman has been charged with lewdness for being topless — in her own home.
Tilli Buchanan, 27, is facing years in prison, fines, and will have to register as a sex offender — for being topless in her own home.
According to Buchanan, she and her husband had been installing drywall in the garage and both decided to to take off their shirts to get the itchy dust off of them. As NPR reports, when her stepchildren, aged 9, 10 and 13, walked in, she "explained she considers herself a feminist and wanted to make a point that everybody should be fine with walking around their house or elsewhere with skin showing," her lawyers wrote in court documents.
Because there were three children who saw the horrifying image of a topless woman in her own home, Buchanan is facing three charges of lewdness involving a child. Utah's lewdness statute, which deals with everything up to the act of raping a child, criminalizes exposure of "the female breast below the top of the areola" in the presence of a child in a private place "under circumstances the person should know will likely cause affront or alarm."
To claim that Buchanan taking off her shirt in her own garage was meant to "cause alarm" is utterly laughable. Sadly, however, the prison sentence Buchanan faces if convicted is not funny at all.
"It was in the privacy of my own home. My husband was right next to me in the same exact manner that I was, and he's not being prosecuted," she said.
Exactly.
How backwards is society that criminalizes a females nipples — which feed babies — while allowing a man's nipples, that do nothing, to roam free?
The charges are so ridiculous that the ACLU of Utah has stepped in and taken Buchanan's case. According to NPR, Buchanan's case raises a number of constitutional concerns, says Leah Farrell, an attorney at the ACLU of Utah.
To begin with, "the criminalizing of behavior that many people don't consider criminal, and is normal."

Most people wouldn't consider, for instance, that they "might be brought into court because of their dealing with their dirty clothes within their house. Anything that really extends the criminal justice system into people's homes in this way is something that we're interested in looking at closer," Farrell says.

And then there's the gender issue.
"Simply because Miss Buchanan is a woman, she is facing this charge," Farrell says. "Therefore, women throughout Utah are at higher risk of facing a criminal charge simply because of their gender. There are different ideas around what morality is or is not. But the state's reach to criminalize morality based on gender and gender stereotyping is incredibly problematic."
Hopefully, for Buchanan and all women, these charges are thrown out and the law immediately changed. If history is any indicator though, this will likely not happen.
Even in states where going topless is legal, cops still arrest women for it. In 1992, the New York Court of Appeals ruled, in People v. Stanorelli, that women could go topless, but only if it wasn't for commercial purposes. In spite of this ruling, cops still find it necessary to "protect" society from the dangers of the female nipple.
The paparazzo known as "Holly Van Voast" has been arrested multiple times for going topless. She won a $40,000 settlement after suing the New York Police Department, according to Heavy.
It's not just New York either. Chicago officials held no punches when they directly attacked the female nipple in an absurdly chauvinist and tyrannical motion. As the Chicago Tribune reported:
"The city on Wednesday filed a motion to dismiss a federal lawsuit over the right of women to go topless in Chicago, arguing that nudity is not protected expression under the Constitution and that 'female breasts are considered erogenous in a way that male breasts are not.'"
Yes, they really said that, DuckDuckGo it.
Also, as TFTP reported earlier this year, a woman was kidnapped and caged by police for reenacting the scene which is emblazoned on the Virginia state flag. For literally dressing up like the woman on the state flag, this innocent woman was handcuffed, thrown in a cage and was held without bail for days.
Michelle Renay Sutherland, 45, who is a pro-Equal Rights Amendment activist, took to the streets this week to reenact the scene on the Virginia state flag. Within just a few minutes, Sutherland found herself swarmed by police, handcuffed, and then whisked off to jail where she is being held in a cage.
As she's being arrested, Sutherland tries to tell police that what she is doing is simply free speech. But they wanted nothing to do with her rights as a human. Because she was a female, this breast was illegal and they were going to make sure they made her pay.
"I'm not sex. I'm actually dressed up as the woman who's on, like, literally the flag," she can be heard saying before she's arrested. "This is what happens to women in America."
So continues the logic of the state and the tyrants who enforce it.
As brave women continue to "break the law" and go topless, let's not forget that this is how progress is made. Openly disobeying inherently unjust laws exposes the tyrants when they come to enforce them. Remember, up until the 1930's publicly bearing one's man boobs was illegal too.