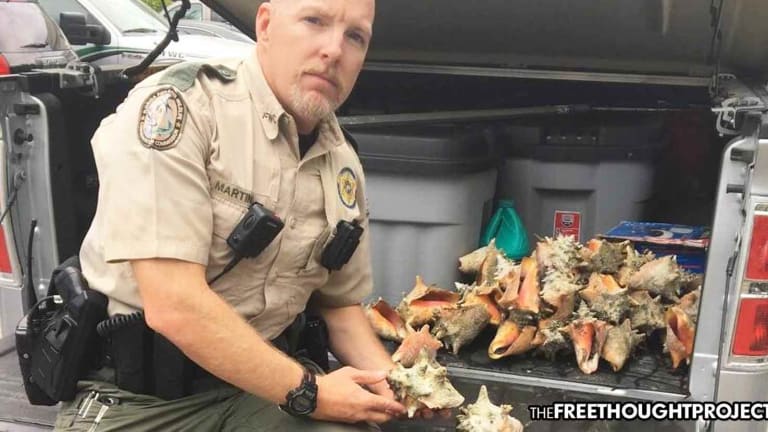 Woman Sentenced to 15 Days in Jail Because She and Her Kids Collected Conch Shells
A Texas mother was sentenced to 15 days in jail because her and her children were collecting conch shells while on vacation in Florida.
Key West, FL — Families from all over the country are flocking to America's coasts this summer to soak up some sunshine, drink margaritas, and play in the surf. Thousands of these families will collect seashells as well. One Texas woman's desire to collect conch shells, however, has landed her a two week stint in a Florida jail.
Diana Candelario Fiscal-Gonzalez, of Dallas, Texas, was arrested after a neighbor near her rented beach house called police when she saw her and her children collecting conch shells.
Fiscal-Gonzalez clearly did not know the conchs were protected and was gathering them to give out as gifts to her friends back home. However, when a "see something say something" citizen spotted the evil shell-collecting mother, they reported her to the police.
Yes, collection of the Queen Conch in Florida is illegal because they are a protected species. However, instead of simply telling the otherwise innocent woman that the shells were illegal and she could be fined or arrested for collecting them, this model citizen felt it necessary to involve the force of the state.
Sadly, calling the police on people for issues that can be resolved without them is becoming more common in today's society as 'snitch' citizens report otherwise innocent people for things like walking through the neighborhood while black. 
When police arrived, it was clear that Fiscal-Gonzalez did not know collecting the shells was against the law. She was outside, in front of her rented beach house, washing the shells with buckets and a hose in broad daylight. She was not attempting to hide or otherwise conceal any of her actions.
Instead of simply informing Fiscal-Gonzalez that the shells were illegal to possess and asking her to put them back, officer John Martino, with the Florida Fish and Wildlife Conservation Commission, arrested the woman.
What's more, the conchs were all still alive and could've been quickly returned to the ocean without incident. But, illustrating the entirely arbitrary nature of the arrest and the utter lack of discretion, this hero cop took his time and posed for a photograph with the shells before returning them to their habitat.
Fiscal-Gonzalez was thrown in jail and charged with collecting the protected shells. After spending a day in jail, she pleaded no contest on July 13 at the Monroe County Courthouse. According to the Miami Herald, she apologized to Judge Mark Wilson, saying she didn't know it was illegal to take the state-protected mollusks.
The judge then sentenced Fiscal-Gonzalez to 15 days in jail for collecting the shells and gave her six months probation. She will also have to pay a $500 fine as well as $268 for court costs. Fiscal-Gonzalez will have to report back to Florida on August 10 to begin her jail sentence.
While Fiscal-Gonzalez goes to jail for collecting seashells, cops like Rafael Martinez Jr. can be found guilty of child rape and get no jail time at all. 
No one here is arguing that this woman should have been collecting a protected species from the ocean without accountability. However, it was entirely clear that she was not acting with criminal intent and she was doing something that thousands of children do every single day on the beach.
A fine or a warning would have certainly deterred her and her children from any future shell collecting, but these deterrents were not used. Instead, Fiscal-Gonzalez will sit in a jail — costing tax payers money — because common sense, in the land of the free, has become a word no one should say.